French journalist Jean-Baptiste Alphonse Karr is said to have coined the phrase, plus ça change, plus c'est la même chose. Roughly translated, it means, "the more things change, the more they stay the same."
The most recent report on the gender wage gap from PayScale, an online, crowd-sourced salary database, illustrates the nugget of truth held in the 150+ year old adage. Analyzing the results of a two-year study that gathered responses from more than 1.8 million employees across the U.S., PayScale found that while the gender wage gap is smaller than it was in last year's report, pay differences persist between men and women working in the same jobs.
When controlling for factors like years of experience, education, company size, management responsibilities, skills, and others, PayScale found that a 2.4% difference between men's and women's earnings. The raw gap without those factors stands at 23.7%, closing slightly from 25.6% in 2015.
News flash for those hanging on to that 74¢-to-$1 as the ultimate indicator of the wage gap. It's much more complex than that. That's why PayScale broke out the gap by job level, age, industry, and state.
The raw data indicates that there is no state that has pay equity. However, the controlled results show a slightly more optimistic snapshot of wages. The largest controlled gap is in Louisiana where women make 7.4% less than men in the same jobs. Looking at it in terms of annual salary, the median male pay in Louisiana is $51,600 while a woman's median pay is $47,800. The gap in this state has actually increased 1.4% in the last year.
In Rhode Island, Washington D.C., Vermont, and Connecticut, women are earning a tiny bit more than men in the same jobs (ranging from 0.2% to 1.6% more). These increases also reflect a narrowing of the wage gap from 2.5% in Vermont to 0.4% in Connecticut.
The reasons for shrinking wage gap are as complex as all the factors measured. But, for example, the Stamford-Norwalk-Bridgeport metro area in Connecticut was recently named one of the best places for female entrepreneurs. The growth of women-owned businesses in the state could be contributing to pay parity.
U.S. Treasurer Rosie Rios believes that advancing women's equality could add between a $2.1 trillion and $4.3 trillion addition to the country's GDP in the next decade. If every state and city made progress toward gender parity, they could add at least 5% to their own economies. Half of U.S. states can add more than 10%.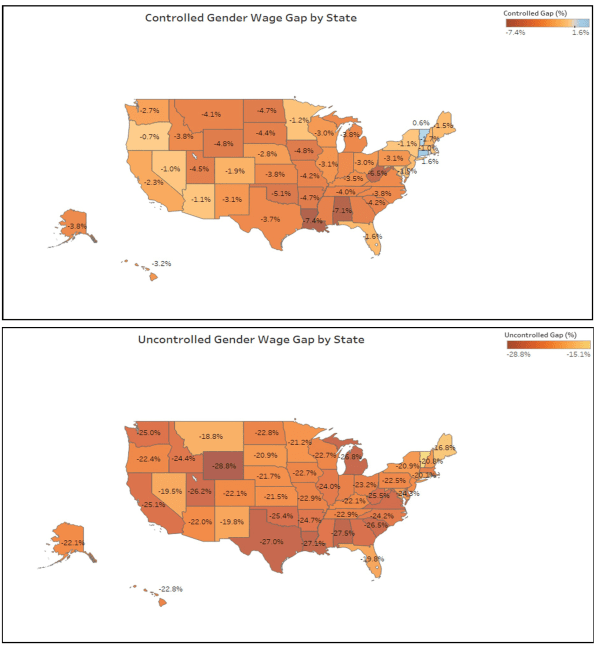 Education seems to play a counterintuitive role in the wage gap, as it does for promotions. PayScale's vice president of content strategy Lydia Frank tells Fast Company, "It's not surprising that more educated women might have an expectation of higher pay or access to more senior-level roles, just as more educated men would." However, among the estimated 80,000 respondents to additional questions in the survey, the more educated the woman, the more likely she was to report being passed over for a raise or promotion.
"The fact that they are more likely to feel that gender has been a barrier to advancement may simply be due to attempts to gain the access their male peers seem to have to those achievements," Frank explains. Overall 18.5% of women believed they didn't get a promotion, raise, or both because of their gender as compared to only 3.5% of men.
Additionally, the report found that more educated women were more likely to give their employers low ratings when it came to addressing workplace inequality. Thirty seven percent of female MBAs said their employer isn't taking any action to deal with gender inequities while only 11.8% of male MBAs made the same claim. In contrast, more than half of both men and women with no degrees or a high school diploma reported there not being any gender inequality in their workplace.
Last year's gender pay gap report revealed that men aren't just out-earning women in male-dominated fields, they make more money in every industry. The 2016 report had similar results across 21 industries including health care, manufacturing, retail, construction, education, and tech, among others.
 
While it would seem to make sense that the industries with higher representation of women would have the least wage gap (like education), the male-dominated construction industry has only 1.7% difference between male and female median pay, while female-dominated retail is higher at 3.9%.
Frank says that in retail, for example, women are still less likely to hold the best-paying jobs. "So we're looking at a controlled gap between men and women for lower-wage jobs," she explains, "which tend to see less distance between workers in terms of pay, simply because no one is much above minimum wage for these roles."
Frank also hypothesizes that the involvement of unions in setting wage levels is a factor in industries with smaller controlled pay gaps like construction and education.
Indeed, the gap in education is the lowest overall at 0.6% followed closely behind by tech at 0.8%.
Age and job responsibilities further influence inequity. In their early careers, workers are generally in roles as individual contributors who don't supervise other employees. That changes with age, according to the report. men are 25% more likely to enter management roles between age 35-40. Men are 85% more likely to be vice presidents or C-suite executives by mid-career.