Janica Alvarez was intent on breastfeeding each of her three children but found that the pumps on the market were poorly designed and not getting any better over time. To improve the experience, she and her husband, Jeff, decided to take matters into their own hands and redesign a pump with nursing mothers in mind. Enter Naya, an app-controlled breast pump that's shipping this week.
"The whole interaction and the whole experience was pretty abysmal," Janica, who has a background in health care and was a molecular genetics researcher at Genentech before founding Naya, says of the pumps she used. "I felt like they didn't express milk very well, there were a lot of parts to clean, they were super uncomfortable for me, and weren't very quiet."
Janica had tried three or four different pumps and didn't like the experience with any of them. Recognizing that Janica was at her wit's end, Jeff–a mechanical engineer who worked in medical devices and surgical robotics–wanted to do something to help. He took the device she was using at the time–a Medela Pump and Style–into the garage and started to tinker with it. The aha moment came when he wondered if a hydraulic pump used in a tool for cataract eye surgery could be adapted for expressing breast milk. The idea centered around using water as a more powerful and more comfortable way to express milk. He quickly prototyped a model, and Janica liked it so much they decided to commercialize the design.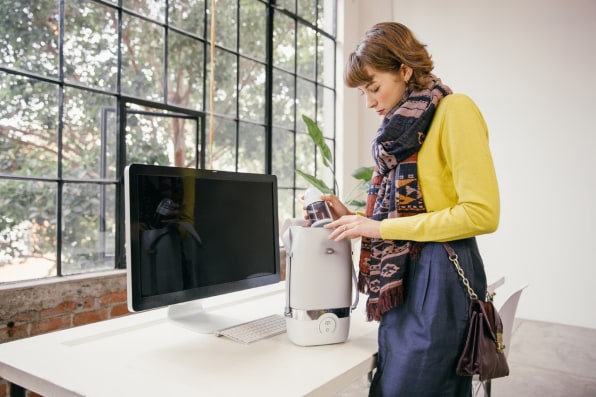 Building A More Comfortable Pump
Naya's hospital-grade breast pump–which was developed with the design consultancy Whipsaw–arrives in a Tiffany-blue box. Inside users see images of a mother holding her baby and a note from Janica about why she wanted to create "a smart experience around nutrition and nourishment for her family," as she describes the company. (Bartlett Brands helped to create the branding and visual identity.)
The product consists of two major components: a pump–which looks like a sleek lunch box–and a flange that fits over a woman's nipple and draws milk into a bottle. The water-filled silicone flange is meant to mimic the feel of a baby's mouth as it pumps because of the material it's made from and its shape; the section where a woman places her nipple feels soft and fleshy–it's like a mini silicone water bed–unlike traditional pumps which are mostly plastic.
"We were able to build off the principles of biomimicry," Janica says. "We studied the anatomy of a baby nursing breast tissue, and we were able to come up with this design that hopefully simulates that effect . . . The way it envelops the breast is more like nursing a baby than nursing a machine."
The pump connects to a mobile app, which lets women control pumping strength (they can also do this on the pump itself), and keep track of how much milk they produced, when they pumped, and an expiration date for the milk. Next year, Naya plans to release a smart bottle that will also keep track of how much your baby feeds. (Mothers who obsess over milk production will either rejoice at the level of detail here, or become even more obsessive about every last ounce.)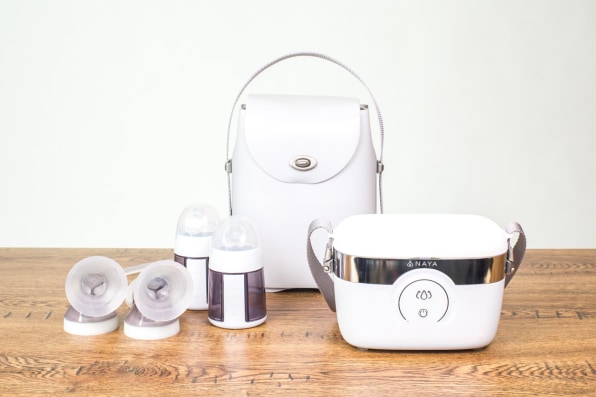 In developing Naya, Janica interviewed over 5,000 women and found that they wanted something that works quickly, is comfortable, and is easy to transport. "When you're thinking about the mom on the go or the woman who is going back to work, she needs something that is really conducive to that experience," she says.
To that end, Naya has a rechargeable battery that lasts 180 minutes–which is about two days worth of pumping–and the pump itself can be discreetly carried on its own or attached to a carrying bag for stowing the accessories. Unlike traditional pumps that average three or four components to assemble, disassemble, and clean, Naya only has one.
A Larger UX Problem
Thoughtful industrial design can only do so much for the bigger UX problem surrounding breastfeeding: the availability of comfortable environments for pumping or feeding to take place. Women are routinely chastised for nursing their infants in public. While employers are required to provide space and time for mothers to pump, the spaces might not be appropriately equipped (when a friend of mine came back from maternity leave, she was informed that the pumping room was the same as the office's server room; she had to place a Post-it on the door so the IT guy wouldn't barge in). And what about publicly accessible spaces for all the times where women are away from their offices?
Additionally, we may be due for a wholesale cultural reassessment of breast pumping. While there is an abundance of studies surrounding the health benefits of breast milk over formula (fewer ear infections, lower cholesterol levels in adulthood, fewer cases of asthma) some researchers have cast doubt on how conclusive they are because of selection bias in the studies and their non-experimental nature. In his studies, Dr. Michael Kraemer, who is frequently cited in breast milk research, could not find many significant differences between formula-fed and breastfed babies with respect to weight, ear infections, and allergies. Moreover, he could not conclude if a marginally higher rate of cognitive ability in babies who were breastfed longer was due to milk itself, or because of more intimate time spent between a mother and her baby. A New York Times reporter points out that a lot of the pro-breastfeeding research is funded by companies who make and market pumps and accessories. It's an industry that's expected to hit $1 billion by 2020.
Naya is part of the growing baby products industry that's currently looking for ways to apply smart tech to products, like the Fuseproject-designed $1,000 robotic bassinet.
"The way I see it, smart tech isn't critical, but it's something that having data and insights make our lives easier," Janica says. "Parents are often scrambling and we're looking for easier ways to nourish our babies and our bodies. One needs to be careful and cautious about the data we are collecting because the last thing you want to do is give some parents another thing to hang their anxiety on. That's something we're careful about. The data we provide is actionable and helpful to her and her baby."
Naya, which is funded by VC and angel investors, sees the pump as a jumping off point for the brand and aims to change the overall feeding experience as much as it can through product design. Next year Naya plans to release a smart bottle that analyzes nutrition content in breast milk. (Janica compares this test to something doctors do in the hospital for new mothers.) Depending on the vitamin, fat, and glucose levels, Naya would then offer personalized recommendations on supplements to take, which would be also be produced by Naya. The company also wants to create formula if mothers choose to go that route.
"We feel like if a mom wants to provide formula, that's great, we'll provide options," Janica says. "If you want to pump, we'll have some great products that will enable you to do that. We just want to support a mom's decision, but not a particular position."
Mothers have been breastfeeding their babies for thousands of years without the use of nutrition-detecting smart bottles, app-controlled pumps, and supplements. But for the data-obsessed women who decide to breastfeed and who want the Cadillac of breast pumps, Naya can be had for $999.