There's this enduring myth in our society that when something bad happens to a woman, it was somehow her fault. A woman is the recipient of unwanted catcalls? She was dressing for attention. Groped on the dance floor? Her skirt was too short. Raped at a party? She had too much to drink. They are all excuses, presented as proof, as to why a woman was looking for sexual advances.
The problem, of course, is that questioning a woman about what she wore or how much she chose to drink distracts from the fact that it's never okay to engage in non-consensual sexual activity, regardless of circumstance.
While there have been high profile cases of late where sexual assault victims have been doubly victimized by lawyers, the legal system, and the media (the cases of Stanford student Brock Turner, Canadian radio broadcaster Jian Ghomeshi, and a certain ongoing situation with the President-elect stand out, though the problem is certainly not limited to those), what's more shocking is how ready the general public is to heap on additional judgement. Wading among the Twitter trolls–which include men and women alike–reveals that offenses that warrant rape include wearing lipstick, wearing a miniskirt, drinking of any sort, or just being pretty.
To address this disturbing trend, YWCA Canada made a bold move. On, November 25, the International Day for the Elimination of Violence Against Women, the organization worked with agency Juniper Park\TBWA to launch a fashion and lifestyle brand to challenge the idea that clothes equal culpability. Called Blamé, the line was first teased with high-fashion ads on YouTube and Instagram. "What are you looking for?" and "Are you asking for it?" they solicited over a woman's plunging neckline. Fashion bloggers and social influencers were then invited to a launch event at a Toronto pop-up shop that featured artfully hung little black dresses, cute leather minis, towering heels, and all manner of chic barware.
So far, so fashion event.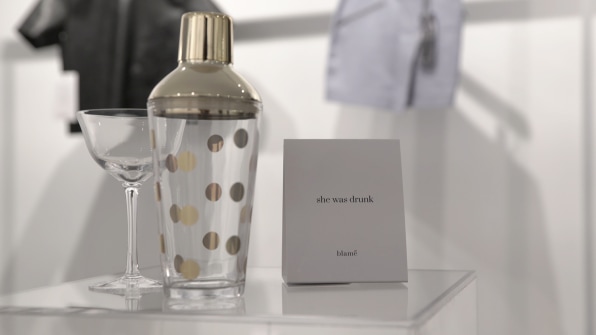 It wasn't until guests read the tags and placards for each item did Blamé's true intention become apparent. That little bodycon number on the wall didn't include a price tag or designer information. Instead it read: "She got on sum tight ass dress an she not trynn fuck nuffn. Bitch u kno females get raped for being pretty." General illiteracy aside, the tag featured a real tweet from someone who felt sure enough of himself to pass judgement on a woman he didn't know. And the story was the same throughout the whole shop. Next to cocktail glasses: a comment blaming someone for getting blackout drunk. Next to dark lipstick: a comment that wearing lipstick is a trap and is "asking for it." Next to the lingerie: a comment from a crown prosecutor equating frilly skivvies to intent.
Following the launch, the online teaser films had a transformation of their own. The red stylized accent for Blamé suddenly became the starting point for a giant red X through the name. Blamé, the "collection for your questionable lifestyle," becomes blame and the campaign's hashtagline, #NeverBlameTheVictim, is revealed.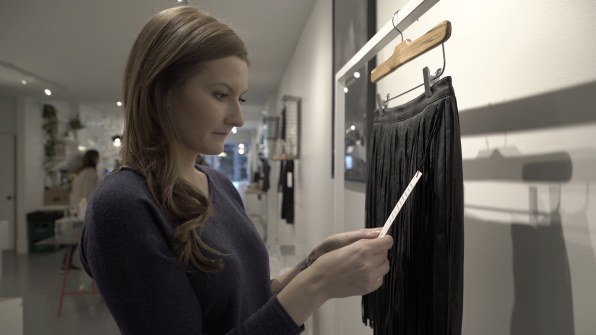 Ann Decter, director of advocacy and public policy for YWCA Canada says the idea to focus on victim blaming came from a shift she's seeing in sexual assault cases. "There's a transformational moment in that women are coming forward and saying this happened to me and talking about it. They're not afraid to do that so there's a shift that's happening," says Decter. "But we still have a fair bit of victim blaming. We still have a court system that's really not functional for women who are sexually assaulted. And we still have a lot of conversations about how assault is a result of a woman's behavior, and we have a court system that says these events didn't happen."
She cites robbery as a useful comparison. When someone breaks into a house, you don't start asking if that person's house is messy, she says. "You just hear that it's a criminal event." That, she says, is how sexual assault should be treated. "We really wanted to reach the general public with a campaign that says when a sexual assault happens the focus shouldn't be on the actions of the person who was assaulted, the focus should be on the actions of the person who committed the assault."
Juniper Park\TBWA chief creative officer Terry Drummond says that asking people to not be a victim blamer adds a new voice in the conversation about sexual assault. "When you look at the actual statements that victim blamers make it always comes down to what the victim was wearing, how they were behaving, what they drank. Our point of view is no one ever asks to be raped," he says, noting his surprise at how many women engage in blaming. "You look at examples online and you go, why would women do that? But it's not a gender issue. For whatever reason people feel like they have this idea of what's right and they just say it because they're sitting at their keyboard and they feel it's harmless. The campaign is pleading to say, think before you speak."
While walking through the pop-up shop and seeing the hateful and vile comments associated with the items could lead one to feel a bit despondent about humanity as a whole, Decter says she's hopeful that a societal shift is possible–and underway. "You know you can make these changes because people don't think it's normal to get behind the wheel of a car now when you're drunk," she says, pointing to MADD's ongoing public awareness efforts. "We know it's possible to change attitudes, that's why we like the idea of all of these every day things that are suddenly stigmatized. If you're wearing that dress and you come home and had a nice time, it's just a dress. If you go out and get sexually assaulted, the dress is the problem. That's not the problem. The problem is that someone sexually assaulted you."
Blamé is part of YWCA Canada's annual Rose Campaign to end violence against women. The campaign runs for 16 days, culminating on December 6, the anniversary of the Montreal Massacre and Canada's National Day of Remembrance and Action on Violence Against Women.