The architecture of surveillance is everywhere and nowhere. And it includes one of the creepiest-looking buildings New Yorkers know: 33 Thomas Street, a 41-year-old windowless skyscraper in lower Manhattan that houses infrastructure for transmitting phone calls, faxes, and internet data—and equipment for tapping them, too.
The mysterious monolith is the subject of a spooky new 10-minute film, Project X, by Laura Poitras and Henrik Moltke, which was projected on the building itself last night, along with National Security Agency documents such as diagrams from inside, original architectural drawings of the building, and NSA logos. The filmmakers—who also released the moody short at the Field Of Vision website today—tapped the group known as the Illuminator to project the film from a location above street level. "This is something I've always wanted to do," says Poitras.
"This idea of things that are hidden in plain sight" is a central force behind Project X, she says. Even without venturing inside, Project X's shots of the building's facade and its construction drawings, along with an anxiety-inducing score and ominous narration, amount to one of the creepiest architectural films ever made. The film grew out of research by Moltke, a journalist who worked on Poitras' Oscar-winning documentary Citizenfour, and partly out of her exhibition at the Whitney earlier this year, where she had originally hoped to bring its themes of surveillance and privacy outside of the museum itself. "There are all these key locations in the greater New York area that are part of the infrastructure of NSA's collaboration and surveillance of telecoms," says Poitras.
The fortified, mostly closed-to-the-public, 29-story "Long Lines Building," as it has been known, opened in 1975 to house powerful computers, cables, and telephone switches. (Check it out on Google Street View.) It was originally operated by the New York Telephone Company, a subsidiary of then-Ma Bell AT&T, as the world's largest center for processing long-distance phone calls. Designed by the architect John Carl Warnecke, who nicknamed it "Project X," it was meant to withstand a nuclear blast and serve as a communication nerve center like a "20th century fortress, with spears and arrows replaced by protons and neutrons laying quiet siege to an army of machines within," his firm declared.
The building is currently owned by today's incarnation of AT&T, which houses network equipment there, but documents provided by Edward Snowden also suggest that an NSA surveillance site, code-named TITANPOINTE, is inside. The site and others around the country has been used for counterterrorism-related surveillance, but it has also targeted the communications of the United Nations, the International Monetary Fund, the World Bank, and at least 38 countries, including close U.S. allies such as Germany, Japan, and France.
"The NSA's documents do not state that it can 'connect directly to' or 'otherwise control' AT&T's networks, but they do make clear that the agency has placed its own equipment inside TITANPOINTE to tap into phone calls and internet data," write Moltke and Ryan Gallagher, in an accompanying article published by the Intercept earlier this month. (Field of Vision—the documentary film unit created by Poitras, AJ Schnack, and Charlotte Cook—and the Intercept are both part of First Look Media, the media startup founded by Pierre Omidyar, who also founded eBay.)
An AT&T spokesperson told The Intercept that the company does not "allow any government agency to connect directly to or otherwise control our network to obtain our customers' information. Rather, we simply respond to government requests for information pursuant to court orders or other mandatory process and, in rare cases, on a legal and voluntary basis when a person's life is in danger and time is of the essence, like in a kidnapping situation." He added that NSA representatives "do not have access to any secure room or space within our owned portion of the 33 Thomas Street building."
Like many people who have passed the building, Poitras has long found it to be an object of interest. "To me, it's a character," she says. As with the material in the Whitney exhibition—drone videos, sensitive NSA letters, and documents regarding a government investigation into Poitras herself—the art is supported by reporting. "We made sure the visual stuff is fact-checked and reported."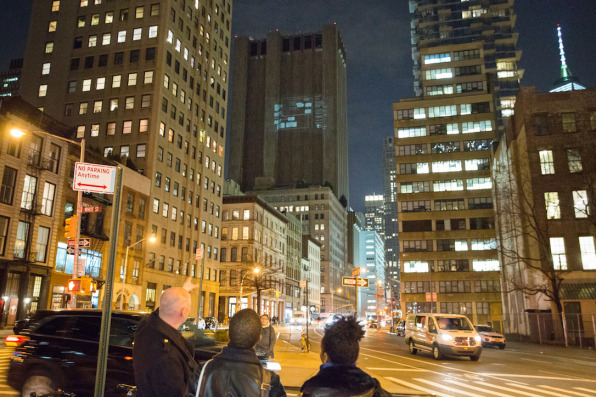 "I'm always looking for ways to approach this material in a more cinematic way than the material tends to lend itself to," she says. Poitras emphasizes the importance of finding new ways of telling stories that are complicated and opaque by definition. "We wanted the film to be more of a mood piece, pointing toward the [written] story," she says. "I'm really interested in what writers can do and what filmmakers can do and how they can complement each other but be different."
The film's main source material included the NSA's guidelines for covert travel, which, says Poitras, were "for me the documents I've been dying to work with since I first saw them." The travel precautions—read in the film by Rami Malek and Michelle Williams—have "a fantastic narrative language that I've been dying to use."
Another admirer of 33 Thomas St. is Sam Esmail, the Mr. Robot creator, who recently made the building a plot point at the very end of season 2. Esmail, a producer on Poitras's upcoming Wikileaks film Risk, didn't know about Project X, she says. "It was a total coincidence that they were focusing on it at the same time." Poitras, in the midst of editing the film when she saw the Mr. Robot episode, called him and clued him in on her project. Their shared interest made it that much easier to get a voiceover from Malek. Poitras chuckles when grilled about how 33 Thomas St. might figure in future episodes. "I don't think he'd tell me what happens next," she says.