If you're looking to move to the state with the most positive economic outlook for 2017, look no further than North Dakota.
A recent study by Expert Market gathered data from the Bureau of Labor Statistics, the Bureau of Economic Analysis, the Kauffman startup Index, and Zillow, and determined that North Dakota is enjoying the most rapid economic growth in the nation, followed by Oklahoma and Texas.
Rounding out the top 10 states with the brightest futures are Michigan, California, Montana, Ohio, Washington, Minnesota, and Massachusetts.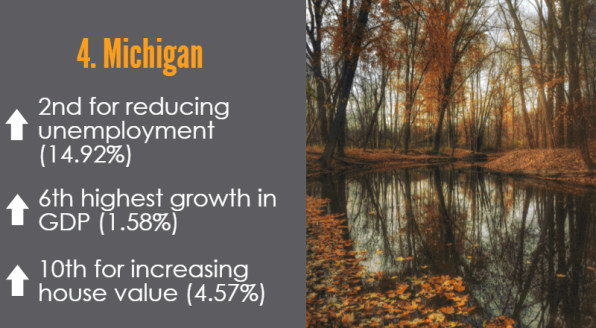 Bobbi Brant, an Expert Market researcher and the study's author, analyzed unemployment levels, GDP growth per capita, startup density, housing valuation, the number of new entrepreneurs, and household income across all 50 states. Brant explains that "each factor was chosen because I believe it shows whether an area is thriving economically." She adds that she calculated the average growth or loss in each category between 2010 and 2015 "to determine which states are in an economic growth period" since the end of the recession.
North Dakota, for example, was first in startup density, with an average increase of 5.56% in new business activity. It also came in first for household income, with an average increase of 4.1%, and first in GDP per capita, with an average increase of 4.54%. "There has been a huge surge in oil extraction in North Dakota, which has led to a steep rise in GDP growth and household income, which explains how they managed to take the top spot," adds Brant.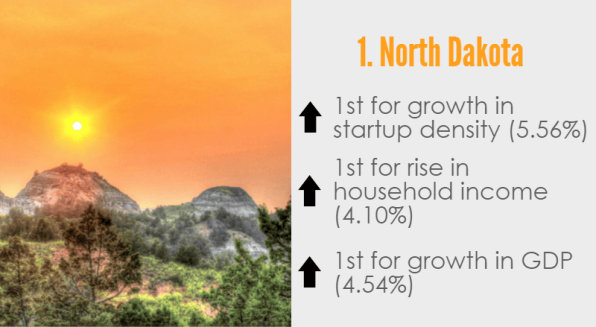 Oklahoma, meanwhile, was also aided by strong GDP per capita and household income, ranking behind only North Dakota in both categories. A few key industries have been leading the charge in Oklahoma's economy, including energy (oil, gas, and wind). There are also more than 500 bioscience-related businesses in the state that pack a $6.7 billion economic punch.
Texas also benefits from the energy industry. The Lone Star state boasts the nation's third strongest GDP per capita, and its 11th highest housing value.
Using this methodology, Brant also determined that the state with the worst economic outlook is Louisiana, which was home to the nation's highest unemployment rate and lowest startup density averages between 2010 and 2015, as well as the country's second lowest GDP per capita. The state has also been struggling with natural disasters that threaten the local economy, such as flooding in coastal areas as a result of sea level rise.
One position above Louisiana sits New Mexico, which is burdened by the nation's second worst housing value and third highest unemployment. Third from the bottom was Maine, which scored dead last in housing value.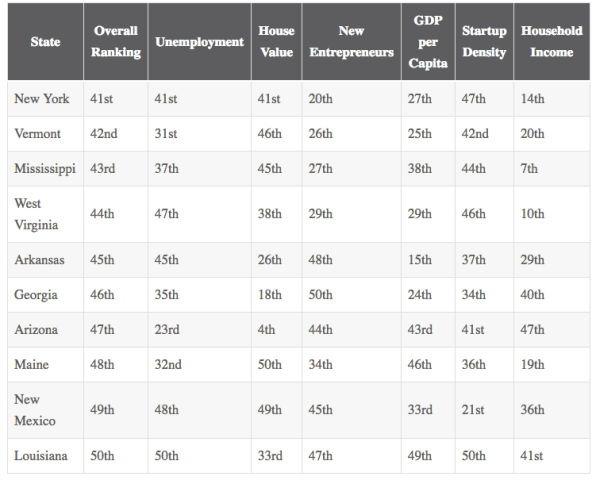 Also at the bottom of the ranking are Arizona in 47th place, Georgia, Arkansas, West Virginia, Mississippi, Vermont, and New York. In her study Brant notes that Arizona did see an impressive 5.88% increase in home values between 2010 and 2015, putting them in fourth for that individual category. Poor scores in household incomes, startup density, and GDP per capita, however, put the Copper State firmly in the bottom 10.
Residents of the lowest ranked states, however, don't necessarily need to feel discouraged. Louisiana, for example, ranked dead last for unemployment, even though unemployment dropped by 0.36% during the five-year study period. In fact, Louisiana saw positive growth in three of the six categories.
"If your state is close to the bottom, it doesn't necessarily mean that the economy is dwindling, it may just not be growing quite as fast as in other states," explains Brant.
States at the top of the list, however, represent those that have recovered from the recession the fastest, and are on a positive trajectory toward continued growth. "States that came out on top in our study have a bright future ahead of them," says Brant, "especially for 2017."