Post-election, as email inboxes filled with calls to action to resist Trump, the majority of Americans who voted against him responded en masse: So many people donated to the American Civil Liberties Union that its website briefly crashed.
But with so many issues at stake–mass deportations, pushing climate past the tipping point, surveilling Muslims, a Supreme Court that could roll back marriage equality and Roe v. Wade, and more–many progressives are struggling to decide where to focus their support.
A new website called WhatDoIDoAboutTrump.com is designed as a hub that highlights ways to make a difference. The site helps visitors make a simple plan for getting involved, find actions that resonate, and support friends who want to do the same thing.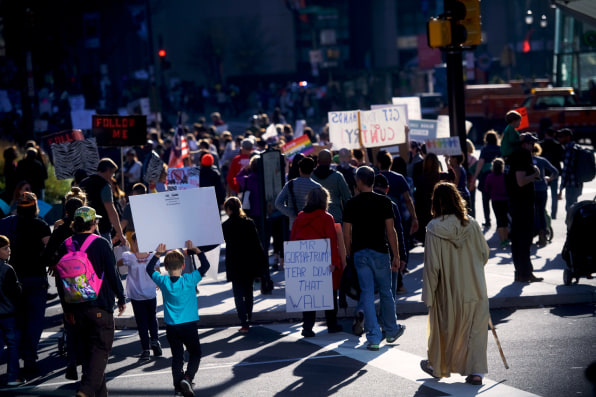 "After the election, like many people, I was feeling really upset and concerned and wanting to do something, but I wasn't sure what to do," says Corinna Kester, one of the volunteers who created the site. "I wanted to make a resource that would make it really easy for people to understand how to get involved, so that everyone can not only get involved now, but also sustain that involvement over time, over the next six months, and over the next four years."
The site offers suggestions for getting involved at any level of commitment, whether someone is willing to spare a few minutes a week or hours. Here are a few of the ideas.
My Civic Workout, a newsletter, is based on the idea that activism is like exercise: It gets easier with practice, and it makes sense to start with small actions as you build up strength.
In a recent edition, the newsletter gave options for a warm-up (calling the Office of Tribal Justice about Standing Rock), a 10-minute workout (sending a letter to the Army Corps of Engineers), and a 30-minute workout (talking to a conservative family member over the holidays, using a helpful SMS-based conversation guide).
#FightTrump also sends out calls to action every day, every week, or every month; Project 1461 will send out a concrete action citizens can take for each of the 1,461 days Trump will spend in office.
Read up on a former Congressional staffer's advice on how to get your representatives to listen to you, and then start calling. A spreadsheet called "We're His Problem Now" lists weekly priorities–the first asked representatives to denounce Steve Bannon–and calling scripts.
If you can't decide which organization to support, an app called RageDonate will help. After showing you a Trump quote, it suggests an appropriate nonprofit. (His quote that calls Mexicans rapists is paired with Border Angels; a quote about "closing the internet" that mocks freedom of speech is paired with the Electronic Frontier Foundation). Multiple other sites also help identify organizations to support. Though the site doesn't mention it, there's also still an opportunity to donate for this election–because of its unusual process, Louisiana hasn't chosen a senator yet, and a Democrat still has a chance of winning.
The Intercept and others explain how to encrypt your phone, computer, and activist forums. For those at greatest risk post-election–whether you're an immigrant, Muslim, LGBTQ, female, or disabled–the ACLU explains what your rights are and how to protect yourself. WhatDoIDoAboutTrump.com also links to several other guides.
Closed Facebook groups like Rise When We Fall and Warriors for Humanity are planning longer-term action. Appropriately, the creator of House of Cards is also leading a new movement to create a nationwide network of action groups.
Kester argues that people are most likely to sustain any of these actions with the support of friends, and the site suggests forming an "action pod" to do that. "Instead of starting with an organization and getting involved with their efforts, you start with yourself and your community of friends, and you connect with what you're passionate about and help each other get involved," she says.