Gwendolyn Christon, the 61-year-old owner of the IGA grocery store in Isom, Kentucky, has been working at the store since she graduated high school in 1973. This fact–plus her honeyed voice and warm nature–goes a long way toward explaining the effortless rapport she has with her customers. From her store's local produce to its fresh fried chicken–the kitchen crew starts cooking every day at 5:30 a.m.–Christon's IGA is a community hub: It serves 5,500 customers a week and employs 25 people. Christon considers these workers family, and she takes seriously her role in helping them make a living. She also saw jobs in the area disappearing, and that fewer jobs meant lower sales. So when she began looking closely at her profit-and-loss reports for a way to stay viable as sales shrank, her eyes went straight to the store's $11,000 monthly electric bill.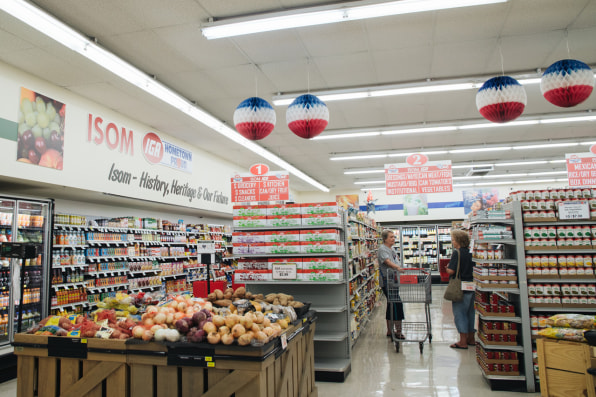 To solve the problem, she met with Les Roll, the enterprise development project specialist at the Mountain Association for Community Economic Development (MACED), a 40-year-old Appalachian advocacy group based a couple hours away in Berea. She had learned about a MACED program, Energy Efficient Enterprises, that does energy-efficiency retrofits on commercial buildings. Roll told Christon they could loan her the money to do the upgrade. Christon was incredulous that such a good deal was possible, but sure enough, with a $418,000 loan from MACED, she retrofitted her lighting system in 2015 and the HVAC this year, tasks that involve energy-saving changes like swapping in high-performance lighting and installing programmable thermostats. When the loan is paid off–she's aiming to have it done in 10 years–Christon will clear an extra $3,300 in profit each month.
This kind of economic solution, based on local resources and assets, is a key part of MACED's goal for what director Peter Hille calls "a just transition": a move to a post-coal economy that isn't dependent on just one industry, but that lifts up the local people as it's being built. The state of Kentucky has a diverse economy, but the coal country of eastern Kentucky does not. "Cities that focus on one thing have great boom periods," says Chris Bollinger, director of the Center for Business and Economic Research at the University of Kentucky. "But eventually the bottom falls out of that industry, because no industry stays the same forever." As Hille puts it: "We still need an industrial-scale solution, because we've got an industrial-scale problem. There needs to be some big things, and there also needs to be a whole lot of small things."
And for Christon, the small things are working: Sales have increased in the brighter environment, and the savings has allowed her to lower prices on some items. In the produce section, the retrofitted cases gleam with vegetables as well as new items, like tofurkey sausage and Naked smoothes, that Christon has started selling to court the area's health-conscious millennials away from big-box stores. Products last longer now, because of the cases' consistent temperatures; volume has increased about $6,000 per week; and Christon is getting newer, younger customers: "And that's exactly what we need," she says.
That an independent grocer can talk energy efficiency in the coalfields of Letcher county says a lot about where eastern Kentucky is at right now. But at a time when central Appalachian coal country is seeing its dominant economy dry up for potentially the last time–earlier this year, it was reported that Letcher County was down to fewer than 100 coal jobs–Christon has her mind on a positive future. When asked how many of her customers she thought were affected by the coal downturn, Christon thought for a moment, then went on: "Probably all of them. But a lot have gone back to school and are getting educated to do different things." It's a necessary step after hitting rock bottom, she says. Though it's been bad before–coal business has always ebbed and flowed–Christon thinks this time is different.
"This is final," she says. "If we're gonna stay here and prosper,"–and Christon has no plans to leave–"we have to start looking for other ways of making a living. You have to do that quickly and not just sit back and wait for something to happen. It's not going to depend on the federal government or someone coming in to rescue us. It's going to be us going to work and doing it ourselves."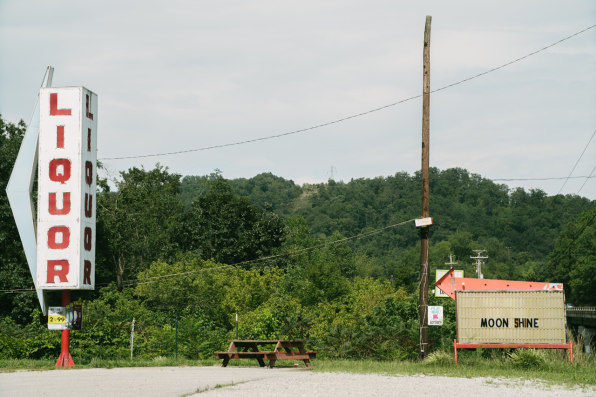 One idea that MACED thinks has potential is energy efficiency. Hille says a history of cheap electricity from coal-fired power plants and substandard housing had contributed to a sever lack of energy efficiency. That–plus the historic role the energy sector has played in the region–led MACED to develop programs that could offer both new economic opportunities in energy and assistance to Kentuckians, both residents and business owners, struggling with high electric bills. E3, as Energy Efficient Enterprises is nicknamed, has done 216 retrofits since its inception in 2008 (saving over $5.2 million in energy costs). A similar program for retrofitting homes, How$mart Kentucky, started three years later; it's done 290 retrofits, giving customers back an average of $17 per month.
Hille estimated that How$mart, a collaboration with six rural electric cooperatives, has enough homes in just one of those cooperative's territory that it would take 100 years to retrofit them all. When a home is retrofitted–which might include insulation, new heat pumps, or duct and air sealing–the new monthly bill cannot exceed 90% of the savings, so the customer is cash-positive from the outset. The program continues to watch bills and confirm that the promised savings is realized. Once, MACED called a house where summertime bills had gone up, only to be told that the owners had done it on purpose: they'd just never been able to afford to turn on their air-conditioning before.
Another piece in the diverse economy MACED envisions is sustainable forestry: Nearly half of Kentucky is covered in forest (much of it privately owned), and Hille sees big potential in both sustainable harvesting and locally owned enterprises like chip mills and pellet mills. Forestry is already a $14.6-billion industry in Kentucky, employing 63,000 people in sawmills, pulp and paper mills, and at secondary producers like cabinet and flooring manufacturers; a U.K. white paper looking at the 54 counties included in Shaping Our Appalachian Region, a broad bipartisan effort to improve Kentucky's future, found that sustainable forestry could add an additional $1.5 billion in direct economic contributions and 7,498 new jobs.
Hille also has a vision for who might take on those forests: impact investors divesting from fossil fuels. (Investors controlling more than $3.4 trillion in assets have pledged to divest.) If money is coming out of fossil fuels, he says, "some of that should be reinvested in the regions that have been most impacted by these practices and have furnished the energy that's driven the growth of the prosperity of our nation for a century."
From an economics perspective, Bollinger says that forestry is still an extractive industry, and thus still somewhat vulnerable to boom-and-bust cycles, and not a huge job creator, but that it could be a good piece of a multi-industry puzzle. Perhaps the biggest key for the area, he says, is education, be it a four-year degree or a job-training program. "I don't care what you want to do with eastern Kentucky, if you want them to stay and become entrepreneurs, if you want them to run tourism, it doesn't matter what industry it is," he says. "The evidence is you're going to need some kind of post-secondary education to compete economically."
MACED is working on that, too. Hille is excited about a new proposal to retrain displaced coal-industry workers as energy efficiency auditors and energy contractors, which will be funded with grant money MACED received from the Appalachian Regional Commission as part of President Barack Obama's POWER Initiative to address economic transition in coal-impacted communities. Many such workers are already licensed electricians, though they will have been working on underground mining equipment and the like, and he estimates they could be retrained in as little as three months. It's an idea that might have as much of a cultural effect as an economic one.
"When the laid-off coal miner knocks on your door and says, 'I'd like to do an energy audit,'" Hille says, "that's a different conversation than when the energy efficiency expert from MACED comes to your door."
Next Stop: Berea, Kentucky: This Tiny College Town Is The Epicenter Of A Food Revolution Taking Place In Coal Country
---
Appalachian natives Courtney Balestier and Elaine McMillon Sheldon drove through coal country–West Virginia and eastern Kentucky–in search of what comes next as an industry that's kept an entire region afloat collapses. What they found were the seeds of a new diverse, sustainable, resilient, and equitable economy. Follow along on their trip:
• Introduction: Coal Is Dying–Coal Country Doesn't Have To: Creating The Post-Coal Economy In Appalachia
• Morgantown, West Virginia: Can West Virginia University Jump-Start A New Economy Based On Innovation–Not Coal?
• Charleston, West Virginia: How West Virginia's Capital Is Boosting Local Business To Reinvent Itself As A Hip Urban Center
• Beckley, West Virginia: Building The Businesses That Could Diversify The Appalachian Economy
• Berea, Kentucky: This Tiny College Town Is The Epicenter Of A Food Revolution Taking Place In Coal Country
---
Courtney Balestier is a James Beard-nominated writer whose work has appeared in the New Yorker online, the New York Times, the Oxford American, and elsewhere. She writes often about Appalachia.
Elaine McMillion Sheldon is a Peabody award-winning documentary filmmaker and visual journalist. She's currently in production on a feature-length documentary about the lives of several young men escaping the opioid epidemic in Appalachia.