Before Jarrod Birchfield and his wife, Kristi, bought Heritage Auto Service in Beckley, West Virginia a little over a year ago, Birchfield had spent the last 13 years as an electrician and maintenance chief at Kingston Mining, a local operation controlled by now-bankrupt Alpha Natural Resources. Birchfield was not laid off, but he saw it coming–he says that more than 100 employees have been laid off since his departure–and he had a new baby girl that he never got to see. At $35 an hour, the money was good, but he worked 12-hour shifts six days a week. Drawing on Kristi's past experience owning a retail shop, the couple made a plan to go into business for themselves. They paid down debt, refinanced loans, and sold the new vehicles that the mining money had afforded them. Now, he works eight to five, five days a week.
A lot of Jarrod's former coworkers are now customers. Many still have their jobs, but some have left for other opportunities. One started a delivery service. Another bought a pest control and home-inspection business. "There are people making their way out," Kristi says, "but if you don't have a lot of business knowledge or you're afraid to do it, you're kinda stuck." There should be a workshop, she says. She isn't the only one who thinks so.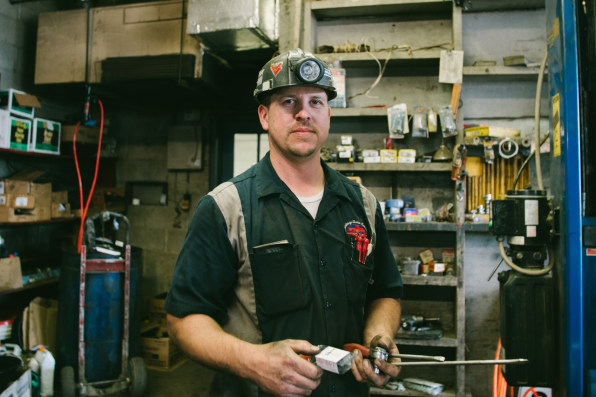 The Hive, a business accelerator program in downtown Beckley run by business coach Joe Carlucci, works with new and existing businesses to expand and diversify. Here, where coal, the declining juggernaut of the state economy, threatens to take auxiliary industries like transportation and machinery down with it, that often means helping coal-dependent companies find new customers. After a company that builds mining carts (the Hive won't disclose its client list) had to let go of eight employees, for instance, Carlucci helped it diversify its business overseas; eventually it was able to hire those employees back, plus five more. The Hive assists a wide range of businesses, from tech and tourism to consumer goods and software, and Carlucci also coaches business owners independently.
"I think that's the best thing that's ever happened, that no one now talks about dominant industries," says Chad Wykle, the executive director of the NRGDA (he's since left the organization). "In the last three years that I've been in this job, I don't hear anyone talk about dominant industries anymore. I hear them talk about cottage industries, or a pie. So you have eight pieces of the pie, and mining and gas may be a piece, but it's going to be one-eighths and not seven-eighths. I think people get that."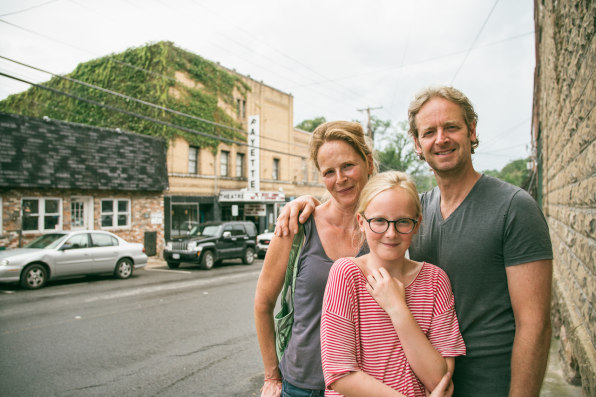 One slice, tourism, is riding the momentum of the Boy Scouts of America's massive Summit-Bechtel Reserve, which broke ground near the New River this summer and accounted for some of the 2,900 jobs the area added (then lost) between 2010 and 2012. Young Life, a nondenominational ministry, recently purchased a 1,100-acre site on the Gauley River for an adventure camp. The tourism sector also plays off the existing appeal of the New River Gorge area, already a destination for mountain climbing and whitewater rafting. (When we stopped in nearby Fayetteville, home base for adventure outfitters, we met a family visiting from Amsterdam.) Continuing to grow that sector of the economy, which already accounts for 12% of the area's jobs and is expected to grow, would mean more service jobs in hotels, restaurants, and shops.
"It's not a panacea," says Joe Brouse, NRGRDA director of business retention and expansion, "but there's a lot of work to be done."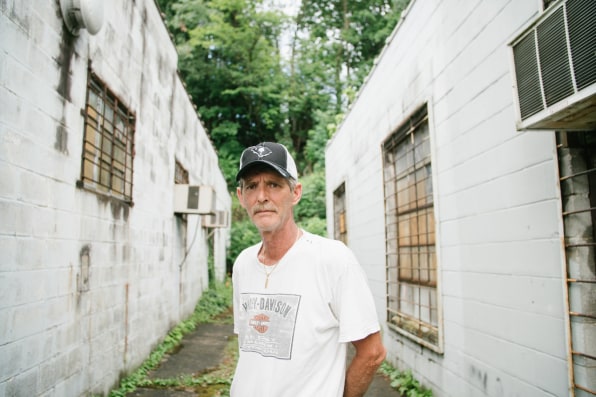 We stopped by Beckley on a hot and bright afternoon, when traffic was light and pedestrian traffic even lighter. West Virginia University is taking over the campus of a discredited local college, which stands to be a big economic boon, especially for the local health care economy–but classes weren't in session yet, so the only evidence were the West Virginia University Institute of Technology banners all over town. On Westwood Drive, we met lifelong West Virginian Joel Sopher, 54, down the block from his business, Beckley Electric Co. Sopher got his electrician license at 16 and has been self-employed for 30 years, and he says this is the worst business has ever been (though he qualifies that he's more selective about his clients now, too).
When talk turned to politics, Sopher says he couldn't stand to listen to Trump–who won West Virginia by 68.7%–and planned to change his party affiliation to Independent. When electrical work dried up during the Bush years, he says, "I voted for Obama two different times because I did not want a Republican in there. And I'll do the same again." On the state level, Sopher liked Democratic gubernatorial candidate and coal baron Jim Justice, who went on to win with 49% of the vote, though he says he'd never work for him: Justice, a Trump-like cult-of-personality billionaire who also owns the state's high-end Greenbrier Resort, owes millions in fines and back taxes. "People like Jim Justice," he says. "He's a personal kind of guy."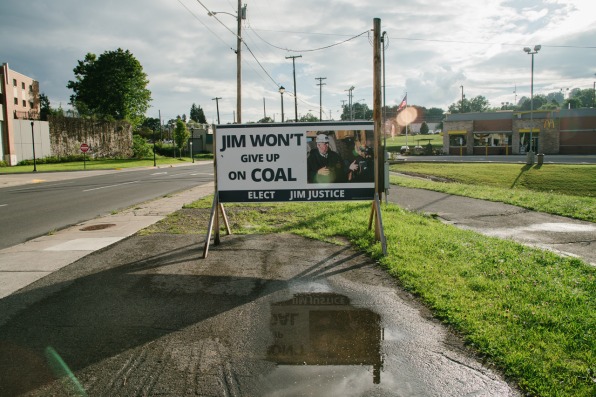 As we leave town, we pass a large Justice ad along the side of the road. The candidate stands in a hard hat, gesticulating in front of a piece of large machinery. Beside him, in block text, are the words "Jim Won't Give Up On Coal."
Before we'd left Heritage Auto, we asked Kristi Birchfield if she mourned coal and coal culture. "Well, kind of," Kristi says. "It provided our lifestyle for 13 years, and you feel attached to it, you feel thankful for it. But at the same time, I want to see West Virginia get past it, find something new. But how can you do that? We have to have leaders that will bring something in for us; they're not doing that so far. But I would rather see coal than poverty. Poverty is a lot dirtier than coal. But if we can get rid of coal and get something in here to help us, then I would rather see that. "
Next Stop: Isom, Kentucky: In Kentucky's Dying Coal Fields, Can Mining Jobs Be Transformed Into Sustainable Jobs?
---
Appalachian natives Courtney Balestier and Elaine McMillon Sheldon drove through coal country–West Virginia and eastern Kentucky–in search of what comes next as an industry that's kept an entire region afloat collapses. What they found were the seeds of a new diverse, sustainable, resilient, and equitable economy. Follow along on their trip:
• Introduction: Coal Is Dying–Coal Country Doesn't Have To: Creating The Post-Coal Economy In Appalachia
• Morgantown, West Virginia: Can West Virginia University Jump-Start A New Economy Based On Innovation–Not Coal?
• Charleston, West Virginia: How West Virginia's Capital Is Boosting Local Business To Reinvent Itself As A Hip Urban Center
• Isom, Kentucky: In Kentucky's Dying Coalfields, Can Mining Jobs Be Transformed Into Sustainable Jobs?
• Berea, Kentucky: This Tiny College Town Is The Epicenter Of A Food Revolution Taking Place In Coal Country
---
Courtney Balestier is a James Beard-nominated writer whose work has appeared in the New Yorker online, the New York Times, the Oxford American, and elsewhere. She writes often about Appalachia.
Elaine McMillion Sheldon is a Peabody award-winning documentary filmmaker and visual journalist. She's currently in production on a feature-length documentary about the lives of several young men escaping the opioid epidemic in Appalachia.