The $400 Android phone is having a moment.
Vendors like Huawei, OnePlus, and Alcatel are stuffing high-end tech specs into smartphones that cost hundreds of dollars less than flagships from Samsung and Google. And with the demise of smartphone subsidies in the U.S., you can save a lot of money by purchasing one of these devices unlocked and bringing it to your wireless carrier of choice.
With the Le Pro3 smartphone, LeEco is the latest company to try and cash in on this phenomenon, but the company's strategy is more aggressive than the average vendor. Instead of only competing on price, LeEco wants to upsell you on an ecosystem of phones, TVs, speakers, VR headsets, and even smart bikes—all unified through cloud storage, online content, and a labyrinthine rewards program. It worked for LeEco in China, and now the company thinks it can work in the U.S.
After living with LeEco's Le Pro3 for a week, I have my doubts. While the phone itself isn't bad, LeEco fails to communicate why its ecosystem is worth anyone's time, and its attempts to do so only seem to get in the user's way.
LeEco tries to get its foot in the door with impressive tech specs. The LePro3 has a 5.5-inch 1080p display, a top-of-the-line Snapdragon 821 processor, 4 GB of RAM, 64 GB of storage, and an unheard-of 4,000 mAh battery. The entire phone is covered in aluminum, and there's a fingerprint reader on the backside for unlocking the phone, making payments, and logging into apps.
It's not all rosy, though. Although Le Pro3's 16-megapixel camera does well with outdoor shots, indoor photos often came out blurry with medium to low lighting and it struggled to capture objects in motion. And while the 8-megapixel front-facing camera takes sharp, well-exposed photos, it seems overly aggressive with noise reduction, and requires a steady hand to avoid blurriness.
LeEco also follows Apple in ditching the headphone jack, while throwing in a pair of USB-C headphones and an analog-to-USB-C adapter. I'm less opposed to omitting the legacy connection when it's replaced by an open standard such as USB-C, rather than Apple's proprietary Lightning connector, but either approach creates short-term headaches.
Overall, the Le Pro3's hardware holds its own among $400 Android phones. But as is so often the case with Android, the downsides have more to do with software.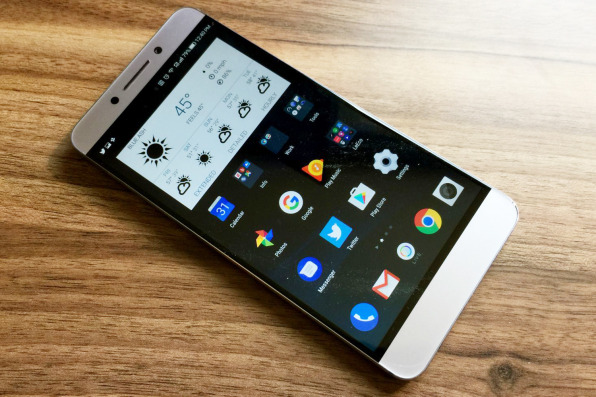 Before using the LePro 3, I'd been spending a lot of time with the Nexus 5X, a mid-range Android phone that Google and LG released last year. Much like Google's new Pixel phones, the Nexus 5X puts Google services front and center. Pictures automatically sync with Google Photos. Contacts back up to Google's servers. App data backs up to Google Drive. Swiping right on the home screen shows timely updates from Google Now. Apps such as Google Calendar and Google Play Music are preloaded.
Most of these features are also available on the LePro 3, yet LeEco tries to duplicate them with its own apps and services, including photo sync, cloud storage, find my phone, and contact sync. The Le Pro3 also includes its own web browser, messaging app, calendar, and note-taking app, along with several other basic utilities apps that override Google's own.
This might not be such a problem if the apps themselves weren't somewhat creepy. From setup onward, LeEco bombards you with requests for data access, many of which don't even correspond to what each app is doing. The music app, for instance, requests the ability to make phone calls. The contacts app wants access to your location. The alarm clock app asks for access to your photos. LeEco never tries to explain what it's doing before it starts seeking permissions—not a good look for a company that wants to lure people into its ecosystem. To make matters worse, I can't find any way to delete a LeEco account.
Like many Android phone makers, LeEco also lards up the Android interface with its own customizations. Quick settings have been relocated from the notification shade to the multitasking menu, where they live alongside some quick-launch shortcuts and a list of recent apps. Swiping right on the home screen takes you to a "LeView" video feed, largely consisting of YouTube videos that are of no interest. (At the moment, it's giving top billing to a conspiracy theory from InfoWars.) The app tray has been replaced with a "Live" button that launches into a collection of live video sources. The changes aren't all bad, but they're jarring for anyone who's used to how Android typically works.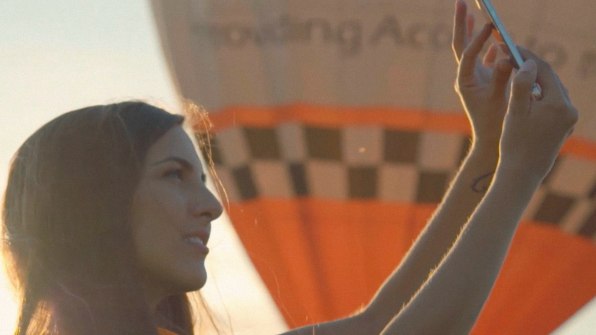 That's not to say LeEco isn't onto something with its ecosystem ambitions; they're just not very well-articulated to users.
The Le Pro3's Live video app, for instance, is actually an enjoyable diversion, with live streams from sources like Food Network, Variety, and HGTV. Maybe those should have a page on the home screen instead of the useless LeView feed.
LeEco also offers a rewards program that could be compelling if it was easier to understand. During setup, users can opt into something called EcoPass, which provides cloud storage, extended hardware warranties, a smattering of content (such as access to that aforementioned Live app), and semiannual deals on other products and services. The problem is that LeEco doesn't work very hard to educate users about those benefits. It merely throws a three-month trial in your face during setup—right when you're focused on getting the phone up and running—without ever mentioning how much the service will eventually cost.
This program also appears to be separate from LeEco's LeRewards initiative, which offers occasional flash sales on the company's products through the LeMall online store. To get these deals, users must join another program called UP2U, which the company describes as a "user planning to user model" that "puts you front and center at enhancing our ecosystem experience." Best I can tell, LeEco wants to solicit user feedback to make its products better—a noble pursuit, to be sure—but deciphering all this stuff is LeOverwhelming.
There's probably a parallel here between the Le Pro3 and LeEco itself, which recently admitted that it spread itself too thin with its global expansion plans. Just as things need to cool down with the company, future LeEco phones would benefit from not trying to accomplish so much, so quickly.