Christmas comes early in U.K. advertising with many high street retailers' high profile campaigns breaking over the last week, and the results reflect a shift in tone for many.
In this year's John Lewis spot, "Buster the Boxer," a little girl's present – a trampoline – is put to good use by a selection of garden animals the night before all is revealed on Christmas Day. Directed by Dougal Wilson–who directed three previous John Lewis Christmas ads including last year's "Monty's Christmas," "The Journey" in 2012 and 2011's "The Long Wait"–the new ad, created by adam&eveDDB, is set to a cover by British band Vaults of the song "One Day I'll Fly Away." The ad is more joyous than previous campaigns John Lewis admits.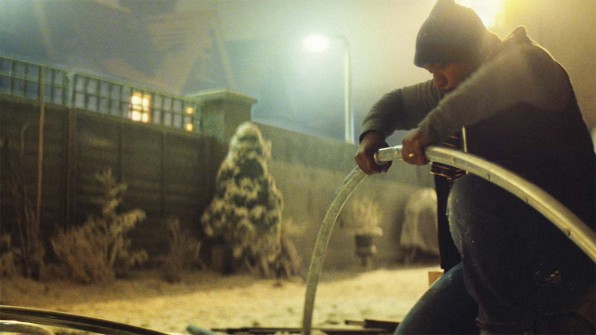 "2016 has certainly been quite a year, to we hope our advert will make people smile," says the retailer's customer director John Inglis. So are advertisers working harder to soothe and reassure us this Christmas? Opinion suggests on current evidence, this could be true.
"The world is a lot different from this time last year. There's a lot of crazy stuff that's happened. Extreme, unsettling stuff," says VCCP creative director Mark Orbine. "But, there's one thing we British love doing at times like this and that's 'Keep Calm and Carry On.' And that's what I think advertisers have done this year."
He adds: "This year's ads have tried their best to remind us all that the world hasn't gone totally to pot."
Perhaps. But for AMV BBDO executive creative directors Alex Grieve and Adrian Rossi, who created the new Christmas campaign for Sainsbury's, trying too hard to be upbeat can be a mistake. "The best U.K. Christmas ads are the ones that best understand what people want from a Christmas ad. For the rest of the year people want to be entertained by advertising. At Christmas they demand it," according to Grieve.
"In doing our Christmas ads for Sainsbury's, we never start by trying to capture or anticipate a specific style or tone or emotion but by trying to come up with the best damn story," Rossi notes.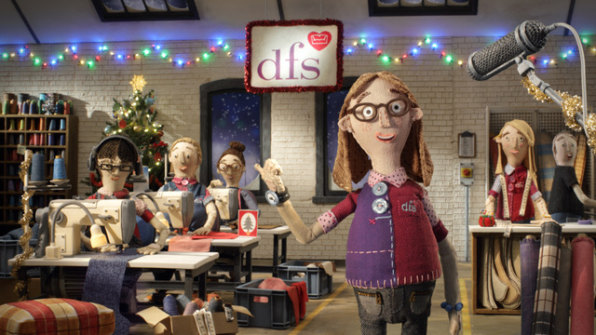 "This year it looks like a lot of brands have set themselves the brief of joy. And on paper that sounds good," Rossi adds. "Except with a few obvious exceptions they haven't because the stories aren't very good or original. They've started in the wrong place."
Caitlin Ryan, executive creative director at Cheil, agrees though points to a different mindset. "There is still definitely a 'feel good' march happening that is hard to ignore and probably a combination of reaction from last year's run of tear jerkers and to spread some cheer on what was a difficult and sobering year," Ryan says. But, she adds: "The Christmas ads have been toned down this year. On the whole they don't have the same epic feel that we've seen over the last couple of years. Perhaps we have become a little self-conscious of our role as brands and advertisers at Christmas."
Evidence so far certainly suggests a leaning towards the soothingly family-er and reassuringly nostalgic this year. While Saatchi & Saatchi created a series of Christmas film shorts rather than one single extravaganza for Asda, each showing different everyday families enjoying a particular product during the Christmas season. And Morrisons' two commercials, created by Publicis London, showcase real family traditions.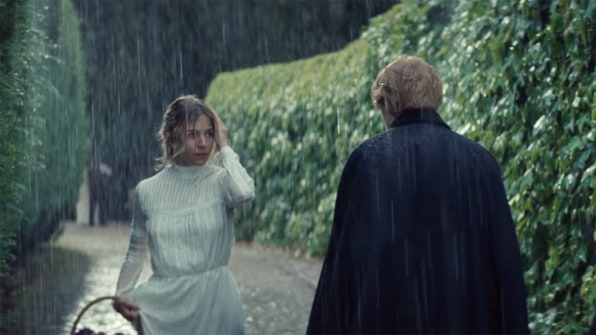 Both feel a world away from cinematic re-imaging of the life story of Thomas Burberry for Burberry, directed by Asif Kapadia, and featuring stars Sienna Miller and Dominic West. There is still room for the glitzy and self-indulgent, however.
In "Found it for a Fabulous Christmas," created by JWT for Debenhams, a host of celebrities including Ewan McGregor and Jennifer Saunders voice a selection of Christmas present ideas. House of Fraser, meanwhile, opts for an energetic music-video-inspired fashion shoot to a dance cover of Delfonics' track 'Ready of Not', created by 18Feet&Rising.
And room, too, for old-fashioned storybook-style and the downright bizarre. While McCann U.K.'s Christmas ad for Aldi "Kevin the Carrot," features a carrot called Kevin who stays awake all night on Christmas Eve to meet Santa, furniture retailers DFS offers a traditional dose of Aardman animation devised by ad agency Krow. And Argos's Christmas ad featuring rainbow-coloured yetis ice-skating through snowy streets, meanwhile is, well, quite bizarre.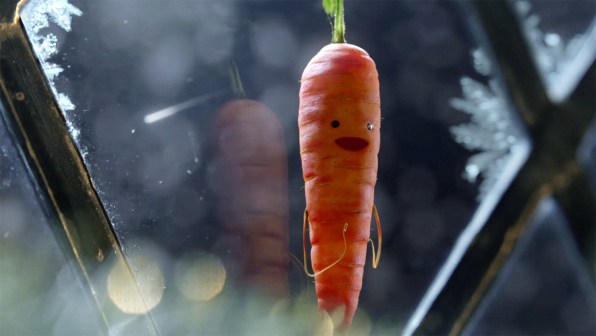 Overall, however, Psembi Kinstan, creative copywriter at Rainey Kelly Campbell Roalfe Y&R is most struck by some of this season's offerings' defiant streak. "If ever we needed cheering up its now," Kinstan says, welcoming this year's offerings that, unusually play for laughs.  "But better still in these divided times is John Lewis's casting of a black family to represent the average UK household–stick that up your Xmas cracker (Brexit champion and former UKIP leader) Mr Farage. Likewise, Boots' decision to celebrate all the women selflessly slogging their guts out at work in public service whilst the rest of us swig wine and cheat at Monopoly."