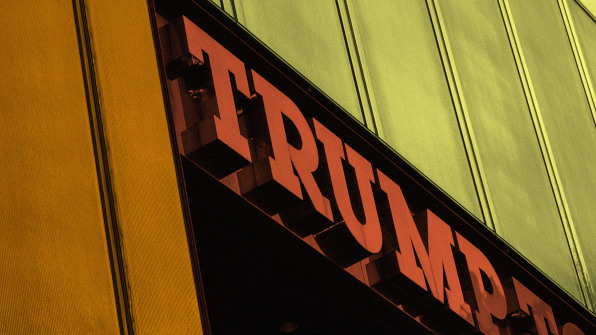 Trump, Enemy Of Historic Preservation
Trump Tower–the hulking Manhattan skyscraper that looks just as foreboding as the super villain who built it–has been the site of designer-led election protests. But before architect Der Scutt's glass monolith occupied the corner of Fifth Avenue and 56th street, the plot of land was home to the Bonwit Teller building, an Art Deco–style department store constructed in 1929.
The facade featured magnificent limestone relief sculptures. The Met museum convinced Trump to donate them to its collection. He agreed, but reneged on his deal and demolished them, citing an appraiser who claimed the pieces were without artistic merit and not worth the $32,000 cost of removing them properly and $500,000 for project delays.
In The Trumps, writer Gwenda Blair included a footnote with an anecdote from architect Alan Lapidus, who visited Trump's office and spotted a fragment of the relief. "When I asked him what the carving was doing there, he leaned forward to me and said, 'Shut up.'"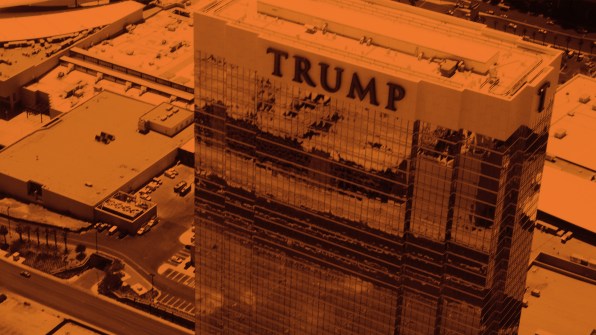 Trump, Fan Of Garishness (Yet Desperate For Praise)
One of Trump's first big projects was the conversion of the Commodore Hotel–a 1919 building near Grand Central–in to the Grand Hyatt, completed in 1980. The aesthetic he established there–a glass facade with a metallic sheen to it–would be replicated time and again.
Architect Peter Samton, a principal of the firm Gruzen Samton, was the lead on the hotel's design and urged sensitivity to its historic neighbors, but Trump wouldn't hear it. "He was interested in making his own statement and he told us, 'I like new shiny things. I don't like granite, I much prefer glass, stainless steel, and shiny marble. That was our palette from day one,'" Samton tells Co.Design. "Nothing we could say or do would change that. This was well before the start of landmarking buildings; historic preservation really wasn't thought of much then."
For all the tower's garishness, Trump was desperate for critical approval. "He . . . wanted to get the maximum publicity he could," Samton says. "He knew we were friendly with Paul Goldberger, who was the architectural critic of the New York Times then. Trump pleaded with us to get Goldberger to the opening. He wanted to meet him."
Trump, Intimidator Of Architecture Critics
Trump has made his distrust of and hatred toward media known time and again. In the architecture world, his Twitter fingers have taken aim at highly respected Chicago Tribune critic Blair Kamin (though he has also praised Kamin in the past). And while Peter Samton recalled Trump's obsession with Paul Goldberger, who is now Vanity Fair's architecture critic, the developer has called Goldberger "irrelevant."
In 1984, he sued Pulitzer Prize-winning critic Paul Gapp for $500 million after the writer called his plans to built a 150-story skyscraper in Manhattan "Guinness Book of World Records architecture" and said it was "one of the silliest things anyone could inflict on New York or any other city." The case was dismissed in 1985.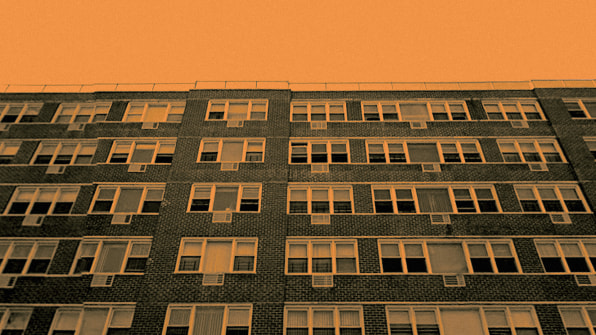 Trump, Sued For Housing Discrimination
Before Donald Trump became a purveyor of luxury real estate, he worked with his developer father Fred Trump. In the 1970s, their company was sued for discriminating against people of color. Federal investigators found that Trump employees marked housing applications of minorities with a "C" for "colored" and nudged them toward properties with other minorities. In 1967, only seven of 3,700 apartments in Trump Village, a housing complex in Coney Island, belonged to black families. In 1973, the Justice Department sued Trump management for discrimination, and Trump countersued for defamation. Fred Trump was in charge of Trump Management and likely set the policies, but Donald was the organization's president. The Justice Department's case ended in a settlement.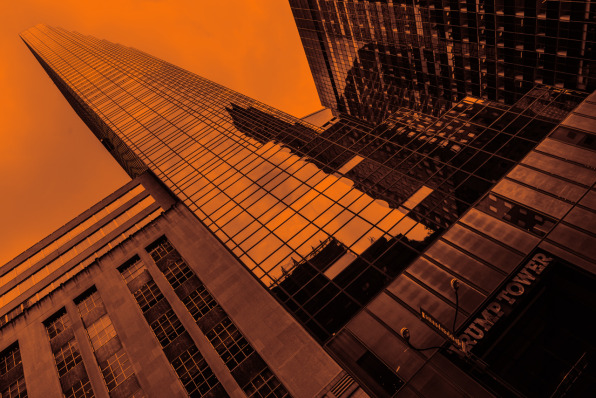 Trump, Believer In Math That Doesn't Add Up
As a recent New York Times story reports, Trump regularly tells tall tales about the height of his skyscrapers, exaggerating the height of some buildings by nearly 20 stories purely through how he labels the floors.
For example, the buildings department records for the Trump World Tower list the structure at 843 feet tall and 70 stories while Trump claims it's 900 feet tall and 90 stories. To arrive at the figure, he divided the total height by the industry-average height of 10 feet per residential floor. He also claims Trump Tower, on Fifth Avenue, is 68 stories when it's really 58. Similar discrepancies exist for the Trump International Hotel and Tower, his Riverside Drive condos, Trump Park Avenue, Trump Plaza, and Trump SoHo.
Trump, Flip-Flopper
In the 1970s, Trump acquired Penn Yards, a defunct rail yard on Manhattan's Upper West Side. He wanted to redevelop the land into offices and middle-income residences. In 1975, Trump suggested 20,000 units be built. (In a 1974 report about redeveloping the area, Robert Moses–the city planner whose name is virtually synonymous with building big–advocated for the construction of no more than 1,300 apartments.) The plan evolved over the decades–Trump once saw it as a television-centric development for NBC that included 15.5 million square feet of office, residential, and commercial space–and was the subject of a public feud with then-mayor Ed Koch. Community groups opposed the plan and commissioned their own design, which included 14 apartment buildings and two office towers, that totaled about 7 million square feet, and a 21.5-acre public park. Trump agreed to the smaller plan after realizing it would require too much legal legerdemain to build his original proposal, but not before claiming that he would eventually get the city to approve of his plans. At one point he hired a lawyer to use something called "underwater zoning" to get the density and square footage he wanted.
Architect Paul Willen of the firm Gruzen Samton (which is now IBI Group Gruzen Samton) designed the community-group version and told Co.Design of Trump's attitude at the time.
"In the early '90s the we developed the plans for Riverside South, which Trump initially opposed because he had his own plan for a mammoth project," Willen says. "We came along with a counter plan at half the size he proposed. It was when he was under great financial duress. He had to yield and build our plan. After bitterly opposing it, he announced he would approve it. He said it was the greatest design in the history of cities. He did a 180-degree turn, which he can do as we know . . . We successfully pressured him to build Riverside South at half the size of his original proposal."
Trump, Shortchanger
In the second presidential debate, Hillary Clinton took a jab at Trump's record with small businesses, saying that he doesn't always pay his architects and contractors. Her campaign also released a video featuring Andrew Tesoro, a New York-based architect who was not properly compensated for his work for Trump. Non-payment nearly bankrupted him. Though the law was on Tesoro's side, Tesoro said Trump's lawyers told him the legal fight would be too expensive for him.