Karen Long is having a hard time getting the word out about her company. That's because unlike most of her entrepreneurial counterparts, Long focuses on women's sexual health. Her company, Nuelle, develops products for women who are having concerns with their sexual response after pregnancy, menopause, or at any time during their lives. For that reason, Long tends to use the word "vagina" in ads she places on sites like Google and Facebook—and that typically results in those ads being taken down.
After several years of enduring these restrictions, Long is ready to take a stand. This week, she and a group of fellow women's health entrepreneurs gathered at high-profile venues around New York City. One of these venues was the Skirball Center for the Performing Arts, home to the Fast Company Innovation Festival, where Long and I spoke yesterday amid the energetic chants of her fellow campaigners.
"Give me a V! Say Vagina! There's no shame in your anatomy!"
Long says she's had little success convincing Facebook to change, or at least clarify, its policies around what content is considered vulgar, obscene, and sexually explicit. So she put the word out to a prominent group of women's health entrepreneurs, including Cindy Whitehead, founder of the drug often referred to as the "female viagra"; Michelle King Robson, founder of EmpowHER; and Alexandra Fine, founder of an Indiegogo-funded wearable couples' vibrator. All of these women shared similar experiences of censorship, and they agreed to go public. The slogan for their new campaign? "Legalize V."
"We wanted to do more than keep networking with each other," says Long. "We wanted to put a voice to this and hopefully create change."
Shortly after they set up their website, LegalizeV.com, the group hoped to garner attention to their cause with the help of a Facebook ad. This particular ad, the group says, didn't mention "vagina," but it did link to their site, and yet it was still taken down. The response from Facebook stated that the site's owners would need to "remove the profanity from your ad and/or destination."
"It wasn't sexually explicit at all," says Long.

Such complaints are not new: In recent years, Facebook has received pushback from breastfeeding mothers, breast cancer survivors, and health advocates who accuse the company of unfairly removing their images and posts for being too graphic. A Paris high court recently ruled that Facebook could be sued after it suspended a French teacher's account over a photo of a famous artwork depicting a woman's vagina.
Facebook has not yet responded to a request for comment. In the past, the company has said it only reviews photos that are brought to its attention by other Facebook members who complain about them. Images that are found to violate its community standards are taken down. The company, for its part, has admitted that it has not always made the right choice when fielding complaints.
But Facebook's advertising policies are even more restrictive. The policies prohibit advertisers from promoting "adult content," which Facebook says "includes nudity, depictions of people in explicit or suggestive positions, or activities that are overly suggestive or sexually provocative." This leaves sexual-health organizations with limited ability to promote their content throughout the vast social network. Specifically, the women protesting this week want clarity around the word "vagina," and whether Facebook deems all instances of the word "adult content."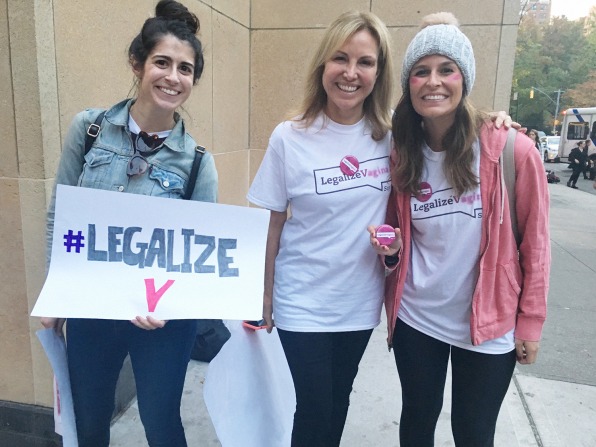 The ultimate goal for the campaign is a sit-down meeting with Sheryl Sandberg, Facebook's chief operating officer and the author of the popular book Lean In.(The group is collecting signatures for an online petition.) But Long is also hoping to get both men and women more comfortable with using anatomical terms to describe their body parts. One study found that two-thirds of women between the ages of 18 and 24 are embarrassed to say the words "vagina" or "orgasm" in the doctor's office. And 89% of teens say they learn about a variety of sexual-health issues online.
If they accomplish little else, the group hopes that it can convince more people to say the term "vagina." In April, a teacher in Missouri was fired for using the word to discuss a work of art. As Long reminds us, being comfortable with the word can lead to healthier relationships, a more open dialogue with the medical community, and a better understanding of our bodies.
"'Vagina' is not a dirty word," she says.