"Old ideas don't get you very far. New ideas and fresh energy are what we need."
That's Cher, during her conversation with consultant and professor Doreen Lorenzo at the Fast Company Innovation Festival on Wednesday afternoon at New York University's Skirball Center. She was talking about politics, having just traveled to four cities to campaign for Hillary Clinton and spent some time with millennials, whom she hopes Clinton will turn to as resources if she's elected president. But she could have been reflecting on her own career, which–more than 50 years in–is fueled by her desire to be herself in ways that push her own boundaries.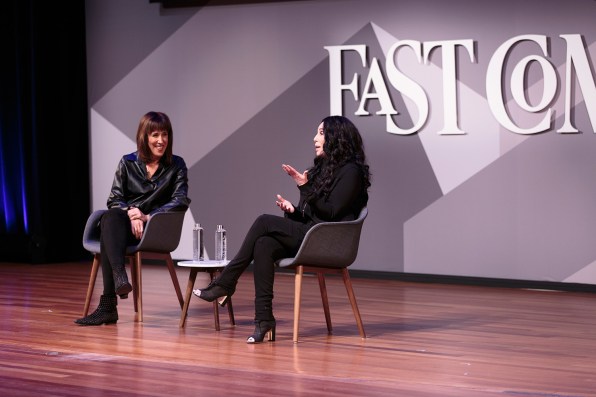 Cher said that her path in life was inspired by seeing two Disney cartoons when she was a kid: Dumbo, and then Cinderella. "I didn't know I couldn't be a cartoon–I was little," she said. She went on to hold jobs such as tabulating time cards ("numbers look like scratches to me") and working at a See's sweet shop ("I liked candy, and I still do"). Then she met Sonny Bono, who at the time was a behind-the-scenes player in the music business. "It wasn't love at first sight–it was weird at first sight," she said.
She got her first big break when singer Darlene Love was delayed by a car accident on her way to a recording session, prompting producer Phil Spector to recruit her to fill in, which turned into a $25-a-week gig. Sonny and Cher began performing together, and another defining moment came when the duo–who were hippies in their offstage life, and dressed like it–were booked for a show at San Francisco's Cow Palace and their costumes got lost en route. "We went out in our regular clothes," she remembers, "and people went 'whoa!'"
The official subject of Cher and Lorenzo's chat was "Being Human in the Age of the Algorithm," but they flexed that theme enough to cover everything from scarves, which Cher has been designing with the help of a computer for an upcoming fashion line for Vida–"I'm kind of crap at it now but I'm getting better"–to Kaavan, a chained-up Pakistani elephant she helped rescue. And the conversation kept bending back to next week's election and, especially, to Donald Trump. Cher, who tweets prolifically in an expressive, Cher-ese melange of words and pictures, has been known to refer to him on Twitter with a toilet emoji.
"I think what Trump means is not 'Let's make America great again,'" she said. "It's 'Let's make America white again.' Some of these people [Trump supporters] are afraid of the browning of America, which I think is a fabulous thing."
She went on: "They're so angry that they want to blow everything up. But they don't realize that what will come afterwards will be devastating."
As for Hillary Clinton, Cher is a loyal friend, supporter, and admirer, but says that the Democratic nominee is aware she needs to challenge the public's perception of what she's like. The challenge, Cher said, reminds her of when director Mike Nichols cast her in the very serious 1983 film Silkwood and then advised her to go see the trailer at a movie theater. Sitting there, she witnessed an audience–conditioned by The Sonny and Cher Show to think of her as funny–reflexively laughing when she appeared onscreen.
"It's so close," she said of the race. "It's like, 'how did this happen, really?' It's so frightening. She has everyone doing everything they can, and still this idiot is so close."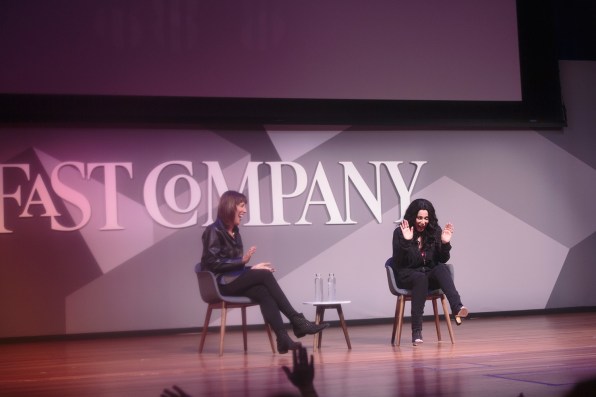 Cher's mind was so much on Tuesday's election that when Lorenzo brought up her new stage show, she claimed not to remember when it will premiere or how long it will run. For the record, the production, "Classic Cher," debuts at the Park Theater at Las Vegas's Monte Carlo hotel in February.
Despite the name, it's not just a rehash of the shows that preceded it. "We're doing an amazing circus from the turn of the century–it's kind of a carny, side show thing, and it's great," she said. Among the elements: video of Sonny, projected on a beaded screen that "bends and moves in a way that makes it look like he's moving, that he's real."
"It makes some of the things I've been doing for 100 years more exciting and fresh," she says of the newest twists to her show. "And that's the important thing for me."