Think of the most annoying problem of your typical workweek. Maybe it's a recurring one, something that's constantly causing headaches for you but for which there's no immediate solution. So you just put up with it.
As Sara Kalick, VP and general manager at the consultancy SYPartners, sees it, that putting-up-with-it will increasingly spell death by a thousand paper cuts for companies in 2017 and beyond. "Transformation," she said at a Fast Company Innovation Festival workshop this morning, "is fundamentally human-led, not systems- or process-led." That means that how well people go about solving problems is the key question that every change-related effort needs to answer.
But the good news is that it may be simpler than you might think.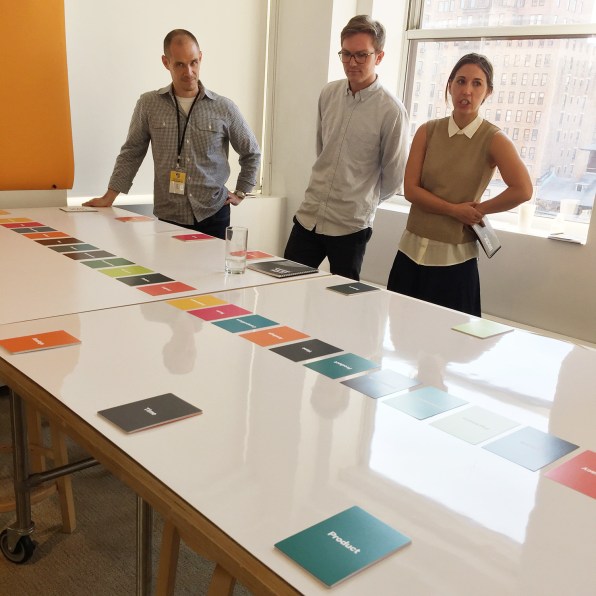 Kit Krugman, chief curator at the consulting firm Co:Collective, is struggling to get certain younger employees to feel committed to the organization. During an exercise geared to build optimism, she said that there's been something of a "me versus them mentality" among some on staff that's reared its head in debates about Co:Collective's unlimited vacation policy.
To Krugman, the problem seemed pretty intractable; it wasn't just an issue of a broken workflow, it was about changing attitudes. To help, SYPartners offered a series of colorful cards—each with a single word printed boldly on one side and a few sentences' instructions on the reverse—designed to prod people into "framing the situation" differently. Krugman chose one that said "Futures."
Within moments, she and I were talking about the future of work—how workers' expectations of their careers and their employers might be evolving—and sharing stories from our own professional experience. Krugman was quick to admit that she's fascinated by that problem (she cheerfully acknowledged that Co:Collective is "basically a competitor" of SYPartners as a consultancy focused on organizational change), and as an editor on Fast Company's Leadership section, so am I.
This was far from a rigorous analysis, and we weren't talking about ways to get Co:Collective's employees to think anew about vacation. But we were discussing how a totally different approach to compensation, and even employment, might be in order.
In fact, Krugman said her company is already piloting a program allowing certain employees to earn a retainer and a stipend toward benefits, then make up the rest of their income on a project basis, loosening the traditional employer-employee contract without going totally freelance. Maybe this approach, if taken further, would solve those benefits squabbles. Don't just rethink the vacation policy, reshape the terms of employment under which it's offered.
Suddenly there was a dotted line connecting one promising venture at Krugman's company with an issue that had seemed unrelated to it. After talking it through, Krugman said, "The problem seemed bigger, but I still felt more optimistic about solving it."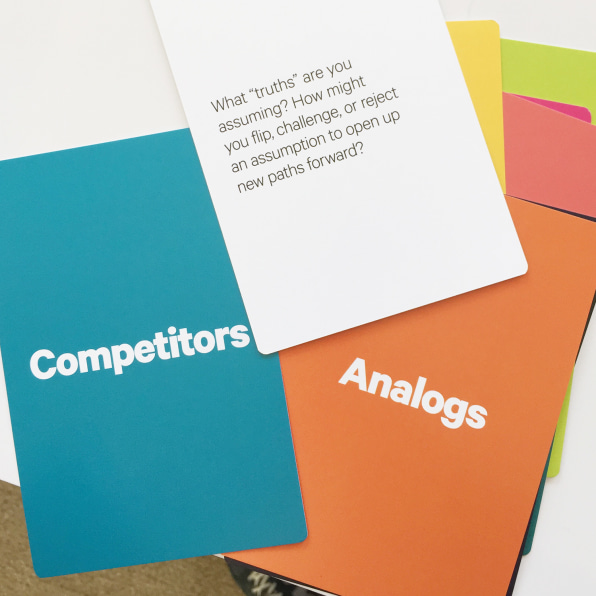 Can casual conversation solve the most intractable issues facing 21st-century organizations? Not exactly, and SYPartners doesn't think that's all it takes. But when I pointed out to Kalick that so much of her firm's training centers around basic human skills and habits, like active listening and authentic communication, she agreed.
"It's really just having conversations," she said. And SYPartners's stock-in-trade is teaching people to have them in deliberate, structured ways—not just once, but all the time. Hence the cards and the pairing off, with two people just taking some time to put their heads together. (Kalick says that a "duo" is the "smallest atomic unit of trust on a team." It's where every every meaningful transformation has to start.)
After all, sitting down to hash out a stubborn but livable-for-now issue is something people rarely do in the course of an ordinary workweek. It takes a certain skill set to do it well, but many of us are out of practice. Even recruiters have begun saying that these low-tech "people skills" are among the most in-demand job skills that recent graduates tend to lack most.
There's a real organizational cost to that, says Kalick. "Disruption is constant. It's not just something that happens every now and again, and the pace of change is unrelenting. And transformation isn't something that organizations do every 10 or 25 years. It's what they do every day. And in that world, leaders need to act in new ways . . . constantly." In other words, there will be plenty more problem-solving to do in the months and years ahead ("That's what our jobs are," Kalick said), which means that some of those basic interpersonal behaviors need to become habitual.
Another participant, working not on optimism like Krugman and I were, but on her communication skills, shared a really similar observation. "Partnering with someone was really helpful—[someone] who sort of helped me pressure-test and said, 'What about this?' . . . [That's] definitely not something I would do day-to-day: run ideas for communication by other people."
So much of our jobs is done automatically and alone. More and more, SYPartners seems to believe, that's a liability. If you take a moment to run something by someone else—again and again and again—it not only becomes less onerous to do so each time, but it also solves problems faster and better. That's a system and a process, to be sure. But it's as analog as they come.