When Cher first took to Twitter, she recalls, "it was like, 'Get off!' and 'You're old!' and 'You're stupid!'"
But she stuck with it, because "I didn't care. I cared, but not enough to stop. And I think that's what life is about–that you care but not enough to stop being who you are."
For the Goddess of Pop, resilience is more important than reinvention. Speaking backstage on Tuesday at the Fast Company Innovation Festival, I pointed out that a lot of her best-loved songs are kiss-off anthems and self-affirming ballads about bouncing back. "That's been my life," she interjects.
"My road has been a bumpy road," says Cher. "It's like, 'She's great, she's shit, she's a has-been, she's reinvented herself'–it's stupid! I've always been who I am since I was born."
That's a simple yet compelling idea in an era when we're paradoxically instructed to strive for "authenticity" all while changing continuously–whether it's our habits, skill sets, or even our careers. Get straight with who you are, Cher seemed to suggest, and the rest is just dogged perseverance.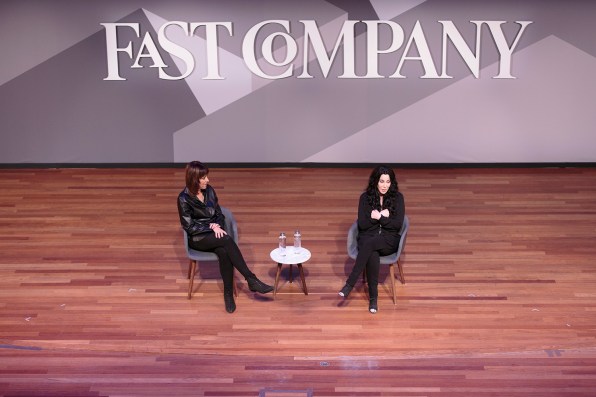 "We became Sonny and Cher very quickly," she later told a packed house at NYU's Skirball Center, "and just as quickly we became small 's,' small 'c'"–'sonny and cher.'"
It was 1969, and cheery pop tunes of the "I Got You Babe" variety (1965) were falling out of vogue. Imperial Records dropped her, and an indie movie that Sonny wrote and directed and Cher starred in flopped. "We owed the government about $270,000," Cher recalled, "which we couldn't pay, and we [had] just had Chaz, and we went out on the road and we went to these nightclubs, and people hated us. We played two shows a night and the second show no one came, but the bosses made you play even if like four people came."
For a while, Cher says, "it was dismal. We dressed in a very strange way when we weren't working . . . [so] we couldn't get a job on TV–we were too weird."
Before long, dressing in a strange way became Cher's signature. CBS picked up The Sonny & Cher Comedy Hour as summertime filler in 1971, then made it a regular program. The next year, Bob Mackie began designing Cher's iconic ensembles, kicking off a partnership that would go on to last more than four decades.
"He decided that I would be the perfect kind of Barbie doll for him," she says. "He gave me that super-chic, naked, sexy kind of look. That everyone's doing now."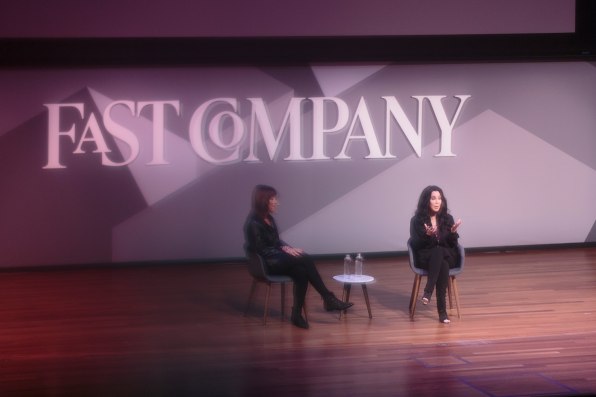 Just being yourself and waiting for the world to catch up isn't actionable advice for everybody, and Cher knows that, too. It's simple: "When you can't do certain things, you do other things," she says–you just do them your way, for reasons that matter to you.
Back in the green room, Cher told me she felt "completely out of place" when she first joined Twitter. At first, she wasn't totally sure what she was doing on the platform. "I had something to say, but I don't even know what it was–'What the fuck is MDA?' That was one of my [first tweets]," she adds, referring to a memorable early effort to pin down the name of Madonna's 2012 album:
"But now I just think that sometimes I have things I want to say, and I can help people—I know that." The purpose is clearer, and so is the impact.
Amir Hekmati is a Marine veteran who was arrested in Iran in 2011 while visiting his grandmother. Local authorities claimed he was an American spy and sentenced him to death. In the months and years that followed, activists pushing for Hekmati's release built a campaign on Twitter that caught Cher's notice. In April 2015, she tweeted her support.
Hekmati was finally released last January. And this week, while campaigning for Hillary Clinton in Flint, Michigan—Hekmati's hometown—Cher says that he approached her.
"We went to a little rally afterwards, and he was there. He had a manila folder and he had the tweet blown up—like a huge piece of paper—and he just told me his story," says Cher. After being released from prison, Hekmati saw the tweets and knew that he would be okay, she says he told her.
"He said, 'You know, it's a day at a time,'" recalls Cher. "But I just thought: I'm just tweeting. Tweeting."
She isn't just tweeting, of course. In between stumping avidly for Clinton (she'd just wrapped up six events in four days), Cher is also working on launching a hotel in Las Vegas and collaborating on a line of scarves that will support humanitarian efforts. Both are first-time undertakings for her, especially since the latter involved digital design tools. "I didn't realize you could do all these amazing things on the computer," she admits, "and I was just drawn into it so much." But like the things she tweets about, they're ventures that she cares about—passionately—which means they're worth the work.
Still, Cher says, "I'm not sure what 'authentic' means. If it means 'no bullshit' that's pretty much who I am, so I'll take 'authentic.'"