Before I had a baby, I assumed that strollers were simple transportation devices that allowed you to cart your baby from point A to point B. Oh, how wrong I was. Most parents, particularly those in cities, will spend the greater part of their child's first three years gripping the handlebar of a stroller. It will serve as a makeshift bed when the tyke refuses to nap in her crib, the basket underneath will hold an entire week's worth of groceries, and going out for a stroll will become a way to meet kind strangers who help maneuver the darn thing through narrow store doors or down the steps to the subway.
It makes sense that the stroller market is crowded with options to suit every lifestyle and price point. And today, a Dutch brand enters the mix, hoping to woo well-heeled urban parents with its sleek design and eco-friendly point of view.
Joolz, which first launched in 2004, creates high-end strollers optimized to maneuver smoothly around packed city streets. "Many Dutch parents will take their babies out the day after they give birth, to show the little one to everybody," says Adriaan Gast, Joolz's U.S. president. "In Amsterdam, we have narrow streets, a lot of shops, and not a lot of parking, so we needed to engineer a stroller that would be easy to use."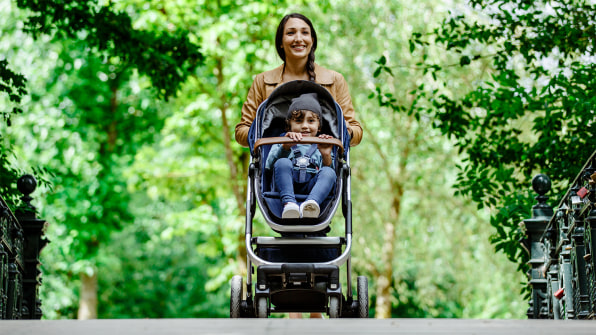 These constraints have made the Netherlands a prime spot for stroller innovation. Bugaboo, the stroller famously used by Madonna, Gwyneth Paltrow, and Gwen Stefani, is a Dutch invention, as are the less well-known Mutsy and Quinny. But Joolz stands apart from these competitors with a philosophy it describes as "positive design," which is meant to be comfortable for both the child and the adult pushing the stroller. It is also designed to be as environmentally sound as possible. But at a price point starting at $999, it's competing at the higher end of the market.
For the last decade, Joolz has become available in 22 countries, including across Europe, Australia, and Japan. U.S. consumers familiar with the product had asked for it to be sold there, but the company wanted to be judicious about entering the U.S. market because there are so many options available, and it takes a long time to build relationships with distributors. Starting today, the product will be available on the U.S. at a selection of retailers described on the company's website.
For two weeks, I was able to test drive a Joolz stroller with my nearly 1-year-old daughter to experience the ergonomic design at work. (I tried the Geo 2, the first model that will be available in the U.S.) The first thing you notice about the stroller is that it comes in simple neutral colors. The one I tried was a subtle blue, and there are also blacks, and grays. "We are drawing from colors in the natural world," Gast says. The handlebars and accents are made from brown leather. On the whole, the aesthetic is reminiscent of furniture you might purchase at West Elm, rather than typical American baby products, which tend to be characterized by a lot of plastic, bright colors, and busy patterns. (Think Fisher-Price and Sesame Street.)
When I strapped my daughter into the seat, her back was cradled and supported, and she was seated almost upright. She seemed to like this, maybe because it gave her better visibility and let her participate in what was going on around her, rather than being tucked away from the action the way she usually is. When we went to restaurants, we didn't need to get a high chair: we could simply wheel the stroller to the table and she could sit right there with us. "We thought it was very important for the stroller to function in many contexts," Gast says.
One interesting element to me was that when my daughter fell asleep in the stroller, the seat could be reclined to 180 degrees, so that she could take naps as if she were in a bed. She often ended up sleeping for more than an hour, which doesn't happen in our regular stroller. This is a very valuable feature, since many parents don't want to disrupt their kids' nap schedule on outings. (There is nothing worse than a grumpy, poorly rested baby.)
Gast explains that the stroller is also designed to support the baby's spine as it develops. It comes with a bassinet configuration for the first couple of months, then the seat position, which is fairly standard in the stroller market. "We were relying on research that shows when babies are very small, lying flat is best for their growth, but as they get to six months and older, sitting upright with good posture is what they need," he says.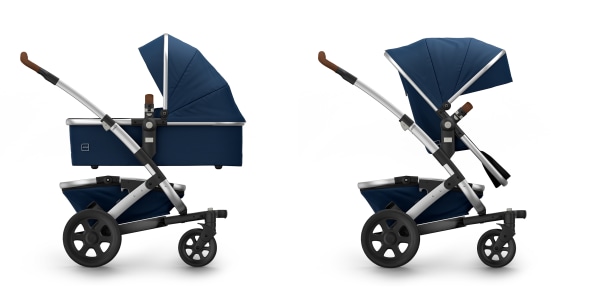 There were other details I appreciated. The seat can be adjusted so that the baby either faces the person pushing the stroller or looks forward. Many strollers I have tested only face outward, although brands like Uppababy also have flexible sitting positions for the baby. My daughter, for one, likes the comfort of seeing her parents as she is getting pushed around. "We've found that most babies like facing their parents for the first year, then they decide they want to face outward," Gast says. "We wanted to create a stroller that can adapt to each phase of the baby's development."
The hood is wide and can be adjusted to protect your baby from sun or rain. Should you decide to have a second child, the large basket underneath can be replaced by a cot for the younger child. You don't have to invest in a new stroller. The roomy basket was useful for stashing milk bottles and toys during long days out and about. It was invaluable for grocery shopping trips.
My only issue is that the Joolz is on the heavy side, which made it hard to carry up stairs. And while it's relatively easy to collapse, it's not particularly compact. There are some strollers on the market that are specifically designed to be light and small; this one does not fall into that category.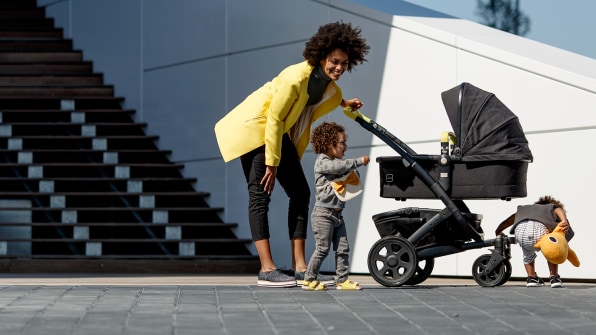 But the thing that really sets Joolz apart is its commitment to environmental sustainability. For each stroller that is purchased, Joolz plants a tree in Colombia in what it describes as a "birth forest." Once you register your stroller, the tree will be planted in your child's name. Besides offsetting the carbon footprint with tree planting, Gast explains that the company is constantly analyzing every part of the supply chain to cut down on waste and energy to make the whole process more sustainable. For parents who are overwhelmed by the massive amount of waste that comes along with having a baby—the sheer number of diapers and baby wipes thrown out every year is mind boggling—this is refreshing.
Joolz wants to get little ones thinking green at a young age. The cardboard cartons that the strollers are shipped in have patterns on the side that parents can cut out with their kids to create little projects. One box can be transformed into a bird house, another becomes a toy reindeer, and another becomes a chair. Even though your baby is too young to understand how the box is reused, if you're blessed with space, you can store it until she's ready to hear the story of her eco-conscious stroller.