The strangest thing Donald Trump ever put his name on was a political campaign. But over the last few decades, he's expanded the Trump brand to just about anything a big gold T might help sell–more than 268 entities in all.
The list includes familiar ventures like skyscrapers, hotels, and golf courses . . . and then there are the odder highlights. Seen in aggregate, these products reveal a greater truth about the Trump brand on retail shelves. It's not about high-end fashion or premium goods; it's positioned more for the Walmart shopper looking to splurge.
Trump licensed his name to a Dutch-distilled Vodka distillery in 2006, and he enlisted design legend Milton Glaser to design the packaging. Glaser tells us he developed the gilded bottle to be "appealing to the lowest level of human activity: envy and status." Priced at $30, it saw a year of decent sales before tanking by 2008, leading to the closure of the original distillery. Trump Vodka is still licensed in Israel, where it's found a foothold in the Kosher spirits market–popular for Passover, according to Bloomberg. But while Trump had once promised to pay its profits to charity, he has yet to do so.
Also produced in Israel, the Trump energy drink doesn't look buyable in the U.S., but empty cans pop up on eBay every now and again. What might at first seem a somewhat strange brand synergy–between a 70-year-old man and a carbonated taurine bomb–may actually explain a lot of those late-night tweets. Trump's Natural Spring Water may have been a safer bet.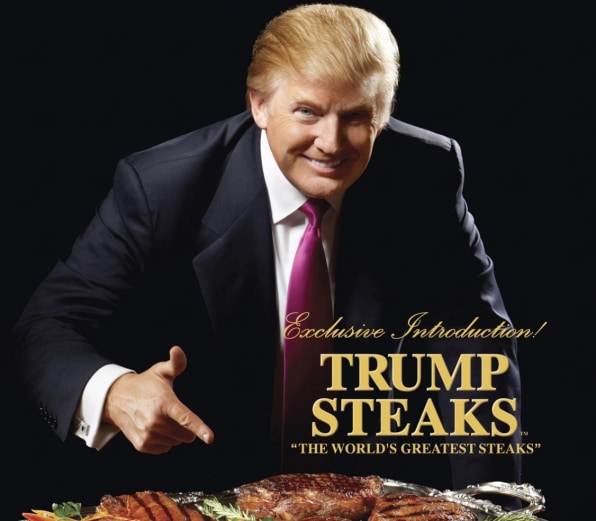 "When it comes to great steaks, I've just raised the stakes!" said Donald Trump in his promotional video touting Trump Steaks from 2007. A year after Trump launched his vodka line, his company began licensing flash-frozen aged beef, produced by Buckhead Beef –a meat packer that's now a subsidiary of Sysco–and available through the Sharper Image catalog. For $199, you got two filet mignons, two cowboy bone-in ribeyes, and 12 burgers, all of which arrived in a monolithic black box with "Trump Steaks" embossed in gold. Prices went up from there, reaching $1,000 for the largest pack. That makes Trump Steaks the most expensive offering on this entire list.
Maybe that was actually its downfall. The steaks got plenty of media attention, but their success was barely a flash in the pan. As ThinkProgress reports, Jerry Levin, CEO of the Sharper Image, said, "The net of all that was we literally sold almost no steaks. If we sold $50,000 of steaks grand total, I'd be surprised." That didn't stop Trump from throwing a press conference this year, arguing for the viability of his presidential candidacy by placing piles of shrink-wrapped raw meat beside the American flag.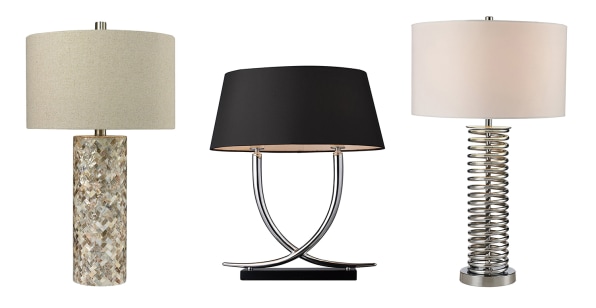 Trump Home is a collection of furniture–including barstools, TV consoles, and even lighting–that attempts to leverage the decor of Trump's own hotel properties in the retail market. Each self-ascribed "masterpiece" is "handcrafted to perfection and made to order . . . engineered using elite and exotic materials attained from around the world." In a practical sense, that means the collection's hideous lamps–which run about $200 apiece–capture aesthetics that range from "Rhino Hunter Moves to New York" to "I Found This Big Spring and My Kid's Shop Class Did Something with It."
Trump hasn't just slapped his names on ghost-written books about his business exploits. He's also promoted his golf courses through a book on golfing advice from the pros. But the most telling thing about the text might be its focus on a lack of preparation. As Vijay Singh explains in the abstract, "You don't need to get your golf swing by going through video cameras and stuff like that. Just kind of go out there and find yourself." Maybe that works well on a golf course, but it's not as advisable for a presidential debate–and I'd add that most of us were scoring on a generous handicap.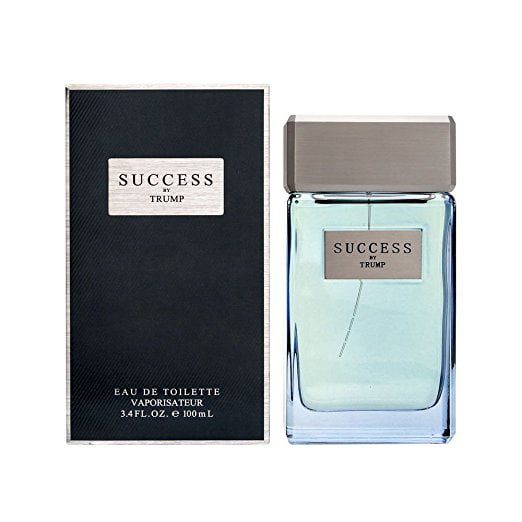 In 2004, Trump teamed up with Estée Lauder to release not just a scent, but a "fragrance experience." It's a $13 cologne that comes in a gold box, with notes of mint, citrus, basil, cucumber, green notes, wood, and vetiver. It has 4.5/5 stars on Amazon–in a mix of ironic and sincere reviews of the product. Patriots may note, however, that vetiver is a perennial bunchgrass of the Poaceae family, which is native to India and presumably stealing the jobs from Panicum virgatum, a bunchgrass grown in the good old U.S.A.
Trump returned to fragrances once again with his Success and Empire colognes, which appear to be part of a broader deal originally centered around shampoo and other grooming products (clearly a bad idea for one big reason that needs no mention). Originally on sale at Macy's–but now at Walmart, too–Amazon says Success is "recommended for romantic wear." Because nothing says romance like dousing your body in eau de toilette before grabbing 'em by the crotch!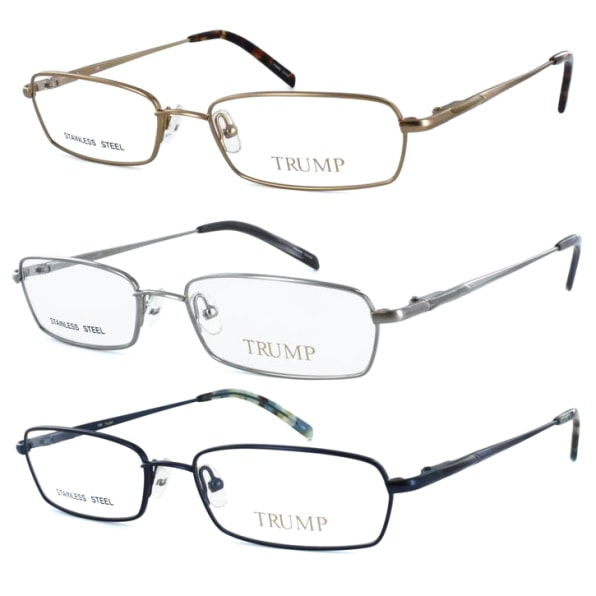 Trump has a full line of men's suits, ties, and cufflinks that look exactly how you would expect them to look. (Pinstripes! Gold!) But he's also lent his brand name to some rather pedestrian-looking glasses (~$95). They are, perhaps, the least TRUMP of all Trump gear. The perfectly non-offensive glasses feature wire frames, occasional hints of gold, plenty of bland brown, and bits of tortoiseshell. Much like Trump's wallets, they actually look a bit off-brand, like something you'd see from Fossil. Those wallets, by the way, are produced under the Van Heusen brand–which is sold at retailers like Kohl's and JC Penney.
Made in Governor Pence's home state of Indiana, Debrand Fine Chocolates produces milk chocolate bars for Trump's properties that are wrapped like a gold bar. Having never tried the chocolate, I looked for reviews online. One chocolate expert featured on CNN was anything but impressed. But perhaps that is not the best snapshot of Trump's target market. Another search found a couple in Ohio whose friend visited New York and brought one back as a souvenir. They loved it.
Before biting in, Tami Dunn, self-ascribed Apprentice fan, explains that at Debrand, "It's like $20 for six truffles, so I can't imagine what this cost." Her husband describes the consistency as "just regular chocolate" with a "good, thick waxy feel."
"It reminds me of some of the chocolate we've had from England," Tami adds–not nearly as sweet as homegrown chocolate alternatives from Hershey's.
It's easy for some of us to laugh at Trump's products, but it seems he's found some real staying power as a consumer brand–though ironically, Trump goods seem to succeed when they aim lower than any luxury brand ever would. No, Trump's $1,000 steak business didn't pan out. But Trump's cheap cologne and gilded, Indiana-made chocolate bars seem to offer the perception of posh. In this sense, Trump's licensing arm does seem to understand a core conceit of being an American: We all desire the finer things of life–but so few of us can actually afford them.