I'd bring back both Whitney Houston and Jeff Buckley from the dead to sing at my funeral. I'd also probably spend my last moments on this Earth worrying that no one else knew my online banking password.
That's some of what I learned about myself last Wednesday night in San Francisco, seated alongside an atheist chaplain, a divorce attorney, a married couple, a human longevity expert, and a musician. Rather than introduce ourselves by profession or startup idea, as is the norm with Bay Area dinner parties, we instead took turns sharing a story about a loved one who had passed away. Immediately afterwards, we lit a candle in remembrance. Dinner was served when all eight candles were lit.
Sound morbid? It's not. Welcome to Death Over Dinner, an idea that's grown into a series informal gatherings taking place across the globe. Anyone can host a dinner party by signing up online to access information like sample conversation topics ("What would you think about in your final minutes?" "When did you realize that you would die?"), cooking a meal, and inviting friends over.
The series was started by Michael Hebb, a former architect and teaching fellow at the University of Washington, with a goal to gather diverse groups of people to have meaningful conversations about end-of-life. Already, Arianna Huffington, Tim Ferriss, country music star Vice Gill, and hundreds of others have hosted events.
This particular Death Over Dinner was a special one: It was part of a series of events this week in San Francisco called "re-imagine," which aim to raise awareness about end-of-life issues, including the recent California law that allows terminally ill patients to seek a doctor's help to die on their own terms. In another session, longevity proponent Dr. Joon Yun (incidentally, seated to my left at Death Over Dinner) spoke with palliative care expert Dr. Ira Byock called "How Doctors Die." Surveys are finding that many doctors will resist the high-tech care that they dispense to their patients.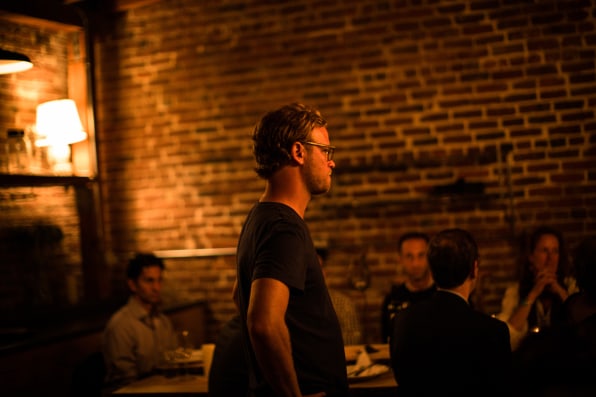 Hebb, a Portland native with floppy blonde hair, kicked off last night's discussion by sharing an oft-cited, but little-known statistic: 7 out of 10 Americans say they want to die at home, but around half spend their final days at a hospital instead. Hebb shared that he had the lightbulb moment for Death Over Dinner after a serendipitous meeting with two doctors on a train. They told him in no uncertain terms that the most broken part of the health care system is how we die. "I told them I had a potential solution," said Hebb. "People need to start talking about it."
The room where we talked, a converted library on the upper floor of the Battery, an elite San Francisco membership club, was packed with more than 60 attendees. It was startlingly quiet throughout the evening, with Hebb requesting that only one person at each table speak at any given time. "You'll surprise yourself by what you say," he told us.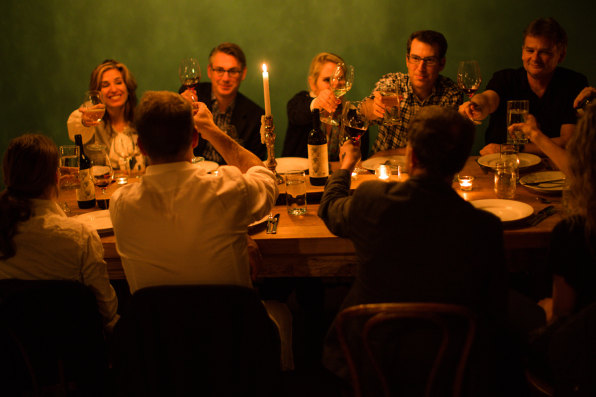 He was right: A couple who had been married for 30 years learned about each other's wishes for their final days, a topic that hadn't come up in the flurry of starting businesses and raising children. They are far from alone: Nearly two-thirds of Americans do not have a living will, according to the American College of Emergency Physicians. Another study from the Pew Research Center found that despite the graying of America, 37% of American adults have not given a "great deal of thought" to their wishes for medical treatment at the end of their lives.
To ensure the conversation flowed, Hebb handed out a list of questions and assigned a moderator. We discussed how old we were when we realized we'd die, and how we'd react if we found out that we'd pass away in a matter of minutes. Occasionally, the conversation veered off course to other, more intimate stories, including other kinds of loss such as divorces and breakups.
I feared at these moments in particular that the conversation might become awkward and tense, given the diverse interests and beliefs of the guests around the table. Would the self-proclaimed Christian butt heads with the atheist chaplain, seated to her left? And how about the longevity folks? What were they doing at a dinner about death?
Dr. Yun, who started the $1 million Palo Alto Prize to "cure" aging, explained that mine was a common misconception, when I inquired about his interest in end-of-life. Dr. Yun didn't want to live forever; instead, he wanted to live better for longer. We also spoke in depth about some of the other impacts of life extension, including a future in which the nuclear family is less central, and the potential environmental impact.
Moments before dessert, Hebb asked us to share some gratitude for another person at the table. The hardest part of that experience was saying little else but "thank you," as we had been instructed to do. We acknowledged that it can be more challenging to accept compliments than criticism. The evening came to a close with a live performance; as you might expect, each of the songs were about mortality and death.
Over coffee the following day, I asked Hebb whether people assumed he was a morose or dark person when he shared his life's work. Hebb spends much of the year traveling around the country talking about death, a topic that is still taboo in our society. "My sunny demeanor helps," he joked.
Hebb believes that the tide is turning: The topic of end-of-life is now more mainstream than ever before. Films like the Twilight series and The Fault In Our Stars certainly helped, as well as the heightened media attention on the topic. Hebb is now working with 50 rabbis to create a Jewish version of the experience, as well as an edition specifically for medical professionals.
"People used to lean back and then lean in when they heard about the dinners," he explained. "Now they just lean in."
Correction: An article version of this article stated that sponsorship for the series came from Sutter Health, the Helix Center in the U.K., and the Ungerleider Palliative Care Education Fund. These are, in fact, the sponsors of a [i][i]related design challenge[/i] around end-of-life issues.[/i]