Proprietary projects are part and parcel to design work–but so is collaboration. For in-house designers, those two concepts aren't necessarily at odds. But for design studios that take on outside clients, it can be a trickier line to toe.
This might be especially true for the global design firm Frog, which is so dedicated to the idea of close collaboration with clients that it has developed a habit of bringing them in-house for the duration of the project. So far, their San Francisco offices have been pioneering this way of working–most notably for an ongoing collaboration with the pharmaceutical company Pfizer–but it's spreading to their other offices as well. Case in point: the firm's new New York office, where the physical space was actually designed to complement this setup.
Frog found the 27,000-square-foot industrial space in the DUMBO neighborhood of Brooklyn over a year ago. Together with the New York architects SHoP, they set out to build an office that answered the question: How do you design for open collaboration as well as NDA-enforced privacy?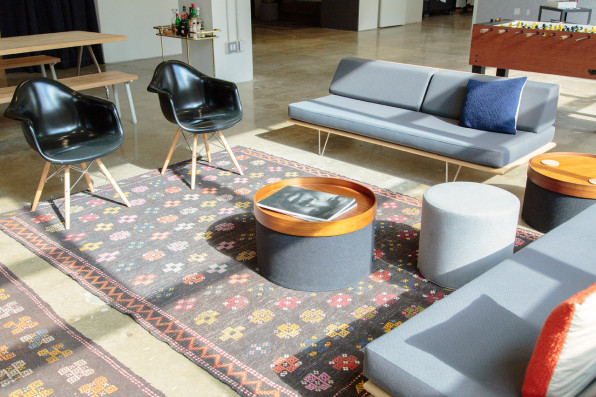 Step 1: Building for creativity and collaboration
Founded in 1969 by the designer Hartmut Esslinger (the creator of Apple's Snow White design language), Frog has one of the most varied portfolios in the industry. Clients range from Nike and Intel to FEMA, UNICEF, and a long list of startups. The firm's projects are also often cross-disciplinary, spanning product design, software, interaction, and even large-scale retail concepts or interior projects.
When SHoP set out to design a space that would showcase that work, the architects quickly found that it wouldn't be as easy as putting products on a centrally located shelf.
"What became apparent was that the creative process itself is what makes Frog unique," says SHoP partner Coren Sharples, who led the design. Sharples and her team wanted an open studio that would put Frog's iterative design and development process on full display, so that clients and visitors could see how they work–whether the project objective is a sleek set of audio products or a VR experience for health care. At the same time, they needed to be thoughtful about public exposure for proprietary projects.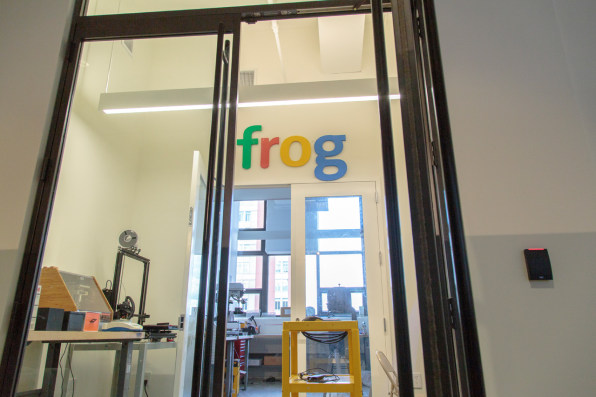 To accomplish that, SHoP designed the office to incorporate three different areas: public, semi-permeable, and completely lock-and-key private. The architect took the industrial space inside the waterfront DUMBO Heights complex and designed the office as a loop that passes through spaces dedicated to clients and collaboration on the public side, and a space for both Frog's open and proprietary work on the other.
The goal was flexibility: an office that welcomes clients in-house and encourages interaction, while also transforming to meet the ever-changing needs of Frog's diverse array of projects.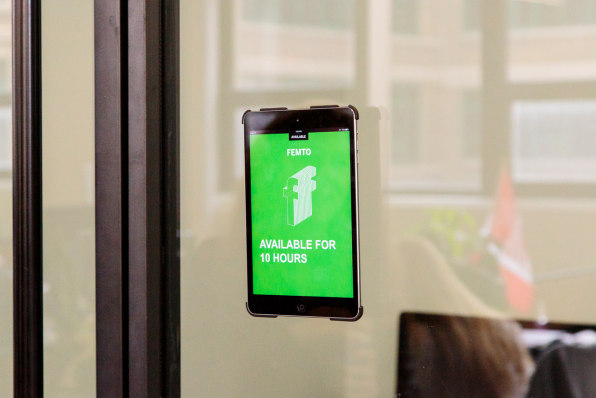 Step 2: Designing for Privacy
Visitors to Frog's new offices are greeted right off the elevator with a corridor equipped with a reception desk and an interactive video wall along one side that shows Frog's recent projects and is responsive to movement. To the right, glass-doored conference rooms overlooking the Brooklyn Bridge host a rotating cast of clients, who may stay a few weeks to half a year, depending on the project.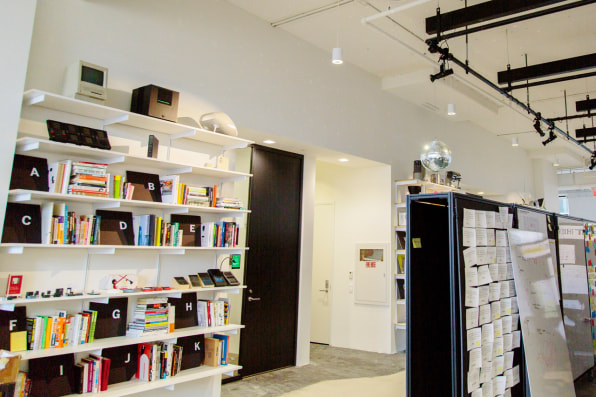 Across the office, two large doors separate Frog's side of the space. These doors typically stay open during the weekday, says Jonas Damon, an executive creative director at Frog, on a recent tour of the space. In that room, a metal pipe grid like the ones used for stage lighting hangs from the ceiling so that designers can hang large prototypes from above, or suspend lights from it for photo shoots. Below the grid, a series of walls-on-wheels can be moved around to reconfigure the open area at the center of the space into multiple rooms, such as three big and two small, six medium-sized, one small room and one gallery, etc.
"The design is driven by the fact that no two projects [at Frog] are alike," says Damon. At Frog, each project involves a different cast of team members–sometimes it will be digital-only if the project is an app, like the Humanitarian Data Exchange, which helps NGOs easily share information in times of crises. Other times it may involve engineers, industrial designers, and interaction designers, for something more experiential like a connected retail concept for Intel. On any given day, says Damon, "we may need a film studio, or a staging set. So we needed a workspace to will give us that flexibility."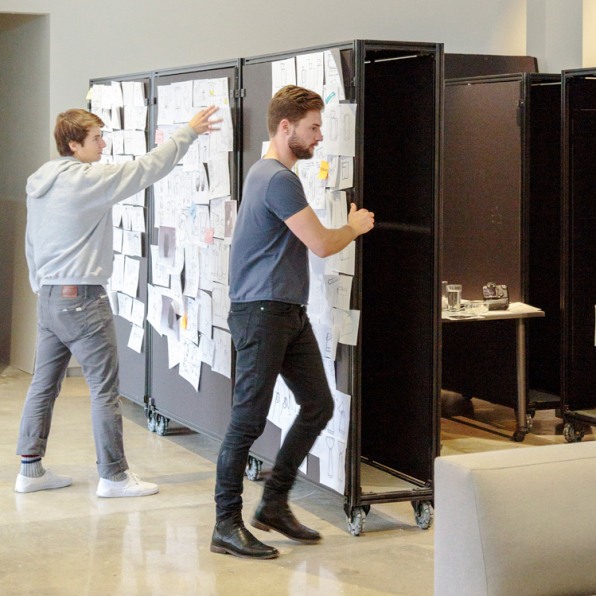 SHoP came up with the concept for the moveable walls, but turned to Frog to design a prototype of the system itself. The moveable walls consist of black metal framework and a removable piece of felt board on either side. It's a more permanent, more polished version of the large foam boards that Frog had propped up all over their previous office, where the team would pin up Post-it notes for brainstorming and storyboarding ideas.
"We didn't want to do away with that completely," says Sharples. "But we did want to make it a more presentable environment. We're not product designers, so to make them work well would have been an iterative process with cabinet makers and the like." Instead, SHoP handed it over to Frog to do the prototyping and development. The walls work in much the same way as the foam boards–they are covered with scraps of lose leaf paper and notes scribbled with ideas–but can also be used to create more private rooms in a semi-public area.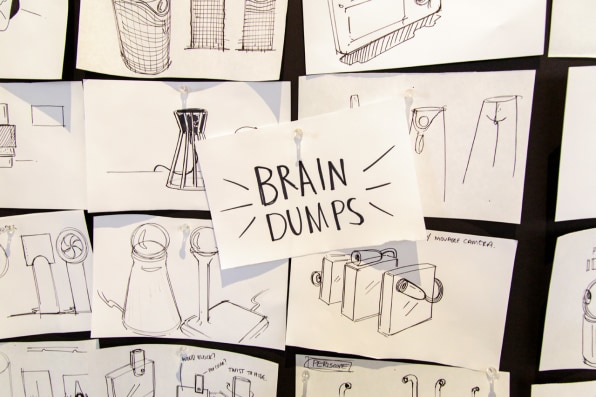 The transformable spaces offer solace, but not always the type of privacy required of products in development in an office hosting outside companies. Nascent ideas and barely decipherable sketches being out in the open isn't too big of a deal, says Damon. But when projects hit the later stages of development they are often relegated to the private rooms along the side of the space.
With some clever design solutions and an eye toward adaptability, SHoP and Frog designed an office that can incorporate live-in clients as well as a diverse array of projects–which some weeks might be a soda stream for beer, others a prototype of a retail concept for Intel. Some projects–say, the DARPA-funded VR simulation for cyberwarfare–require more discretion than others.