The NBA knows that many fans watch their favorite teams on their phones or tablets, so games will now be shot with cameras dedicated to a mobile view–in addition to traditional angles meant for watching on TV.
More than 70% of people who watch games via NBA League Pass do so on mobile devices, and NBA Digital, the co-managed venture between the NBA and Turner Sports, wants to give those fans the best possible viewing experience.
Last season, NBA Digital experimented with highlight packages designed to be watched on mobile devices and found that they outperformed packages shot with traditional camera angles by 250%.
The idea is to present zoomed-in views of game action that make it much easier to see what's happening—who has the ball and what he is doing with it—on phones and tablets.
That's why there will be dedicated cameras and crews shooting for this mobile view in 29 arenas this season, explained Melissa Brenner, the NBA's senior vice president for digital. League Pass subscribers will now have three viewing options: the same home-and-away feeds they've always had, plus the new mobile view.
According to Mark Johnson, Turner Sports' senior vice president for digital, the mobile view cameras will shoot from a center-court position that's right next to camera shooting the traditional TV view. "It's literally zoomed in right on the action," Johnson said.
Producers will have the option to switch to other cameras that are also zoomed in, he added, but the majority of action will be from the center-court angle.
There are, of course, challenges to presenting the new mobile view.
The main one, said Brenner, is that because those shots will be zoomed in on the player with the ball, camera crews will have to pay very close attention to make sure they don't lose track of who's got it.
"There's no wiggle room," she said.
To prepare, production crews have done extensive training during the NBA's preseason in order to ensure that mobile viewers will always be able to see who's "handling the rock" (in baller parlance) when regular season games begin next week.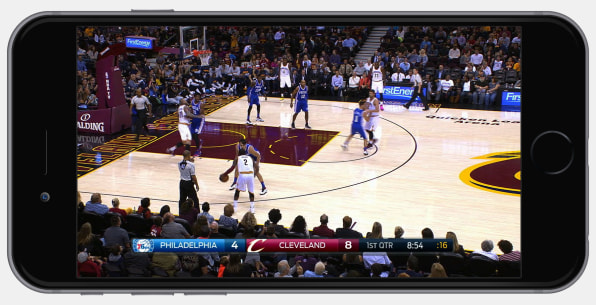 Ultimately, the idea is to encourage fans to watch more basketball, which would mean more revenue for the league and Turner Sports.
It's also meant to boost the amount of time fans watch games on mobile, given that most watch longer on televisions and use their mobile devices for what Brenner calls "snacking."
For now, the mobile view will only be available on League Pass broadcasts. It's not clear when, or if, NBA Digital will provide the new camera feeds to teams' local broadcast outlets.
Clearly, the NBA wants to give fans many options for watching its games. Last week, it announced that it would live-stream one game a week in virtual reality this season.