Other than a brief chat with a college career counselor, or that time a family member asked what you wanted to be when you grew up, has anyone encouraged you to look into the future? Were you ever formally taught how to develop your capacity for foresight? Me neither.
A new game called IMPACT, by the innovation and design firm Idea Couture, wants to change that. Given how rapidly the workforce is evolving–not to mention life's inherent uncertainty–IMPACT's creators felt it might be useful to help people sharpen their ability to anticipate and respond to unexpected change, especially when it comes to their careers.
A lack of foresight might have been less of a problem when people remained in the same job from rookie stage to retirement. But the need to navigate more dramatic and frequent career shifts is becoming both more widespread and more urgent, and that's something many of us may not be all that well-equipped to handle.
To combat that, IMPACT wants to train you to think like a futurist. It's designed for groups of three to five players (though up to six can play), and it's arguably best suited to people ages 16 and older.
To begin, each player chooses a card that outlines their persona for the duration of the game. All are meant to represent a knowledge worker from the future workforce–someone who helps customize prescriptions for patients; uses social-media mining and systems thinking to assemble distributed teams; or develops living spaces, transportation solutions, and health innovations to make space travel more feasible for humans. And each persona card includes a set of optimal conditions for exercising their skill sets.
In each round, a player draws an "impact card" describing a technological breakthrough that may shake up their career prospects–for good or ill. Every player then has to react to its impact by adding or subtracting "influence cubes" to the game board, which covers 10 "domains" (agriculture, energy, transportation, etc.), only three of which are relevant to each character's "preferred future."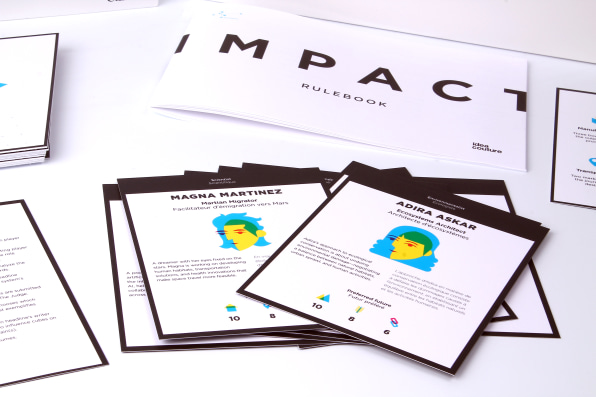 At the end of each round, players have to write a short headline characterizing the "era" that the changes unleashed. To win, a player needs to become the first person with the correct number of influence cubes on all three of their domains, signaling that they've secured their persona's future career, even as it's buffeted by unexpected events.
As Elaine Cameron, resident futurist and senior director of the FUTURE Perspective Group at the public relations firm Burson-Marsteler, explains, "One of the things futurists learn to be comfortable with is a degree of uncertainty. What we are equipped to do is to track signals of change, anticipate the direction of travel, and imagine possible scenarios that could evolve"–all skills that IMPACT is meant to sharpen in players. "That way you have some kind of plan in place should any of those possibilities become reality."
Cameron recently contributed to IMPACT's Kickstarter campaign, which exceeded its target of $15,000 CAD earlier this month. It's now fully funded and entering production, with Idea Couture taking preorders (at $65 USD) and pledging to donate 25 free copies to educators.
"Our goal with the game," says lead designer Robert Bolton, "is to train people to think more deeply about what could unfold in the future, including opportunities to discuss how emerging technologies will fit into our culture and how we will use them." As Cameron points out, that's something few of us know how to do systematically. Idea Couture's CEO Idris Mootee agrees. "Foresight is a toolkit for handling complex, discontinuous, and rapidly changing conditions," he says. "Its methods are invaluable for identifying opportunities on the horizon."
This kind of higher-level thinking isn't exactly a new idea. In 1956, educational psychologist Benjamin Bloom developed the pyramid-like hierarchy of cognitive abilities known today as Bloom's Taxonomy. Despite that, the way most students are educated still focuses on lower-level faculties like knowing, understanding, and applying information in different contexts. But it's really the higher-order stuff that matters–and will matter even more. To compete with artificial intelligence and work alongside machines, the ability to synthesize new ideas quickly will likely prove more decisive.
I recently asked some volunteers to give IMPACT a spin. One was Debra France, a corporate educator at a global innovation company. In one round, France was faced with four cards describing real-life technological breakthroughs in green jet fuel, cheap spray-on solar cells, fuel-producing plants, and biomedical implants that can bond with human cells. While only some of these eco-friendly innovations worked to her persona's strengths, and she won bonus round at the end of the game by coming up with the "era" headline​: "It's now easy being green."
Afterward, France said she had a strong sense of the game's real-world applications, including "for young people in STEM programs," because it pushes players to consider "a broad range of possible future jobs that could help them decide which science or technology to pursue." Many of these roles, France felt, are hard to imagine in the abstract but easier to envision when you're presented with specific technological developments, then asked to adapt to them.
"The fact that players take on roles that may or may not align with their values," explains Robert Bolton, IMPACT's lead designer, "helps them see things from different perspectives. The skill involved in taking multiple cards and undertaking a brief cross-impact analysis to create a relevant headline is not easy." In fact, says Bolton, "We've found it to be especially challenging for those with engineering and business school backgrounds. Playing IMPACT requires you to think more like a novelist: Who are the characters? What's it like to live here? What period is this?"
Indeed, another way to hone your anticipatory skills may simply be to pick up an actual novel. New America Future Tense Fellow Jamie Holmes believes reading fiction is a good way to get better at handling the kind of ambiguity IMPACT is designed to teach–"partially because it's safe, and you go into this other world," Holmes says, but also by "broadening our categories, because we're thinking about how other people make decisions."
Before long, we'll be those futuristic personas, navigating complex technological breakthroughs. Better get acquainted now.
---
Liz Alexander is a consulting futurist and cofounder of Leading Thought. She partners with individuals and organizations globally to help future-proof careers and businesses. Connect with Liz on LinkedIn and follow her on Twitter at @LeadThought.