When you've designed the new Yankee Stadium, Camden Yards, three main Olympic venues, and can claim more than $30 billion worth of construction projects in 34 countries, you could be forgiven for resting on your laurels.
For the architects and engineers at Populous, one of the world's largest designers of stadiums, arenas, convention centers, and other large public venues, being satisfied with the status quo is anathema. That's why the architecture firm has set its sights on meeting increasing demand for venues of varying capacity–all in a single building.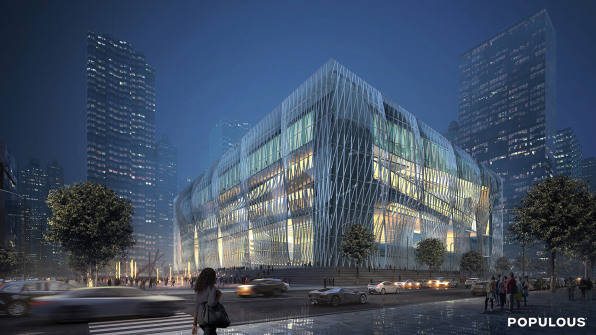 During a Fast Company Innovation Festival event at the global firm's New York office, Populous principal Jonathan Mallie and design director for New York Matt Ducharme showcased their concept for what they call Forum X. What is it? Imagine if a building were a Transformer that could automatically reshape itself from a single 19,000-seat arena into, say, a 17,000-seat theater below, and a second 6,000-person theater above.
"We're hearing more and more in our community of the need for flexibility," Mallie said, "the need to program more than 300 times a year, maybe 350, maybe 500. So how can you design flexible buildings that can accommodate change in the moment?"
Mallie explained that he and his Populous colleagues have been inspired by things like being able to look into structures and see something totally different than what's expected. They've also been attracted to the idea of transient, temporal environments.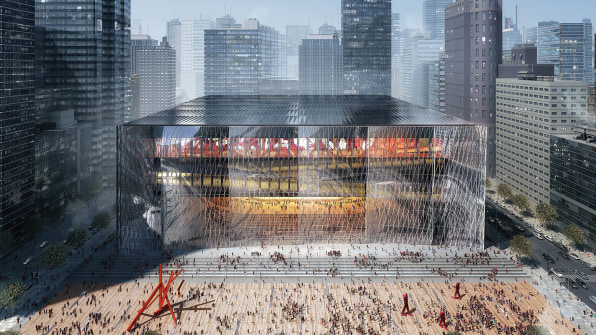 To hear Ducharme tell it, one of the biggest influences for the project was the Pompidou Center in Paris, a large museum and public building that was designed to look almost like it was turned inside out–with an escalator and pipes on the outside. "That was the first to take the inside of the building and turn it on its head," he said.
At the same time, the team incorporated ideas from Klaus Frahm, a photographer who captured a variety of theaters and operas.
Thus Forum X was born. While it's purely conceptual at this point, Populous imagines a structure that can, on demand, transform to offer everything from a single large arena to a 200-seat theater to a 5,000-seat theater.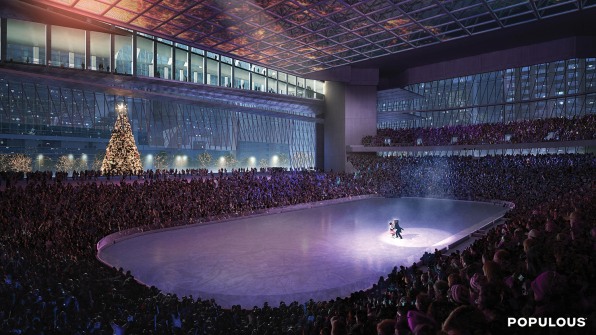 It may be hard to imagine what this would be like, but think about a design in which one wall of ground-level seating in an arena was meant to lift and form the main seating in an upper-level theater, while at the same time establishing a connection from the ground-floor interior of the arena to a concourse that leads to outdoor space. Meanwhile, a third group of people on the upper level could be oriented to watch a performance taking place outside.
And all of these transformations could be done in about 10 minutes, Ducharme said.
The benefit of such a building is that it could host multiple events simultaneously, if that was necessary, or a single large event. And it could be built to maximize the way the outside of the building engages with the main structure.
What's not clear is how much a building like this might cost, or how big it might really be. But Mallie says what's really important is keeping the the ratio of revenues to expenses constant with existing structures. If so, it doesn't necessarily matter if such a building costs more–as long as revenues increase at at least the same rate.
Alternatively, he suggested, keeping that ratio could mean there are opportunities to build such structures of varying sizes, depending on the real-world demand.
While there are ample cases today of flexible seating in performance arts venues, Mallie said he's unaware of a fully transformational structure anywhere in the world. And while it's unclear if Forum X will ever be manifested, Populous is serious about this kind of design, and how it might transform our idea of what public buildings can be.