For 106 years, General Motors was led by a series of men, many of whom might generously be described as dictators: They had all the answers, and they prescribed the company's strategy. The company's first female CEO runs the show differently.
"I don't pretend I have all the answers," says Mary Barra. "I run the group, but I want everyone's best ideas. We need a diverse team with many different kinds of experience," she explains. "In such a complex business, we will make better decisions if we bring our different points of view and the different ways we think."
One way she does this is by working closely with the three key executives who help her run the company: president Dan Ammann, global product chief Mark Reuss, and CFO Chuck Stevens.
in January of 2014, it didn't take long for her to signal that things were different. She quickly promoted her two chief contenders for the CEO position: Ammann and Reuss. "Everybody said give him 18 months and he's gone," says Mark Reuss, laughing as we chat in his office on the 29th floor of Detroit's Renaissance Center. "But here I am. We're making decisions for the next ten or fifteen years of this company, and by the way, we're all going to be here."
By any measure you choose, the quartet has been successful. Eight years after its infamous bankruptcy, GM is regularly delivering profitable quarters with solid operating margins. Critics laud the quality of its vehicles, and even its innovation: the new Bolt EV, which will launch this winter, has been deemed a credible competitor to Tesla's own offerings.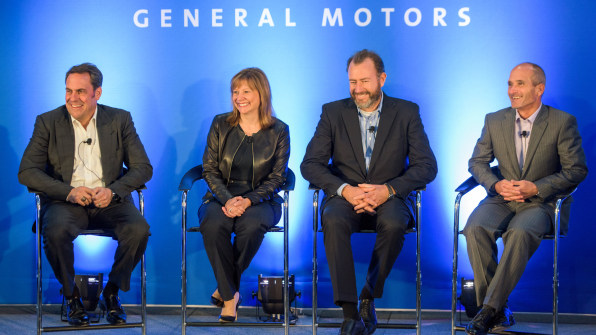 What makes the core four effective? For starters, each has a distinct role.
Ammann oversees day-to-day operations, while also steering the company's future strategy. He led the company's $500 million investment in Lyft, the No. 2 ride-sharing company, and its $581 million acquisition of Cruise Automation, which makes autonomous systems for cars.
Reuss is "the best car guy in the business," says Barra. An engineer by training who refurbishes vintage Chevys on the weekend, he's the guy who oversees R&D, purchasing, and the manufacturing and design of the company's cars, trucks, and SUVs. "This is the job I always aspired to have," he says.
Stevens is the man who is charged with ensuring that the company satisfies investors with consistent, growing earnings. That's no small order for a corporation that is emerging from decades of turbulence; GM's stock has dropped from$40 to $32 since Barra took over, despite its recent success.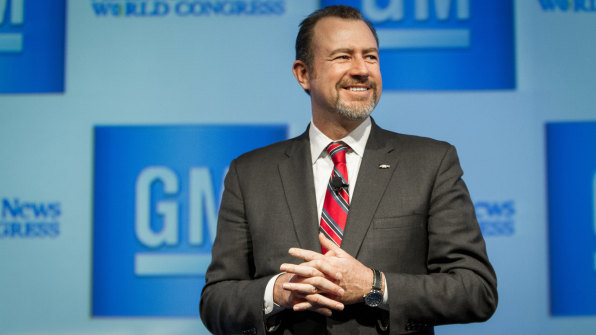 Barra is the fulcrum, ensuring that the four are in constant communication and aligned on strategy. "Mark and I have had a couple of times where people have told us, 'Well, you two disagree," says Barra. "What we do is just pick up the phone. I'll say, 'So and so says we're disconnected on this, I just wanted you to know.' A lot of times it's either we were misinterpreted, or we were looking at at something from a different lens." She and Amman now travel extensively and make it a point to schedule long phone conversations at least once a week. The constant dialogue is a marked departure from GM's past, when information tended to be siloed away, and communication was so stilted that the company became famous for the "GM nod" (agreeing in a meeting and then doing nothing once it's over).
All four want to eradicate any vestige of that culture. Ammann, the son of a New Zealand dairy farmer, came to GM from Morgan Stanley, and has a visceral aversion to bureaucratic torpor. "I'm not even much of a pauser," he says. Barra, Stevens, and Reuss feel this passionately: they, and their families, suffered in the old GM culture.
Barra's father was a dye-maker for 35 years in a GM factory. Stevens, who sports the hefty gold ring he was given for his 25th anniversary at the company, comes from a family that has clocked over 300 years of service at the company. He went overseas for 15 years because he didn't think he could get anything significant done in Detroit. Reuss's father was booted from the presidency just one year after being appointed. "I never felt we were all aligned," says Reuss, who joined the company in 1986. "I never felt the company was on offense and ready to take the lead. It was all defense," he recalls, "And all of us wondering, 'When are we going to do what's right, and do it the right way?'"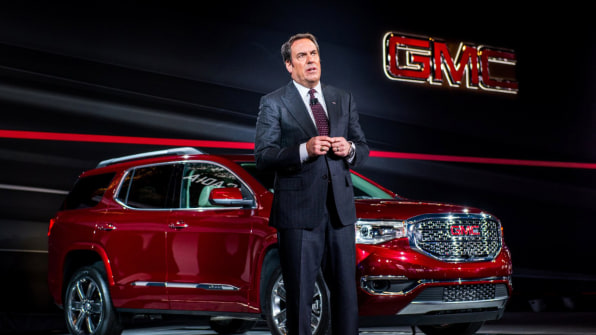 Two years ago they got their chance. GM's directors certainly believe the company is now on the offense. They gave Barra the chairwoman title last January. Still, turning around a corporation like GM takes many years, if not decades.
When Steve Jobs was trying to revive Apple in the late 1990s, he quickly assembled a core team of talented, like-minded execs to tackle the daunting project with him. That core was remarkably resilient, despite the fact that it took five years for the company to truly recover. Jobs's ability to keep that group together, working at peak capability, was in many ways the key to his success.
The challenge Barra has taken on is equally daunting. And like Jobs, the long-term success of her turnaround may well depend on her ability to fully unleash the talents of the execs she's chosen as the core of her company.