"The future of marijuana is female," says Deborah Kaplan, co-creator of MTV's stoner comedy Mary + Jane. "Even marijuana is a female plant. The part you smoke is female."
She pauses.
"You may have to fact-check that," she says. "But I just think the future is female in general."
Potentially historic presidential election aside, Kaplan's statement rings true in 2016, particularly on television. According to Nielsen, five of last season's top 10 broadcast shows—Empire, The X-Files, Grey's Anatomy, How to Get Away with Murder, and Scandal—were female-led dramas. And not for nothing, each one dominated last year's zeitgeist in some fashion, which is all the more impressive when considering none of them had the added buzz of being a new show.
It makes sense, then, that weed TV would go the same way. So while smokable marijuana itself isn't exclusively female, TV's most successful plays at cannabis culture—Weeds, Broad City—have been driven by women. That's no coincidence, suggests Kaplan, who says that the nurturing qualities of medicinal and recreational weed aren't quite mirrored in men. "I mean, when you order weed, who do you want showing up at your door: a shady guy or a cute girl?" she asks.
That seems to be Mary + Jane's jumping off point. The series, which premiered in September, follows twentysomethings Paige and Jordan as they sell weed across trend-obsessed Los Angeles. And while making a unique show is any showrunner's top priority, Kaplan says standing out was especially crucial for breaking into the ever-budding genre of weed TV. "It started to feel like a green rush," she says, also crediting the seemingly daily crop of new dispensaries on every street corner with Mary + Jane's conception. "Something big was afoot and we wanted to take a closer look at that."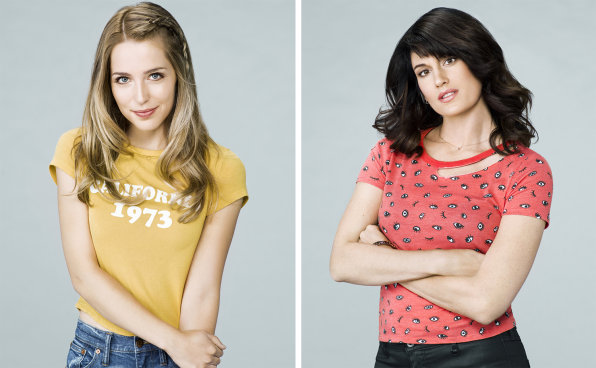 Based on premise alone, it's easy enough to peg the show as a younger Weeds, or perhaps even a kookier West Coast cousin to HBO's High Maintenance. But where the former spiraled into a ludicrous crime saga and the latter has less to do with its drug dealer than his clients, Mary + Jane feels wholly like its own thing—and that comes down to the story Kaplan and co-creator Harry Elfont wanted to tell. "It's about friendship," Elfont says. "But it's also about girls who have a business. And that business just happens to be selling weed."
It was an approach that Kaplan and Elfont knew would set their project apart. Female friendship isn't a groundbreaking premise anymore, not even within the genre (look no further than Broad City, a frequent point of comparison for Mary + Jane). But while that show and many others haven't shied away from showing a lot of weed on screen in the past, they usually do so by showing characters lighting up—not actively running a business about it.
"These aren't two people sitting around and getting high and waiting for life to do something," says Jessica Rothe, who plays Paige. "They're invested in their world and figuring out what they're supposed to be doing in their twenties."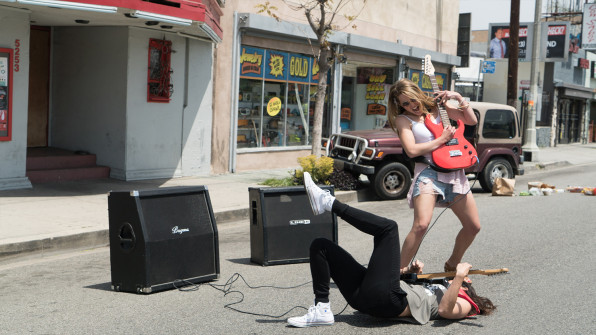 That entrepreneurial ("ganjapreneurial," they'll say) mindedness keeps the oftentimes heightened world of Mary + Jane grounded in reality. Despite the trendy toasts and hipster caricatures that populate its world, the show never strays far from its more universal themes. "Theirs is a very millennial struggle," says Scout Durwood, who likens her character Jordan's experiences to real-life friends who didn't graduate college and instead oscillated between freelancing and running Etsy shops to make ends meet. "It's very real that way."
That being said, there are some harsher realities of the drug industry that the show will likely never touch upon; in other words, Mary + Jane won't become Breaking Bad. Though they acknowledge that ignoring the illegality, violence, and racial dividing lines that comes with the territory might come off as naive, Kaplan and Elfont wanted to write stories that were true to the spirit of comedy and female friendship, not to mention the interests of a network that wanted little to do with guns and deals gone wrong.
All in all, Paige and Jordan have had a fairly innocuous go at the cannabis industry. They've fallen in and out of bed with clients; they delivered to big-name celebrities; they just want to be the highest-rated sellers in their area. But with recreational marijuana legalization on the ballot in California and in four other states, the future of the girls of Mary + Jane lies entirely out of their hands. Should legislation pass—as it's expected to—it may mean a totally different second season for the characters.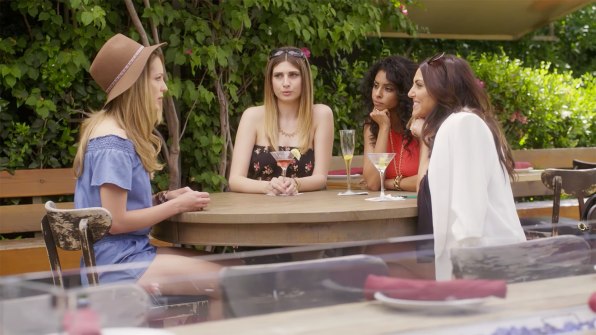 In that case, Paige and Jordan will have to change the game for themselves to compete. But that's not necessarily a bad thing, especially for a show that could easily become rote and tiresome with too many of the same antics. If they find themselves coming to terms with a newly regulated weed industry, then Kaplan says it'll just be one in a series of roadblocks that come with growing up.
"Having been a woman who's been in her twenties, thirties, and now her forties, I have the knowledge and experience to walk those girls through changes," she says. "Hopefully along with our audience."
Kaplan and Elfont don't seem concerned with breaking new ground for pot TV, at least not in the same way as its predecessors. Before its premiere, Mary + Jane was already pegged as a "weed comedy" or a "female comedy," putting pressure on its showrunners to live up to the heights of other shows with remotely similar premises. So if there's anything they hope to accomplish, it's telling a story that can free them from feeling the burden of representation for all comedies involving weed—or women, for that matter.
"Mary + Jane is its own thing; we're not just a female comedy, or a weed comedy," Kaplan says. "There's a lot of room for law shows and cop shows and medical shows—so I don't see why there wouldn't be room for weed shows. We're just telling the story we want to tell."