In 1927, Fortunato Depero, an Italian artist and leading member of the Italian Futurist movement, created what is widely considered to be the first artist monograph. Designed in an anarchic, expressive style and bound by two metal bolts, the Depero Futurista was not only an extensive portfolio of the most important work of Depero's career–it was a also an entirely new type of publication that would go on to become a mainstay of the art world.
In an early example of artist self-promotion, Depero printed around 1,000 copies to disseminate among art collectors and potential clients. Very few of those original copies can still be found these days outside of museums (a signed copy at Sotheby's could go for over $5,500). But a new publishing project–launching today on Kickstarter–is bringing the rare book back into print as a resource for a new generation of designers and design connoisseurs.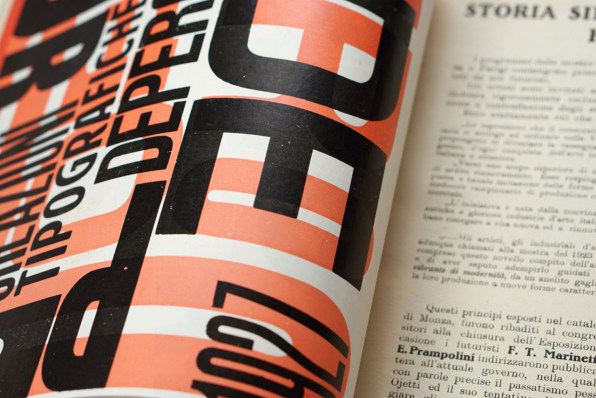 The project, which will produce a new facsimile edition of Depero Futurista, is a joint effort between the Center for Italian Modern Art in New York (CIMA), the MART: Museum of Modern and Contemporary Art of Trento and Rovereto, and the website and publishing initiative Designers & Books. The latter, lead by editor in chief Steve Kroeter, has since 2011 been a site for renowned members of the design community to recommend books important to the field, but lately Kroeter has been looking to Kickstarter as an alternative to big book publishing. For example, he was behind the launch of a recent project with Seymour Chwast and a facsimile edition of Ladislav Sutnar: Visual Design in Action.
For Depero Futurista, Kroeter reached out to designer and writer Steven Heller, who had been writing about Depero and his so-called "bolted book" for years (and has served as an advisor to Designers & Books publishing projects in the past). Heller also wrote an essay that will appear in a reader's guide published alongside the book.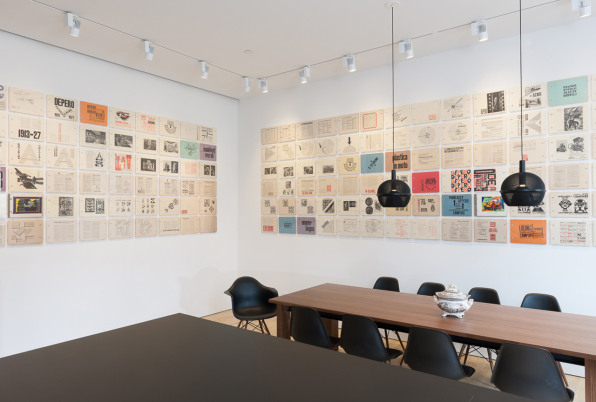 Depero Futurista was the product of the Italian Futurism, an artistic and social movement in early 20th-century Italy whose members were young revolutionaries that celebrated all aspects of modernity–namely the industrialization and mechanization of the world–and believed that war was the only way to remake Italy. "Depero had a self-promotional magazine called Dinamo Futurista that used a machine dynamo as a logo; he was a vanguard of the machine age," says Heller. "Futurists loved motorcars and airplanes and were fans of war. [Depero's] self-promotion was consistent with everything Futurists did."
The movement started in 1909 with the literary avant-garde, but quickly began to incorporate visual arts and even advertising. Italian Futurists called for the breakdown between "high" and "low" culture; long before Andy Warhol and the pop art movement, they were mixing popular culture and consumerism with fine art. Chief among them was Depero, who made little distinction between art, commercial advertising, and self-promotion. He urged artists to market themselves to potential clients, like Campari and Olivetti, whose ideas were as progressive as theirs.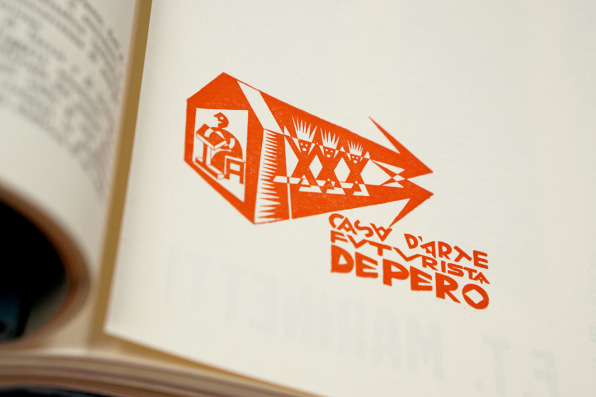 In essence, Depero was one of the first examples of the self-promotional artist–a concept that has exploded today with the rise of social media and the internet.
"He would have been perfectly suited for social," says Heller. "He would have been promoting a Depero brand."
A key feature of the Italian Futurist movement was the dissemination of literature and printed ephemera. "They essentially created their own internet by reproducing newspapers and magazines," says Heller. In 1915, Depero published the manifesto the Futurist Reconstruction of the Universe along with veteran futurist artist Giacomo Balla. In it, they proposed a utopian transformation of every aspect of life into an all-encompassing piece of work that incorporates many different mediums. A decade later, that is essentially what the "bolted book" became: a work that documents Depero's entire career as an artist, and incorporates painting, writing, architecture, sculpture, and more.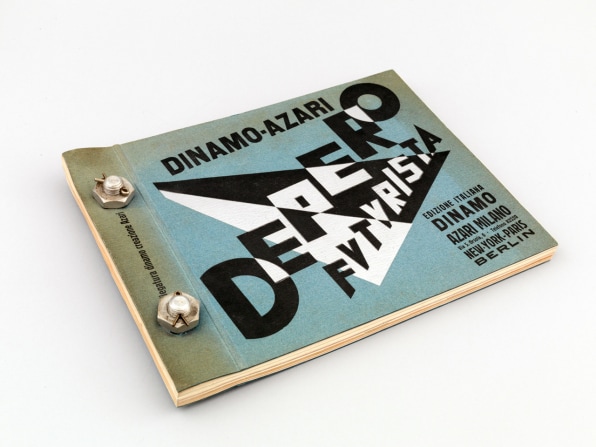 The book itself is an interesting and unusual design object. The bolts that hold the book together at its spine can be untwisted, and the pages taken out; the Kickstarter campaign calls it a "portable museum." Heller calls Depero's graphic style a mix of "German expressionism with a Mediterranean warmth of color," and notes that Depero was an illustrator, whose hand-drawn type gives the book dynamism and a sense of motion. In the same way punk music throws everything together in a cacophony of sound, he says, so too did the Futurists mix different styles and mediums together into one piece of work that looks both anarchic and cohesive. Depero mixes text, concrete poetry, design, illustrations, and paintings in his book.
The reprinted book is an exact replica of the original, right down to the printing and the hardware on the binding. As has become custom for Designers & Books projects, Heller and Kroeter uploaded photos of every page to the book's website prior to the Kickstarter launch. Producing facsimiles of rare books is a way of giving designers access to them, and putting them online gives the books a wider reach as a resource. But it's also a sales technique, Heller says. "People want to see what you're getting, but once you see it, if you're a designer or connoisseur, you want to have the thing in your back pocket," he says. "It's just more tempting."
[Pages and spreads from Depero Futurista, Dinamo-Azari, Milan, Italy, 1927: © 2016 Artists Rights Society (ARS), NY / SIAE Rome. Project Photos: courtesy Designers & Books]