Salary information has traditionally been hidden, like a secret deal between an employer and an employee that is too taboo to discuss in polite conversation. New machine learning tools, however, are finally bringing this information into the light, helping employees gain an understanding of whether they are being compensated fairly, whether they could earn more elsewhere, and where discrepancies between genders, races, ethnicities, etc. may be lurking.
Companies such as PayScale and Paysa already help employees track and compare their salaries. Today a new player enters the market, courtesy of Glassdoor.
The online employer review site has just launched its Know Your Worth tool, which is designed to show U.S. employees how their base salary compares with real-time market trends.
After entering their employer, location, job title, years of relevant experience, and base salary, the machine-learning algorithm scours through job listings in the local market, job transition data, the quantity of job openings, and the response rate of those listings to provide the user with real-time supply and demand patterns.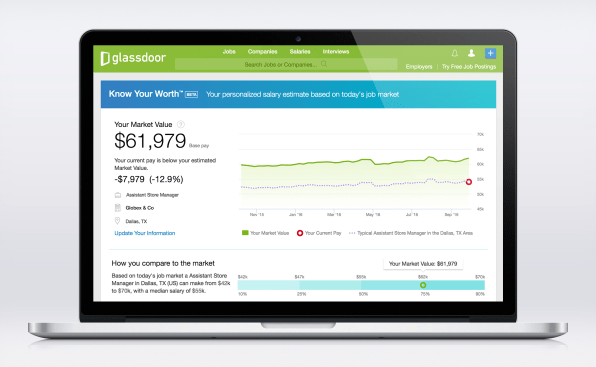 "It's largely based on what others are sharing, but another large part of the equation is something no other calculator is doing, which is taking into account real-time job market trends," says Scott Dobroski, Glassdoor's community expert. "Glassdoor now welcomes about 33 million unique users each month, and we hold several million data points related to salaries from employees on about 600,000 companies in 190 countries," he adds. This database is then combined with near real-time local labor market trends pulled from millions of current job listings, job transition data, local salary reports, and the number of job listings for that title, as well as application rates and click-through rates.
As a point of comparison, Paysa's machine-learning algorithm uses nearly 8 million points of data, including job postings, resumes, and social activity across 200,000 companies over the past 10 years. PayScale, on the other hand, employs a database of more than 54 million total salary profiles gathered via 150,000 surveys conducted each month, according to its website.
While each tool uses different methodologies, they all seek to provide more transparency for salary and compensation.
Glassdoor's Know Your Worth tool is able to provide market-value information for approximately 55% to 60% of the entire U.S. workforce today, with the intention to incrementally increase that percentage moving forward. "In most cases, this will be in very rare or obscure job titles, or in fields, locations, or areas where there is not enough data currently to calculate a market value for an individual," says Dobroski of the remaining 40% to 45%.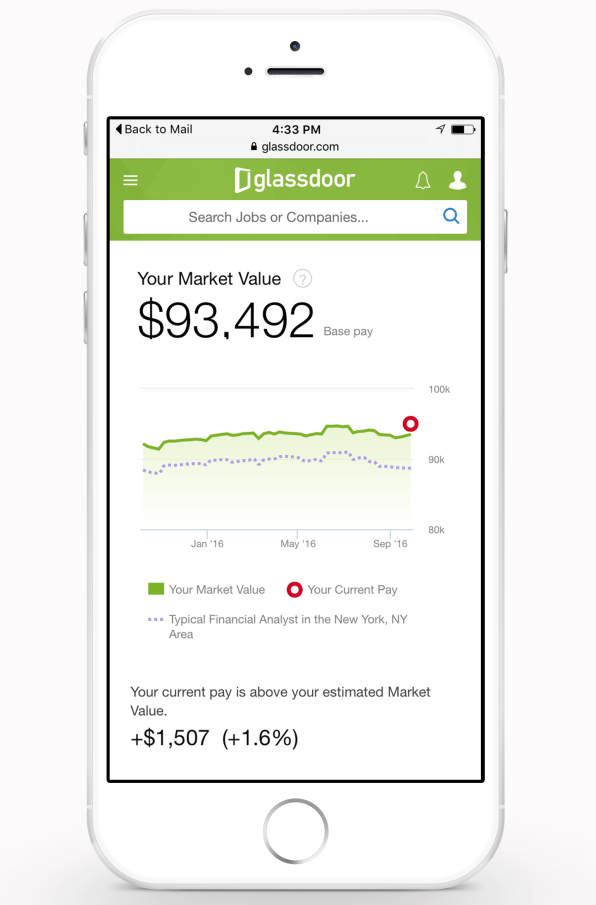 "This is in our beta mode, the first iteration,"Dobroski adds, "but because it employs machine learning, it will continue to gather more information and only get smarter over time, so we expect that percentage of Americans we can serve up only to increase."
Most adults in the U.S. can enter their information on the site and see how their base salary stacks up against industry norms in their local market for their specific role. The tool also provides users with suggested job openings nearby that might provide a higher base salary for the same position, or suggest locations where they could be earning more.
Such tools are helping to combat the gender pay gap by providing more transparency to what employees should be making, regardless of gender. In previous studies, Glassdoor notes an overall pay discrepancy between men and women of 24.1%.
"We hope this will help correct any pay inequalities that exist for people, whether they know it or not," says Dobroski.
While the Know Your Worth tool provides users with information regarding base salaries, it does not account for other forms of compensation, including tips, commission, bonuses, benefits, and equity, at least not in its first iteration. Users are, however, encouraged to submit those additional compensation details so that the Know Your Worth tool can incorporate them in the future.
"Base pay is the start," says Dobroski. "In the next iteration we want to include all of this, make it even more personal and relevant for people."