Wherever the best engineers, programmers, and designers in the tech industry go, investment dollars, successful products, and revenues may often follow.
The flow of talent in the technology industry is complex, but it can also serve as a key indicator of potential future success. The technology firms that are identified as having the best talent in 2016 are also some of the highest performing tech companies in the world. Topping the list, according to a recent study by Paysa, is Uber, followed by Airbnb, Google, Pinterest, Facebook, Dropbox, Square, LinkedIn, Amazon, and Salesforce.
"Talent is often the canary in the coalmine," says Chris Bolte, cofounder and CEO of Paysa, a big-data platform providing market insight about compensation and retention.
Bolte points to Yahoo and Uber as prime examples of how talent flow can reveal future potential. When Uber launched in December 2009, its talent rank was 10,025, while Yahoo was firmly among the top 20. It wasn't until December 2013 when the two companies crossed paths at approximately 200th position. At the time, few expected the young startup to provide a better career opportunity than the established technology behemoth, but the flow of talent proved to be a predictor of things to come.
Today Yahoo is experiencing layoffs and budget cuts while Uber is now worth over $50 billion.
Quantifying and tracking the flow of tech talent is no small feat. Paysa has developed a complex algorithm that ranks individual employees across the tech industry and monitors their migration from one employer to the next. Paysa's machine-learning algorithm has aggregated and analyzed nearly 8 million points of data, including job postings, resumes, and social activity, across 200,000 companies over the past 10 years.
Individual candidates are analyzed according to 10,000 different components, each of which is assigned a value and used to create an overall score. Those scores are based on skills, experience, education, path to promotion, employer reviews, employer reputation, and much more. As a candidate moves to another employer, their score automatically migrates with them, revealing a picture of which companies the best of the industry are flocking to at a given moment.
Paysa's data, for example, reveals that when Twitter's rank fell from 8th in 2015 to 17th in 2016, its top employees migrated to companies like Google, Uber, Facebook, Lyft, AirBnB, and LinkedIn. The data also suggests that the biggest talent comeback stories of 2016 occurred inside of Starbucks, Hulu, Websense, Adobe, Capital One, Frontier Communications, Netflix, and Fidelity Investments, all of whom reached a high position in years past, fell down the rankings, and made a glorious return this year.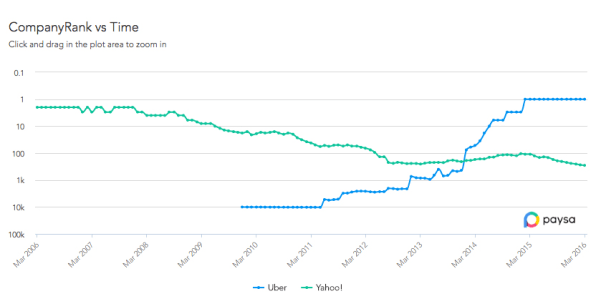 Paysa's algorithm is not only used by tech employers seeking to better understand the flow of talent and employees considering their next career opportunity, but also investors in the technology industry. "We see investment firms and VCs asking for a debrief on the data so they can understand where their opportunities are," Bolte says. "It's the same as an individual thinking about making a bet with their career."
By that rationale, the companies to watch in 2017 are:
Docker

Expedia

Twilio

Braintree

Twitch

Prosper Marketplace

Lending Club

Credit Karma

Veritas Technologies

Cox Automotive

Lyft

Stripe

Tesla Motors

Okta, Inc.

Zulily

Snapchat
These companies have experienced the most significant jump since the last Paysa study.
Bolte adds that it's a good time to be a data scientist, as the tech industry's most renowned employers have suddenly begun to pursue them aggressively. "Folks like the Googles or Airbnbs or Uber or Amazon, they're trying to keep them by cranking up salaries and trying to acquire as many talented ones as they can," he says.
While Bolte makes it very clear that Paysa is a data-driven company and that there is no clearly defined rationale behind the flow of talent, he does suggest a few theories based on historical trends.
"New leadership with clear mandates, new rounds of funding, or surges in business tend to drive that [increase]," he says.
"If you bring in a high-profile technical leader, that will help maintain and retain key talent as well as attract new talent. If you're solving a really interesting problem–and I think you can look at Tesla [No. 42] as an example, that's a major problem that is high profile–that attracts people."
Bolte says that the reverse is also true. Leadership problems, funding challenges, disconnected corporate strategies, stale technology and uninspiring mandates, as well as new competitors with better opportunities for employees can drive talent away. "The first people to leave are typically your best people," he says.