Since 1979, when renowned Japanese architect Kisho Kurokawa opened the first capsule hotel in Osaka, Japan, the country has been a pioneer in designing hotels that expertly pack large numbers of travelers into teeny, tiny spaces. The greatest appeal of the small, self-contained sleeping "capsules" for which the hotels are named are that they are cheap and efficient. But as capsule hotels get more diverse and sophisticated in their offerings, it's a concept that could come in handy for other growing cities around the world that are experiencing an influx of travelers.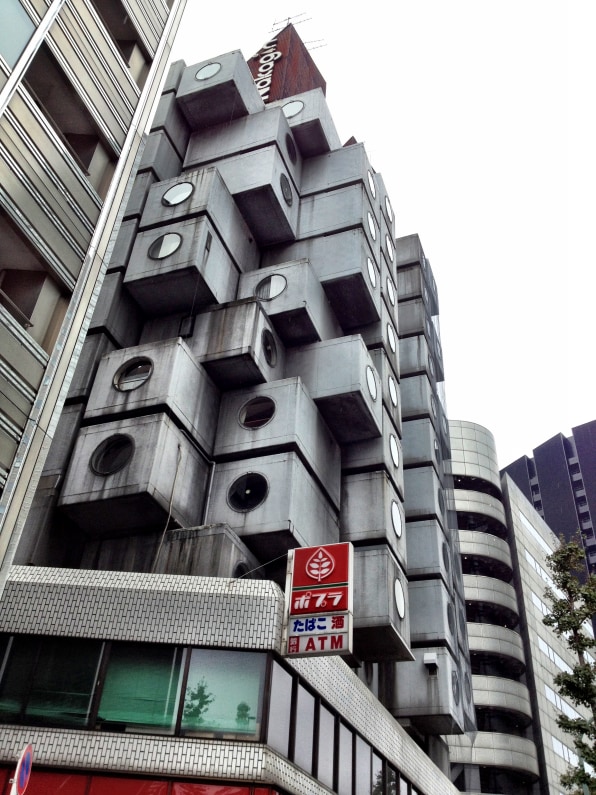 Kurokawa's Capsule Hotel In Osaka was an off-shoot of one of his more famous buildings, the Nakagin Capsule Tower in Tokyo. The residential tower is composed of tiny, modular apartments that can be attached together to form larger dwellings–a revolutionary concept at the time, though the building is now in a state of neglect. His capsule hotel, however, inspired similar models to pop up all over Japan, though they are traditionally just for businessmen who need an affordable place to stay overnight.
Luckily, capsule hotels are expanding, and in more ways than one. Not only do men and women stay there–particularly backpackers–the hostels have also gotten slightly more luxurious (or, at the very least, comfortable). Which is nice, since capsule rooms–with their microwave oven doors, lack of windows and coffin-like feel–can make you claustrophobic just looking at them. But the idea of stacking single rooms on top and alongside one another, with communal bathrooms and eating areas off to the side, can go a long way with the help of thoughtful design.
It's no surprise that Japan–with its preference for sparse, efficient, highly organized design–is at the forefront of this. But as cities continue to grow and as people continue to travel more than they ever have before, a lot can be gleaned from how these hotels use the minimal space they have.
Here are four takeaways from Japan's tiny hotels.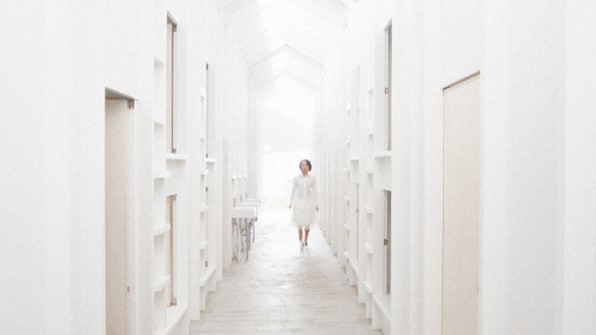 As anyone who has lived in a tiny apartment knows, one of the key rules for taking advantage of small living space is to build up, not out. It's a rule Kyoto-based architects Alphaville clearly kept in mind when designing a guesthouse for visitors to the UNESCO world heritage site of a 1,200-year-old Buddhist temple in Koyasan, Japan. The all-white Koyasan Guesthouse is narrow but tall, and its sleeping quarters are built into the wall and stacked on top of each other like bunk beds. The top dwelling is accessible by a ladder, and each dwelling is closed off by a hatch. But taking advantage of height allowed the architects to create more spacious, sun-lit sleeping quarters, so as to not to feel suffocating.
In 2013, when a client asked Japanese architects Yasutaka Yoshimura to design lodging that could be relocated in the future, the architects came up with the solution to design five cabins with dimensions that would fit on a freight truck. Currently located on the east coast of the bay in Kyonan, three of the buildings are used for communal space like dining, bathrooms and guest facilities. The other two are filled with 12 cubical bedrooms stacked on top of one another. Built from exposed plywood and only slightly larger than a single bed, these rooms could have been especially coffin-like if it weren't for a sizable window that takes up almost the entire far wall. In a space this small, sunlight and fresh air go a long way toward making a resident feel comfortable.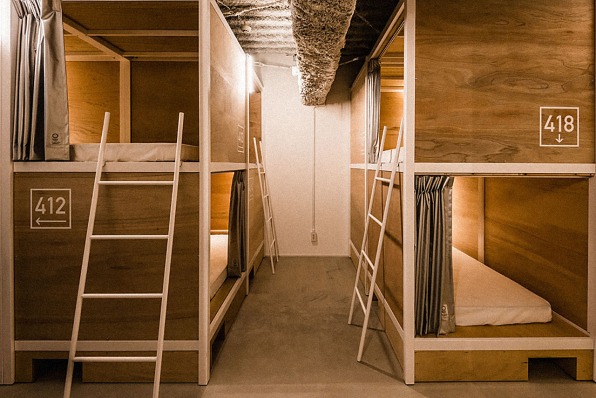 In Tokyo, the sleek Bunka Hostel takes its inspiration from capsule hotels but makes the rooms a bit more luxe and comfortable for a group they term "flashpackers," or travelers who want a slightly more upscale experience than a backpacker hostel. Only slightly bigger than the micro-pods found at other hostels, the sleeping quarters at Bunka are wooden, with a clean and minimal design, making them appear and feel more spacious than they actually are. Crucially, they are also not sealed off like most capsules are; instead, a hanging curtain gives a sense of coziness and privacy, without making the guest feel trapped or too enclosed.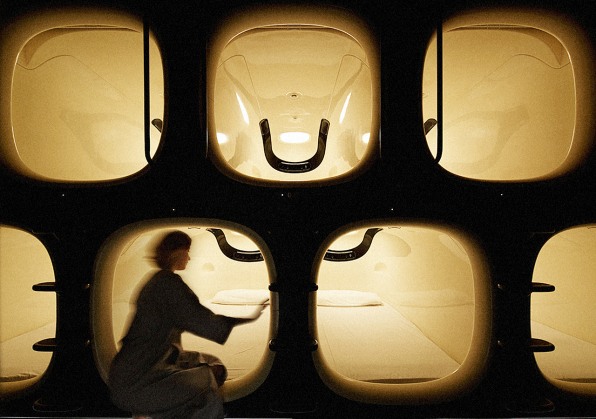 Located in Kyoto, Narita and Sendhai, the Nine Hours Hotel is a straight-up capsule hotel: the beds are in tiny, sealed pods, and the name is a nod to the length of a business traveler's stay (1 hour shower, 7 hours of sleep and 1 hour of rest). What sets this hostel apart from capsule hotels of earlier decades–besides the fact that women are welcome–is purely the design. The hotel sticks with its super Space Age, sci-fi vibe from details as minimal as the toothbrush to the signage demarcating your little pod. The rooms don't even have a window, yet the hotel has been around since 2009 and grown to three locations. It all goes to show: if you can't increase space, throw all your weight behind a compelling interior design concept.