George Tenedios, the owner of Fresh&Co, a small New York chain of fast-casual restaurants, is constantly on the hunt for new ingredients. He's experimented with all sorts of odd meat substitutes, from homemade tempeh to Silicon Valley darling Beyond Meat. But even he was stumped by a photo of what appeared to be a tuna sushi roll–shiny, bright-red "meat" with sesame seeds dotting the top–but which he knew was made not from any fish but from tomatoes.
Tenedios was recently back from a visit to Tsukiji, the giant Tokyo fish market that provides seafood to the world, where he saw firsthand the dangers to the world's tuna population. "As soon as I read it–the whole sustainable vegan tuna–it just instantly attracted me," says Tenedios. He spent the next month hounding James Corwell, San Francisco-based chef and creator of the sushi, begging to know when and how he could try it and see if he could make it work in his restaurant. When the 28-year old CEO finally tried it, he wasn't disappointed. "It really lived up to my expectations. It tastes and looks like tuna."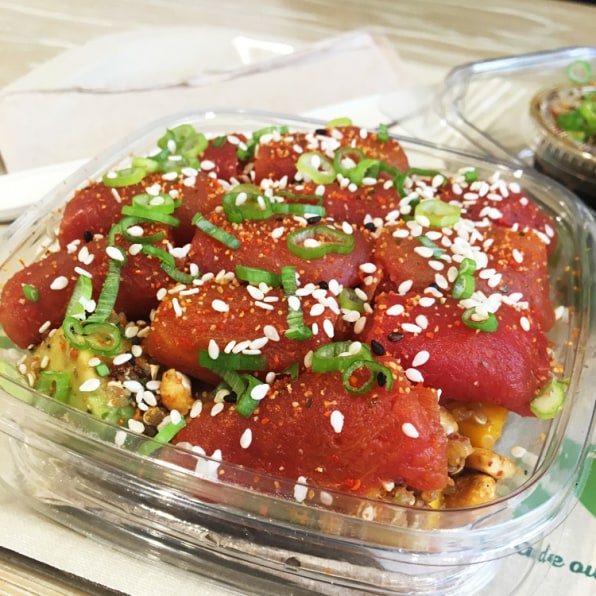 Seeking out good-for-you ingredients isn't new for Tenedios. When he was in college, working side jobs in catering and hospitality, he noticed a hole in Manhattan dining. What he couldn't find were healthy, local, and organic lunch options. New York, he says, was years behind Los Angeles. It makes sense that he picked up on this–he comes from a restaurant family. His father started Café Metro, another local chain. Together they opened Fresh&Co in 2010, and six years later they're up to 15 locations.
Today, Tenedios is getting his wish, and tomato sushi–sous vide, umami-rich Roma tomatoes that mimic the texture of bluefin tuna–is launching on the menu at each of his Fresh&Co locations in October. Outside of a brief launch at Rainbow Market on the West Coast, Fresh&Co is the first chain to gamble that customers are ready and willing to change their eating habits.
It's surprising to find uncharted food on the menu of what looks from the outside to be simply another salad chain, but Tenedios is game to try anything and to quickly phase it out when it isn't successful. What makes a restaurateur take chances? A fickle millennial demographic with an ever-revolving diet, and emails. Tenedios gets them "all the time" from customers asking him for new and exciting products. Tomato sushi isn't his first risk. Six years ago, Fresh&Co was the first East Coast chain to serve Beyond Meat as a vegan meat alternative–in wraps, in breakfast burritos, and quinoa salads. He was an early believer in seitan, which he bought from Sweet Earth, and they made their own in-house tempeh, a grain-based meat alternative.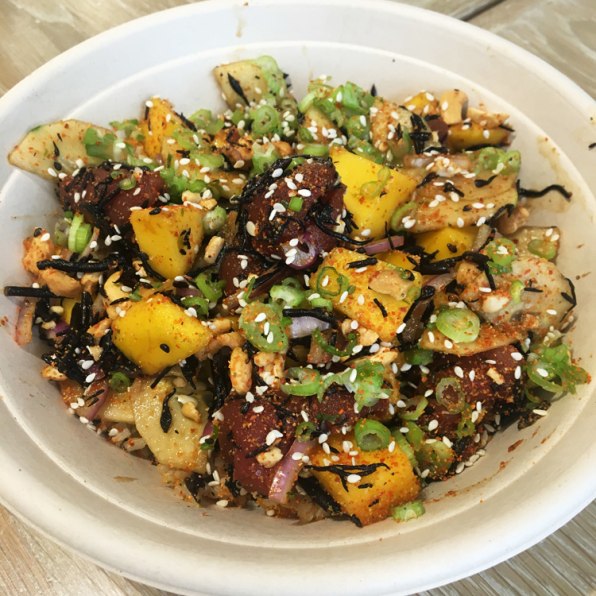 The plant thing is certainly one way to lure customers in the door, and Fresh&Co isn't the only one taking chances. In Chelsea, at David Chang's recently opened Momofuku Nishi, you can try a burger by Silicon Valley startup Impossible Foods. With a goal (per its website) to make really, really delicious meat that's good for people and good for the environment, Impossible Foods produces ground "meat" made from plants that chefs can brown, grill, and sauté while still retaining a pinkish hue in the center. Momofuku Nishi was packed at a recent lunch hour and almost every diner had an order of the burger on his or her table. When Tenedios tried it, he thought it was genius.
But tomato sushi–well, that's still going to take a little leap of faith.
James Corwell's goal, finding a way to divert our dependence on heavily overfished bluefin tuna, began in 2005. The chef was stationed in Japan as a culinary trainer for the Navy, which brought him to the tuna auctions at Tsukiji. Like Tenedios, he immediately became concerned. "The real epiphany is that it happens today, tomorrow, week after week, month after month. It's hard to fathom that much fish coming out of the ocean without impacting the species," he says. It took the chef a few years before he could focus on his idea of incorporating umami flavors into vegetables to achieve a great vegetarian "sushi experience." Then he had to figure out how to remove the tomato taste from unripe Roma tomatoes–he wanted as neutral a base as possible so that he could add back in savory notes–and an equally long time to find a co-packer and get the process up to scale before he could consider rolling it out. But Corwell's company, Ocean Hugger Foods, is finally ready.
When Fresh&Co executive chef Michael Roberts heard about the idea from Tenedios, he thought it was great. "I always say, 'Let's try to save the world,'" says Roberts, who grew up digging in a vegetable garden with his grandfather and trained at the International Culinary Center. His first sensation was that it easily mimicked tuna. He was impressed.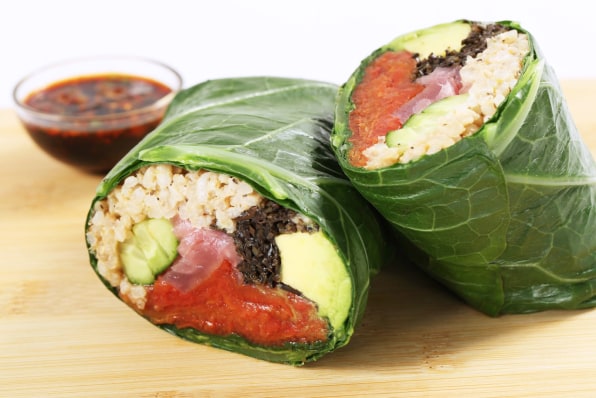 As Roberts played with the ingredients, he knew two things–that it would be easy to develop popular items and that sushi wouldn't be one of them. "I didn't know how to make sushi work in our fast-casual concept," he says. His first attempt was poke, a trend popping up seemingly everywhere. In addition, Fresh&Co will launch a collard green wrap, chef's choice salad, and a grain bowl. Each will incorporate fresh items as well as traditional Asian ingredients like togorashi spice, yuzu citrus, wafu vinaigrette, and hijiki seaweed. When I tried it, I loved it. What people say they want from meat is texture, and Orwell's tomatoes have a pleasant tuna mouthfeel. If you're paying attention you might figure it out, but if you look quick, and eat quick, you'll never know.
To Fresh&Co, this is not a test and they're not guinea pigs. They identify with the concept and have embraced Corwell's creation with open arms. The chef meanwhile is fielding calls from England, Spain, Germany, and Israel, all clamoring to get the product into their country. "People really identify with 'wow, we can keep getting tuna,'" says Corwell.
Larissa Zimberoff has written for Forbes, Mashable, Lucky Peach, and many other publications.
Have something to say about this article? You can email us and let us know. If it's interesting and thoughtful, we may publish your response.