If anyone wants to know why Tracey Ullman has decided to return to TV sketch comedy after such a long hiatus, the answer is simple: the voices in her head made her do it.
Ullman has long solidified her legendary career in comedy with a stretch of Emmy Award-winning sketch shows centered on her ability to impersonate just about anyone–and, of course, helping to introduce the world to The Simpsons. Despite avoiding any significant gaps in her resume with a smattering of film roles, Ullman hasn't been a show runner for one of her iconic, titular sketch shows since 2008's State of the Union, partly because of her husband and producing partner Allan McKeown losing his long battle with cancer in 2013–a macabre opening act to her mother dying in an accidental fire just two years later.
It's more than enough to silence anyone's laughter, but Ullman's pull toward her craft is as much a coping mechanism as it is something that's innately a part of her–and her universe of characters.
"It's what I do. It's my life force," Ullman says of her career. "I get the makeup on. I get my call sheet. I've got to be up at 4 a.m. and I think, 'why am I doing this?' The joy I get from doing it and working with my team and having a good time is just gorgeous."
Tracey Ullman's Show originally aired earlier this year in the U.K. Ullman developed the series with the BBC to be a nosedive into British culture, hitting every rung on the societal ladder, from the royal family on down to the working class. The Duchess of Cornwall (Camilla Parker Bowles), Judi Dench, and Maggie Smith are just some of the skins Ullman slips into without a seam to be seen.
"I come at them in a way that I sort of interpret them, rather than directly impersonate them," Ullman says. "I think I give them lives they didn't know they had. Imagine [German Chancellor] Angela Merkel thinks she's incredibly sexy and all the politicians are after her."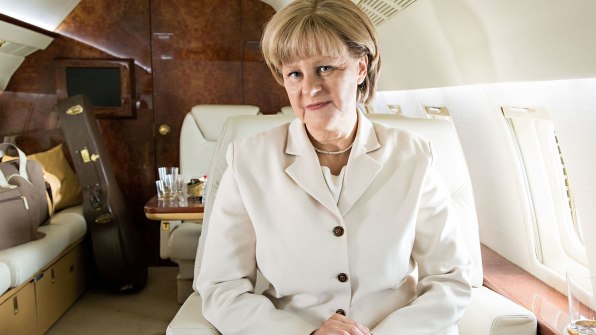 Tracey Ullman's Show has such a targeted focus on British life that it's understandable to wonder how much of the comedy will translate for American audiences. Judi Dench and Maggie Smith are certainly cross-over names in pop culture stateside, but what of those everyday people with their everyday problems?
What Ullman has always tasked herself with is creating characters that aren't shallow impressions skimming the surface for easy jokes, but fleshed out personas that intimate lives beyond the sketch–like her character Kay Clark, the virginal and painfully awkward paper pusher based on a woman Ullman used to work with. The humor of Kay's mousy demeanor and meek innocence is curbed with a pervasive feeling of alienation that's punctuated by the inescapable presence of her mother.
"I was thrilled to find that people really responded to her–Americans got the sadness of that person because they understood that persona. I think the depth of pieces I've done sometimes have come through and that's been great," Ullman says. "I portray sad people and the poignancy of life and how temporary it is but also to have a good time while you can."
Digging for that depth in comedy has been Ullman's armor to protect some of her more controversial personas. In the past, Ullman has created characters based on real people she's encountered, like Chic, an oversexed New York City cab driver of indeterminate Middle Eastern descent; Mrs. Noh Nang Ning, an eccentrically wise Asian donut shop owner; and Sheneesha Turner, a black TSA agent who's short in temper and long in the list of people in need of body searches. These characters thrived in the '90s when political correctness wasn't necessarily less than it is today, it was just far less omnipresent with the absence of social media and the crucifying courts of public opinion. There seems to be an ever-tightening gag on comedians as to what's racially or culturally appropriate to satirize or impersonate, yet Ullman stands her ground that "if it's funny, it's funny," and that it has to have the right intention and depth.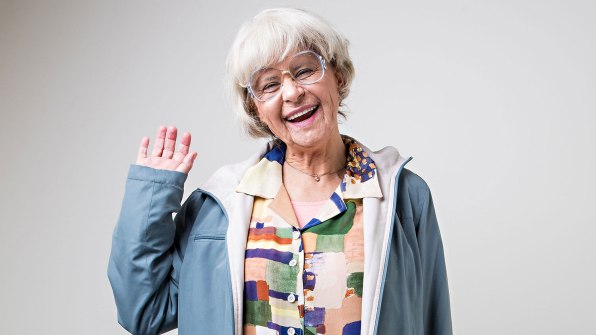 Ullman remembers Eddie Murphy doing whiteface in the '80s on Saturday Night Live in a sharp and clever way. A few years later on her HBO series Tracey Takes On… her co-creator James L. Brooks suggested that Ullman be a black woman, i.e. Sheneesha, which Ullman immediately took to.
"I didn't think of the cultural problems. My criteria is if somebody like that exists, if somebody talks like that, if somebody lives like that, if somebody has stories, why can't I do it?" Ullman says. "I thought, 'if [Eddie] could do it, I can do it.' But I did it for the right reasons."
Those reasons being, in the example of Sheneesha, to underscore the dichotomy of Sheneesha having very little control in the real world and being completely in charge at her job.
"I found the right context for it. I love those Sheneeshas because that's where they have power. In that moment coming through security, it occurred to me that they could," here, Ullman slips into Sheneesha's voice, "'body search Steven Spielberg!' They could body search anybody they want. These women are very powerful and I love that. So that was my angle that these people have a supreme power."
There may not be a Sheneesha or Mrs. Noh Nang Ning in Ullman's new show, but there still flows a current of subversiveness beneath her work—one that's rooted in smart intentions and not vapid shock value.
"You've got to be bold–you've got to take on these things," Ullman says. "If it fails, it fails. But at least you're not playing it safe."
Tracey Ullman's Show debuts on HBO Friday, October 28 at 11 p.m. EST.