The days are numbered for charity advertisers' shock tactics, claim the makers of a new campaign to mark the 150th anniversary of Barnardo's–the U.K.'s largest children's charity. For almost two decades, Barnardo's has set the standard for high-impact and, at times, extreme advertising imagery.
"Today more than ever before, you've got to think beyond simply showing negative images that invite sympathy in order to persuade people to help," according to filmmaker Sara Dunlop who directed "Believe in Me," the commercial at the center of Barnardo's new campaign.
"Charities' advertising must work harder to inspire," adds Dunlop. "I don't mean they should side-step uncomfortable issues–what they present must always be true to the realities of the issues they deal with, and authentic. But after lots of shock advertising tactics over the years, the time is right for a change."
In "Believe in Me," five children perform in bleak settings each of which signifies a troubled past.
A young ballerina, for example, dances in a living room before a cracked mirror and empty beer cans discarded by her alcohol-abusive father while another child plays the drums in a derelict garage. A young footballer, a ballerina, and a martial arts enthusiast also feature with carefully selected props in the background subtly pointing to the troubled back story of each.
Set to a cover by of Tears for Fears' iconic "Everybody Wants to Rule the World" performed by Lorde, the idea is to present the children not as victims but unique individuals–each with passion and resilience which, with the right support, can help them bounce back from adversity, according to Jack Walker and Ali Dickinson, the creative team who came up with the idea at advertising agency FCBInferno.
"The message is simple," says Walker: "Anything is possible with self-belief."
"Believe in Me" is FCBInferno's first work for Barnardo's since winning its advertising earlier this year.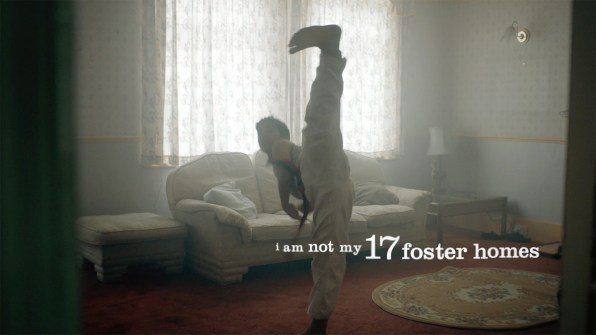 Working with previous agency BBH for 16 years, Barnardo's had established a high-impact yet often controversial advertising reputation. For example, one poster featured a toddler with a syringe captioned with the name of the 23-year-old drug addict the child would become. Meanwhile "Break the Cycle"–a 2008 commercial in which a young woman is repeatedly slapped–became U.K. ad regulator the Advertising Standards Authority's most complained about ad that year.
As a result of ads like these, awareness of Barnardo's is high. Walker and Dickinson's brief, however, was to build understanding of the scope of the charity's work beyond adoption and care. And the creative idea came from what Barnardo's does which is all about giving children tools to help themselves.
"From real-life case studies, we wrote a story for five children to depict in which each would be seen doing the thing they were passionate about," Dickinson explains. It was clear they could not use the real children in the advertising and to be authentic, the team wanted to avoid using stage school kids so they recruited kids from local sports and community groups and street cast.
"We looked for young people with an interest in the different activities featured, but they also needed passion, empathy, and an understanding of what we were trying to achieve," says Dunlop. "None had acted before, but they understood the back stories. And as each was passionate about and good at their activity, all understood the need to try and try again at something and to keep going, even if you fail."
All involved now hope the finished film, which goes live in the U.K. today creates a stir with its more optimistic tone that marks a shift in children's charity advertising.
"It doesn't sanitize the reality of the hard-hitting subject it deals with but nor does it show it just from the victim perspective, either, but how with the right help kids can help themselves," Dunlop observes. "It's been all about getting that balance right."