Declare your lifelong love for Poncho—a weather service personified by a tabby cat in a yellow raincoat that happens to be one of the most successful bots in Facebook Messenger—and it responds with an awww, shucks-like "Hiiiiii~." But unleash a stream of profanity, as some users do, and Poncho puts your relationship on hold.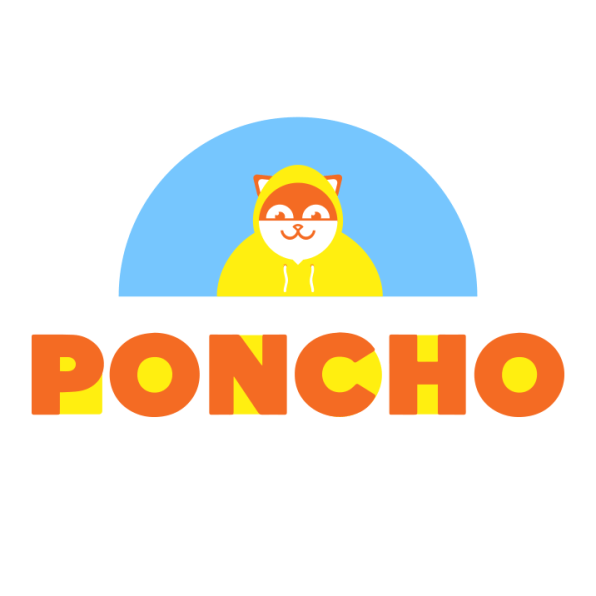 When it comes to bots and humans, it's safe to say we still have a lot to learn about each other. Sometimes we want to flirt; sometimes we just want tomorrow's forecast. While consumer bots have been working to tackle that challenge, a new wave of all-business bots has emerged. They don't want to be your friend, but they do want to help you make your professional life more productive and rewarding. Digital workers and enterprise bots might just be a match made in heaven's cloud servers—if the bots can prove that they deliver meaningful value, heart-emoji optional.
Bots, depending on whom you ask, are either the biggest thing since apps or a distant dream better served by Stanley Kubrick than Silicon Valley. Already the technology has gone through not one but two hype cycles in less than a year, the first for Slack and the second for Facebook Messenger. Pity the entrepreneurs entering this fickle market with a bot—or, in a bid to better understand bots' future, support them with the promise of a $200,000 seed investment. That's what the New York-based startup studio Betaworks decided to do this past spring.
"We've had keyboards, we've had touch screens, we have cameras, and now we're actually figuring out how to speak to computers the way that we speak to people," says John Borthwick, founder and CEO of Betaworks. "This is the beginning of that new form of interaction, and that's a big deal."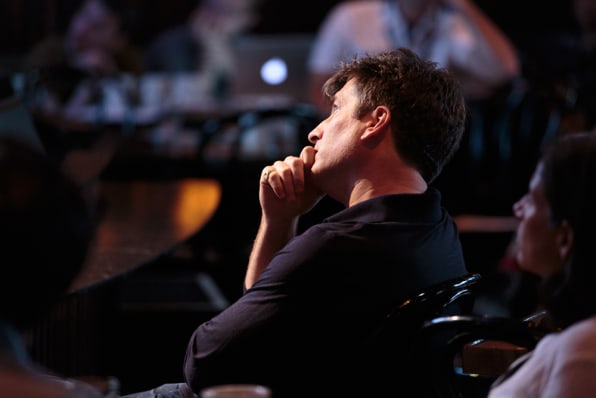 Borthwick's investment team devised the idea for a bot-focused startup accelerator in March, after realizing that their degree of enthusiasm for bots matched their questions and concerns. Would consumers bounce, frustrated by the gap between Hollywood expectations and AI capabilities? Would a small set of master bots, controlled by Amazon, Apple, Google, and Facebook, subsume all others? Would bot-first companies ever become billion-dollar businesses? The team dubbed their accelerator "Botcamp" ("Kum ba yah" optional) and got to work sifting through applications from nearly 350 founding teams.
Peter Rojas, who oversees seed investments at Betaworks, says he had few strong opinions going into the selection process—except for an aversion to "concierge" bots, which are in vogue with over-scheduled Silicon Valley types but have yet to go mainstream. "Are you just stitching together a bunch of APIs? It's hard to get excited about that," he says. "We'd rather that you either go really deep into an area or try to focus on being demonstrably useful and different."
Botcamp: Are We Out Of The Woods?
The eight selected startups arrived in New York in July for a three-month marathon of product development, mentor feedback, and user testing. Rojas and his colleagues expected most Botcampers to be focused on consumer applications, but to their surprise, enterprise-bots companies were the most popular type of applicant and became the majority of the participants. Depending on how you define "enterprise," as many as six of the eight Botcamp startups fit the label, in the sense that they serve business customers or address work-related problems. Some, like data analytics solution Statsbot, are straightforward enterprise plays. Others, like Warren and Olabot, live at the bleeding edge of consumer and enterprise by solving problems for individuals related to their career or personal brand. Four of the eight companies have built the first versions of their products for Slack, the dominant player in workplace chat and a Botcamp partner. (Slack also operates an $80 million fund devoted to early-stage investments in Slack-bots.)
In mid-September, with one week to go before demo day, all eight teams gathered in the windowless café at Betaworks' offices, located in the Meatpacking District. Founders took the small stage one by one while their campmates looked on, offering questions and words encouragement. Pitches needed to be sharp: Many investors remain skeptical that bots are ready for prime time, given the current state of AI and uncertainty surrounding the major platforms, which continue to evolve their developer guidelines and user discovery tools. Plus, the industry has yet to reach consensus on key bot metrics and milestones, creating an additional challenge for companies looking to demonstrate meaningful traction.
"We could be wrong. It could be too early, we could have picked the wrong companies," Rojas told me before demo day.
When the big day finally came, Joe's Pub, an intimate downtown New York concert space, served as the setting for the presentations. Investors and advisors took their seats after a lunch break, their rows of faces aglow with laptop-light. The coffee was weak; the Wi-Fi even weaker.
Hugging Face, an entertainment bot with a sense of humor and pop culture-savvy ("Brad or Angelina?" "Brad FTW," the bot replies) presented first. Bites followed, with a bot that pairs rich media and group chat. Before long, the pitches shifted to address the challenges of digital-era work and career. Warren, a Messenger bot for creative freelancers, offers help with contracts and invoices. Olabot operates a personal bot on the user's behalf, billing itself as an end to "boring 'about me' sites or static resumes."
"Soon everyone can have a personal bot," said Olabot founder Esther Crawford, an early YouTube star. She has positioned Olabot as a particularly useful tool for celebrities and influencers to manage communications with thousands or even millions of fans. She announced that Olabot is looking to raise $1.5 million: "The future is in conversational profiles."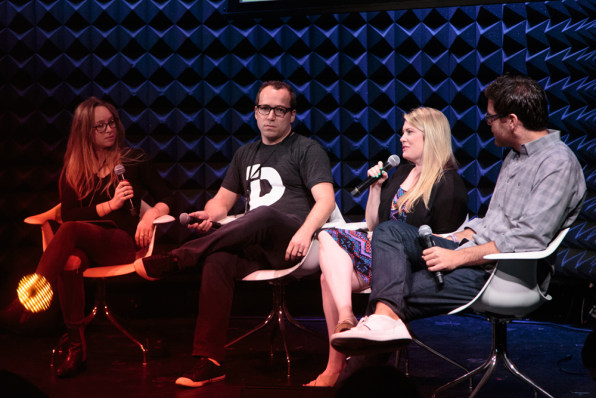 The four companies that closed out the day, all of which launched in Slack, embody the ways in which the email-killing messaging platform both improves and complicates work. Statsbot pulls data from Google Analytics and other sources into Slack conversations as needed, or at scheduled times. Zoom.ai manages scheduling and introductions in ways that could be particularly useful for employees in sales roles. Both offer straightforward productivity value for overstretched professionals.
Coach Otto and CareerLark, in contrast, are treading on shifting ground. Each one is designed to help employees better manage the kind of conversations they might otherwise bungle or avoid—an enormous challenge when Slack itself is rapidly changing cultural and linguistic norms. Coach Otto, for example, uses role-play scenarios to help employees prepare for difficult conversations. But the in-person versions of those scenarios, where there's no room to hide body language or emotion, could play out in very different ways. Similarly, CareerLark has launched with a bot designed to facilitate feedback. The bot prompts managers to offer employees targeted pointers, but a critique could be interpreted as harsh or discouraging if a manager doesn't supply the right GIF to soften the blow. In short, both bots' fate depends on their ability to develop an AI that understands the nuances and vagaries of language, in a chat context.
Even bot makers and enthusiasts concede that computers' ability to parse natural language remains primitive at best. "We aren't there yet," says Daniel Ilkovich, founder and CEO of Dexter, a Betaworks incubated bot-making platform. "There are a lot of intricacies in what a human is trying to say." He recommends that developers design pre-programmed responses, using buttons, and elegant ways of getting out of misunderstandings.
Bot discovery also remains a concern, but perhaps a premature one. If a bot can't sustain a conversation and isn't worth finding, no App Store equivalent is going to save it from oblivion.
Yet for all the questions bots raise, they do provide clear advantages over many existing tools. Investors have started defining bots in terms of "conversational interfaces" and "conversational commerce," but that kind of tech jargon doesn't really do justice to the shift in user expectations that bots represent. Twitter, for example, is a conversational interface. But on Twitter, there is not the same expectation of response. I can hope for a reply from a brand when I tweet a complaint about its customer service, but to some extent I am simply venting. Twitter's unhappy marriage of broadcast and conversation is at the heart of its limitations as a platform.
Bots, in contrast, are predicated on the idea of a timely, personalized response. They are, in essence, more personalized versions of the Google search bar, reborn in chat. In time, they will very likely anticipate your question before you ask even ask it—the bot equivalent of Google autocomplete.
"The real power of bots is when you have multiple people having a conversation among themselves with a bot providing functionality in-line to that conversation," predicts Phil Libin, the former CEO of Evernote and now a bot investor at General Catalyst. He expects to see the first bot IPO within two to three years.
For now, the companies that completed Botcamp would probably settle for a seed round. And those of us who live our days on Slack will continue hoping for the day when we can program a personal bot to reply to the boss, celebrate team victories (
)—and give us cover to actually do our jobs.