At 76, legendary author, poet, activist, and Canadian national treasure Margaret Atwood has tapped her childhood love of art and comics for her first graphic novel.
Angel Catbird Volume 1 (Dark Horse)—which has soared atop The New York Times bestseller list two weeks after its release earlier this month—chronicles a superhero who's part man, owl, and cat, trying to reconcile his three conflicting alliances. It also contains informative tidbits about feline dangers to birds. (The project is partially an attempt to assuage Atwood's guilt at her own cats' birdthirsty penchants.)
Dark Horse is publishing Angel Catbird in tandem with Nature Canada's Keep Cats Safe and Save Bird Lives initiative. Two subsequent volumes will publish in February and the following fall.
"It's always stimulating to do new things that you haven't done before, but I felt this was the best way of exploring this terrain," says Atwood.
"If your core interest is bird conservation and cats are one of the four causes of migratory bird depletion, the only reasonable way of talking about that is in a graphic novel in which the hero is part cat and part bird," she adds. "Only that way can you explore both sides of the question without having good on one side and bad on the other. I couldn't do it as effectively in prose."
Atwood, author of The Handmaid's Tale, earned the 2016 PEN Pinter Prize for her political and environmental activism, and garnered a slew of international accolades during an exalted career: the Man Booker, Arthur C. Clarke, Prince of Asturias, and Governor General awards, and inclusion in Canada's Walk of Fame. She founded the Writers' Trust of Canada literary organization and is a founding trustee of the Griffin Poetry Prize. Atwood is also the inventor and developer of the LongPen remote signing service.
Although her mark is in literature, Atwood has been drawing since childhood. She ran a silk-screen poster business during her university days, and a strip in the 1970s for This Magazine, called Kanadian Kultchure Komix, about a Canadian superhero who couldn't fly. Next month, several of her autobiographical cartoons feature in the Dark Horse anthology, The Secret Loves of Geek Girls: The Expanded Edition.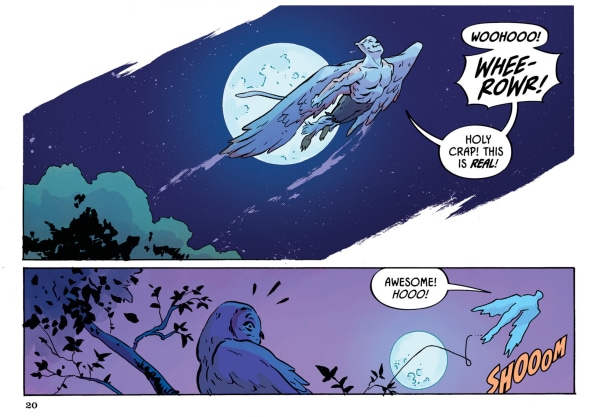 "I was first drawing flying cats with wings when I was six or seven, and I had some flying superheroes when I was quite young, but they were rabbits." says Atwood. " I still draw and have an interest in visual things, so I take more interest in my book covers than most."
It was a skill that came in handy crafting Angel Catbird, often communicating with her team via annotated pictures and internet reference photos. "Instead of taking 15 paragraphs to say what you mean, you can say this is what I mean with a picture."
Atwood crafted an outline, breaking it down into blocks and then pages depicting scenes. "For each panel, you describe what's in it, what they're saying, whether they're thinking or talking, where they're situated," she says. "It's really a lot like a shooting script."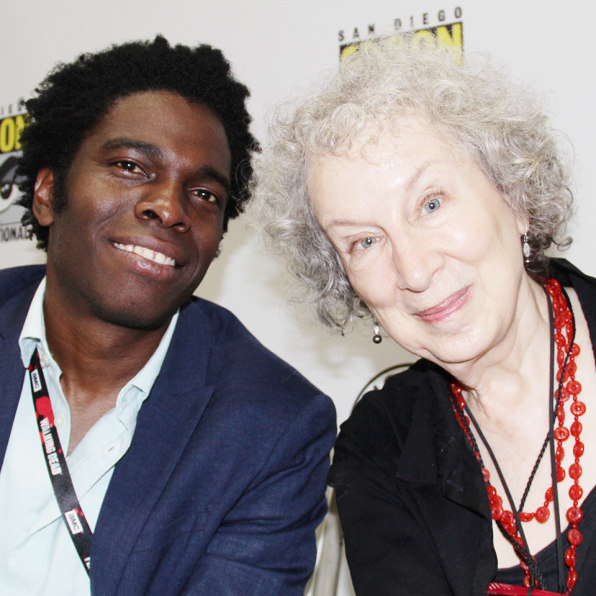 Her team—illustrator Johnnie Christmas, editor Daniel Chabon, project consultant Hope Nicholson, colorist Tamra Bonvillain, and letterer Nate Piekos—went back and forth on script and illustration tweaks. A sketchbook in the back offers earlier renditions of the protagonist.
Graphic novels have become a particularly effective tool in activism, through more experiential forms of educational storytelling, as exemplified by Congressman John Lewis's civil rights autobiographical trilogy March and Priya's Shakti, featuring an Indian superheroine who is a rape survivor. "You can't just preach to the converted," she says.
"At its core, this is a bird conservation linked enterprise, so I went back to how I liked to learn as a child," says Atwood. "I liked to read comics and did not like being preached at. That's why I wanted to take readers though an experience, where they could see both sides of the story."