The honorees for the health category of the 2016 Innovation by Design Awards vary dramatically from one another in form and function. Yet they all emphasize a key thing: the user, whether that's a young football star who needs protection against concussions or a genetic scientist who can now run DNA experiments from her desktop. These 25 designs put people first.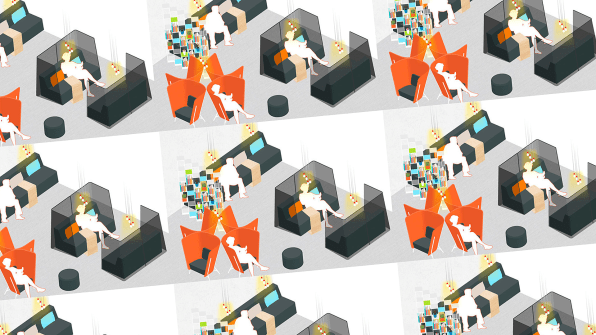 Company: Ideo
Planned Parenthood has found itself on the front lines of the women's rights movement, but its clinics shouldn't feel like a war zone. The organization's waiting and recovery rooms were redesigned to be social, solitary, or reflective, depending on what the patient wants.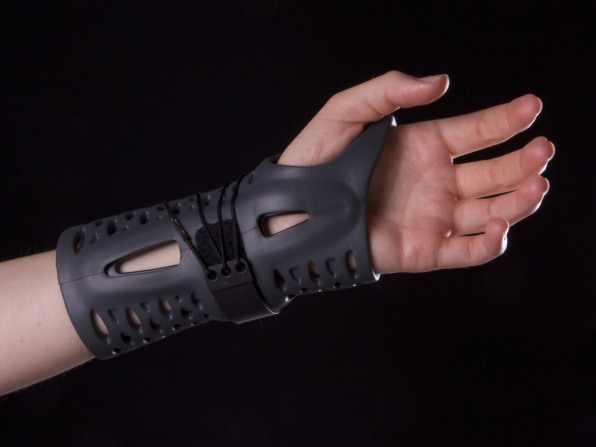 Company: 3M Corporation
For office workers plagued with carpal tunnel syndrome, this wrist brace is durable and easy to maintain. Made of a proprietary foam that offers built-in ventilation while keeping skin cool, and because it's also water resistant, you never have to take it off when you're working.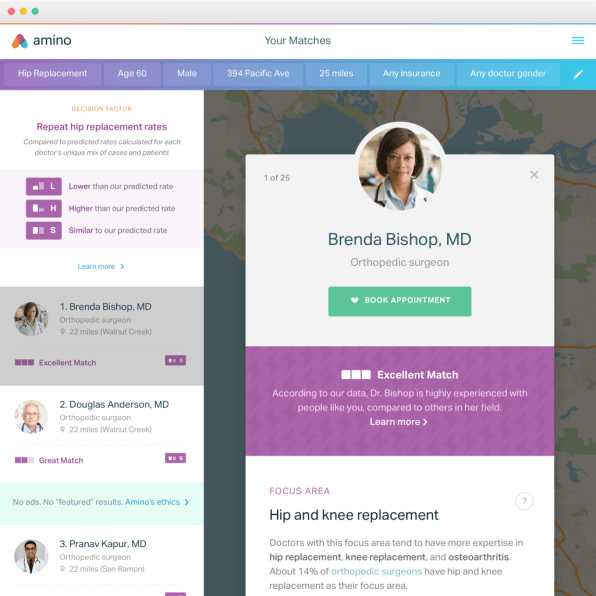 Company: Amino
Finding a good physician can be a daunting task, much less finding one that takes your insurance. Amino offers a database that includes the information for almost all of the country's doctors, easily searchable by experience, insurance, and location. No excuse now for putting off finding a new doc.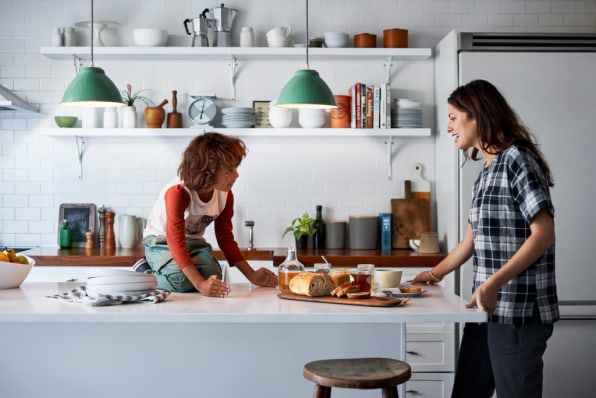 Company: GE Lighting
This pair of smart lightbulbs adjusts their brightness to the time of day, mimicking natural light in order to encourage more productive work and natural sleep patterns.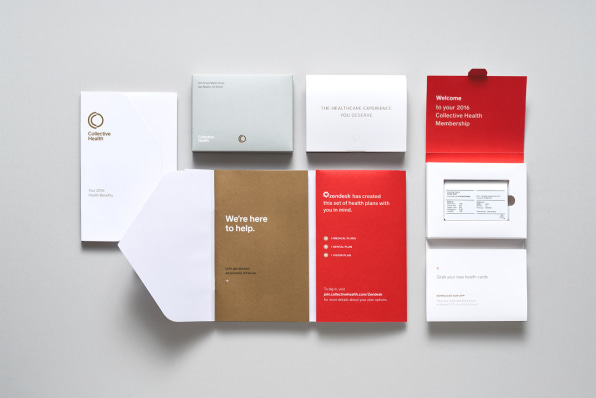 Company: Collective Health
Choosing the right health insurance can be downright baffling. But Collective Health manages to explain the complexity of their offerings through a straightforward search to help potential clients find the plan that's right for them, paired with human interaction when things still don't make sense.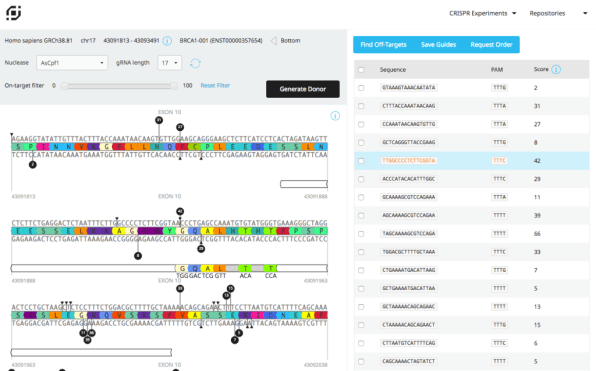 Company: Desktop Genetics
CRISPR is a program that lets scientists cut, paste, and delete genes–and now, with DESKGEN, they can design experiments based on this technology from their own desktops.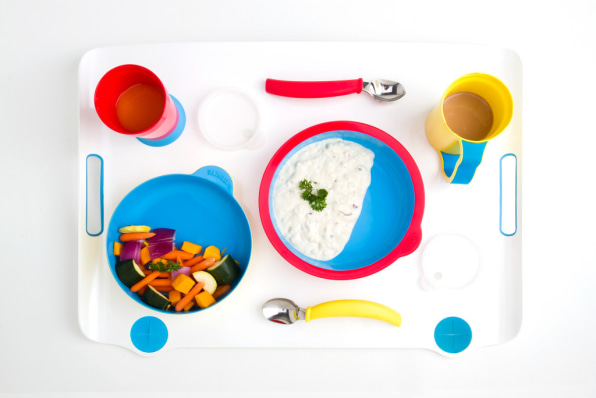 Company: Sha Design
This colorful, ergonomic set of dishes and utensils was designed for people with physical and cognitive disabilities. Cups and bowls are slanted so that it's simpler to scoop up the last bits of a meal; handles are easily gripped by arthritic hands; the tray's divots are made to attach napkins for fast cleanup.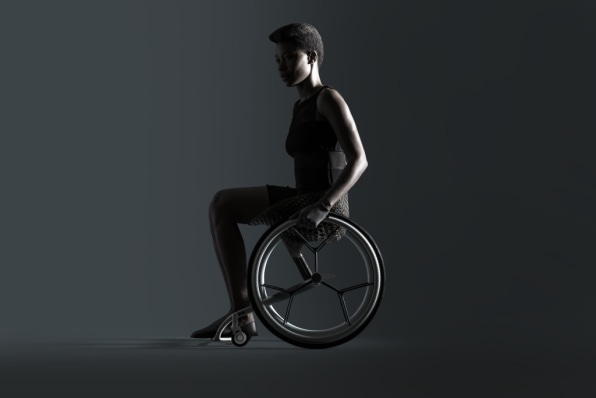 Company: Layer
This sleek, partially 3D-printed wheelchair can be customized based on biometric data–and it comes to your door in three weeks.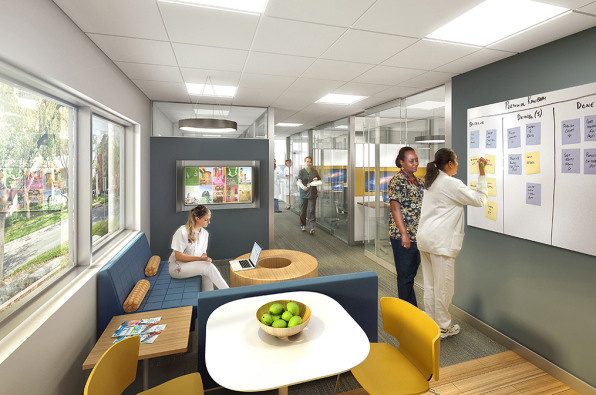 Company: HDR
The doctor's offices are often drab, clinical places–but what if it was a place you actually wanted to hang out? Kaiser Permanente's new Health Hubs aim to feel like community centers in order to encourage people to follow up with their health.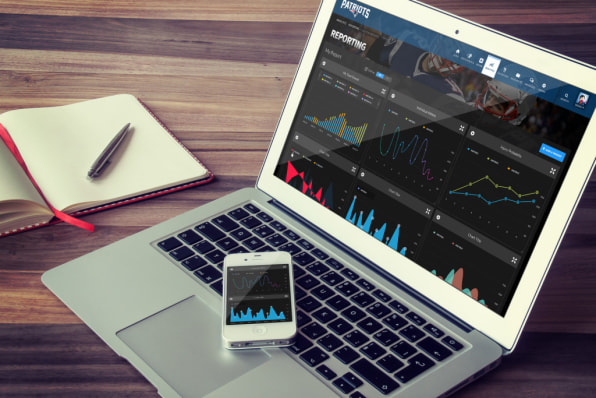 Company: R/GA
For the athlete who wants to jump a little higher, run a little faster, and throw a little harder, Kinduct is a software system that offers individualized training plans and strategies. It's the preferred tool of the Golden State Warriors–and look where it got them.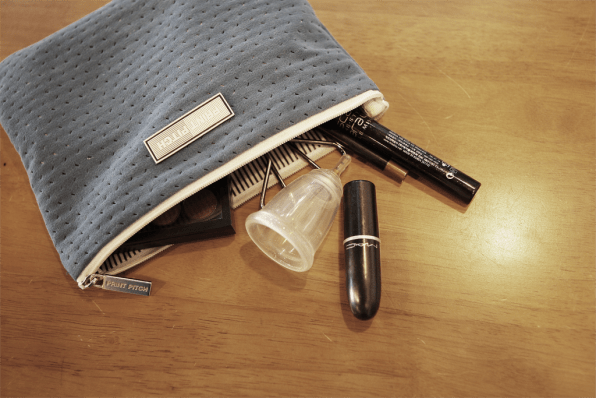 Company: LOONLAB
Like a Fitbit for your period, Looncup is a menstrual cup with embedded sensors that send data directly to an app so you can check on the volume–and even color–of your flow.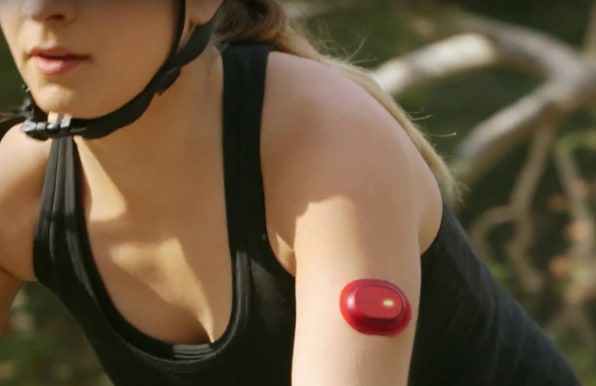 Company: Herbst Produkt
Lumee takes the fitness-tracking wearable to the next level–it's embedded three millimeters underneath the skin, beaming clinical-grade analytics to the corresponding mobile app.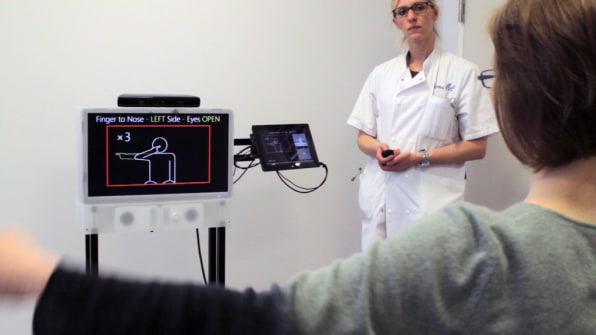 Company: Microsoft Research
Multiple sclerosis is a devastating disease that's hard for doctors to track because it progresses unevenly. But Assess MS uses Kinect cameras to detect patients' movements, and when paired with AI, makes it an effective tool for analyzing and diagnosing each patients' condition.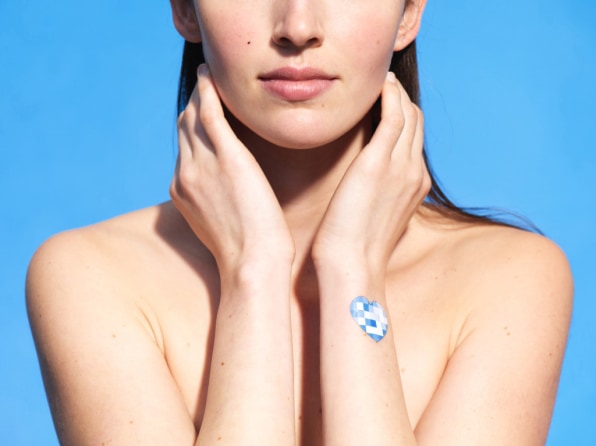 Company: L'Oréal
My UV Patch lets you know if you've been soaking up the sun for too long. Just apply the stretchable sensor to your skin, do some tanning, snap a picture of the sensor, and upload to the corresponding app, which analyzes your sun exposure.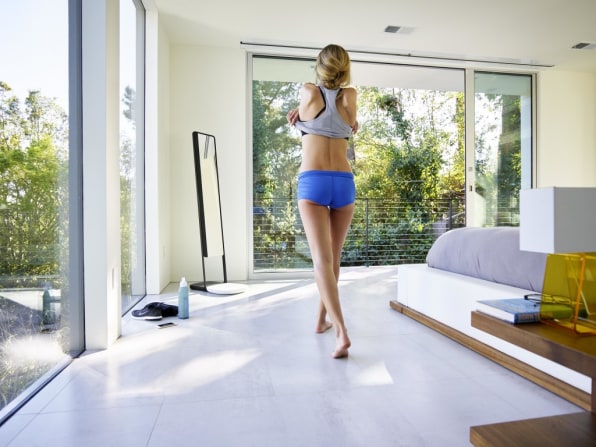 Company: Box Clever
The more weight-conscious among us might step on the scale and inspect their bodies on a daily basis. So what if your scale acted as an on-off button for your mirror, which could tell you about your progress? That's exactly what the Naked 3D Fitness Tracker does. Its mirror creates a complete 3D model of your body, which enables it to tell you just how much fat you've put on after eating at Shake Shack every day (or how much muscle you've gained from daily pushups).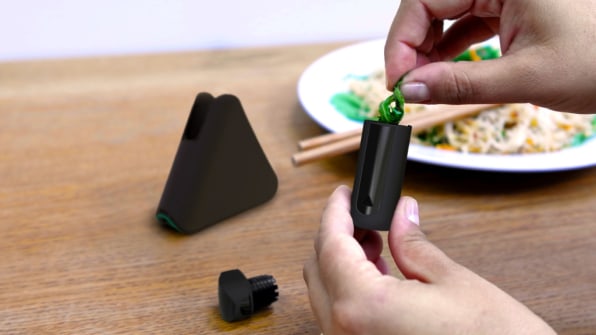 Company: Montaag
For the gluten-intolerant (or extremely health-conscious), Nima offers a quick way to test if your food has any traces of the protein. Useful particularly for eating out, it grinds up a small sample of a dish, mixes it with chemicals, and lets you know in two minutes if its safe–with a smiley face–or not–with a frown.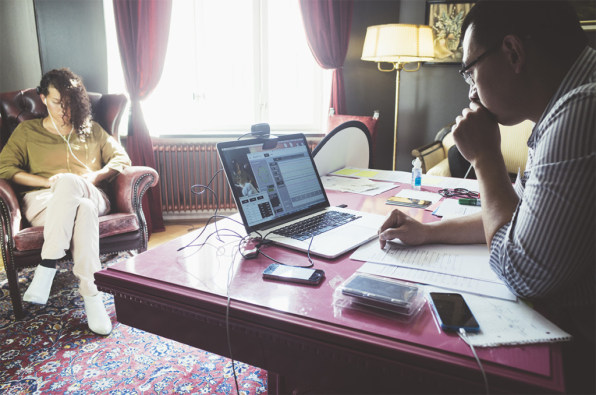 Company: PauseAble, UsTwo
Meditation usually means putting the smartphone away, but Pause is an app that uses simple touch gestures and soothing colors to calm and focus the mind.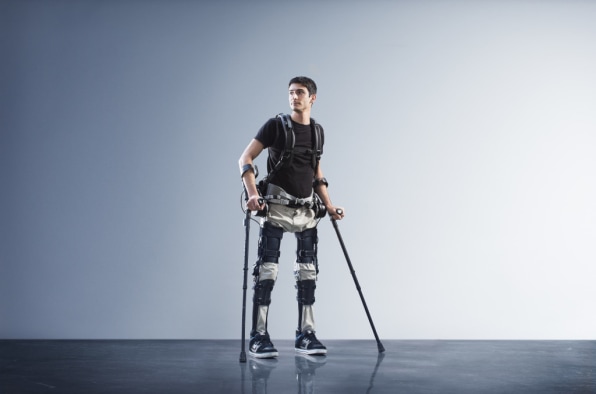 Company: suitX
Designed to help those with lower-body disabilities walk again, this mobility frame has motorized braces to support the legs while propelling them forward.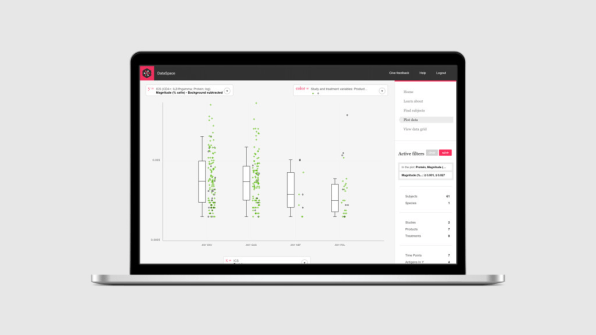 Company: Artefact
This easily searchable web-based platform puts all the data and ongoing research on HIV in one place, allowing vaccine experts to more effectively monitor the virus, upending the traditional research-paper model of sharing medical information.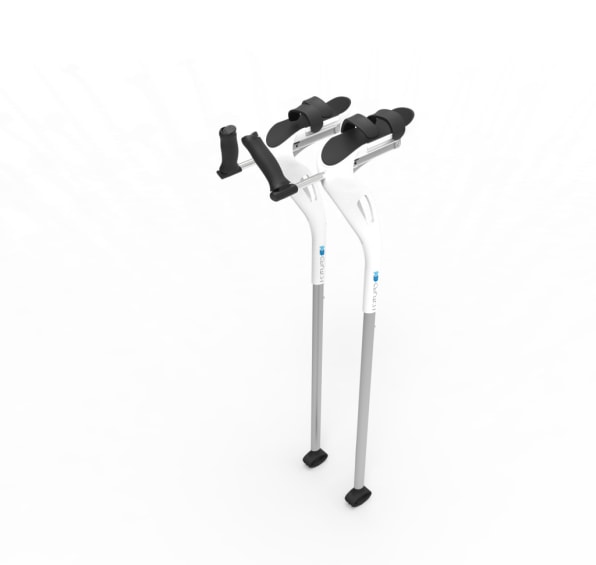 Company: Mobility Designed
Crutches can be unwieldy and uncomfortable–but the customizable M+D redistributes weight along the entire forearm, making walking with crutches a smooth ride.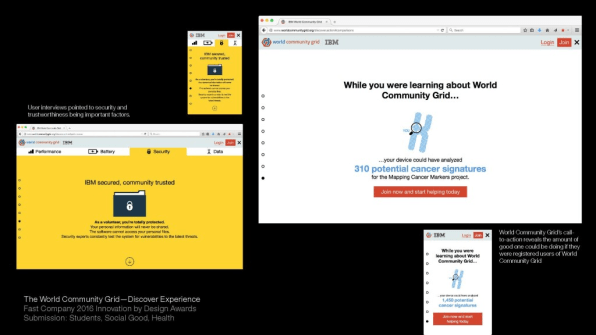 Company: IBM
The World Community Grid–a program that enables normal people to use their computers' extra processing capabilities to power scientific experiments–was in serious need of a makeover. Now, with the site's compelling narrative and explanations, it's much more easier for the everyday person to engage with–and hopefully join–the Grid.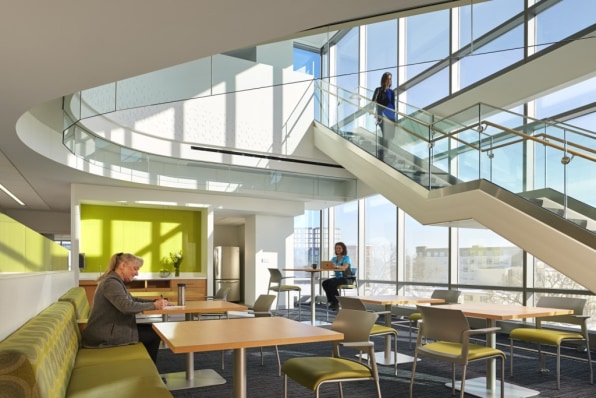 Company: CannonDesign
This is a five-story megalith of redesigned health care space–with friendly people who check patients in with smartphones instead of a reception, reservable meeting spaces rather than oft-wasted private offices, and Wi-Fi trackers so guests and staff can find each other easily.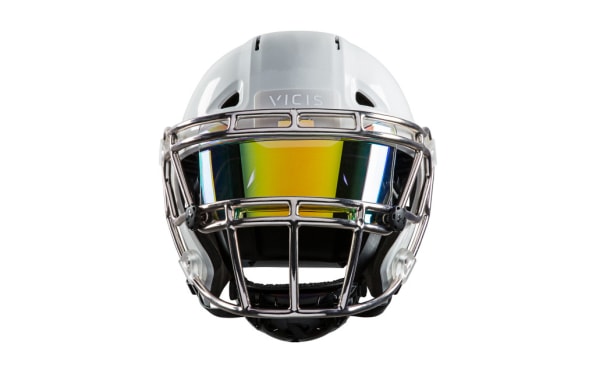 Company: Artefact
This football helmet uses automotive technology to protect its precious cargo–the player's brain. And with the conversation around concussions and long-lasting brain damage continuing to shake the sport, the Zero1 has a spot on the field.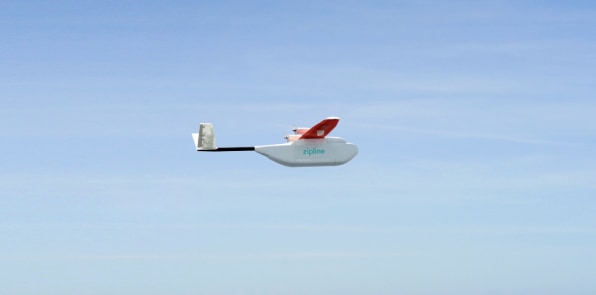 Company: Zipline International
These small drones–called Zips–can carry medicines and vaccines to hard-to-reach places. Their greater network, the Zipline, has the potential to save millions.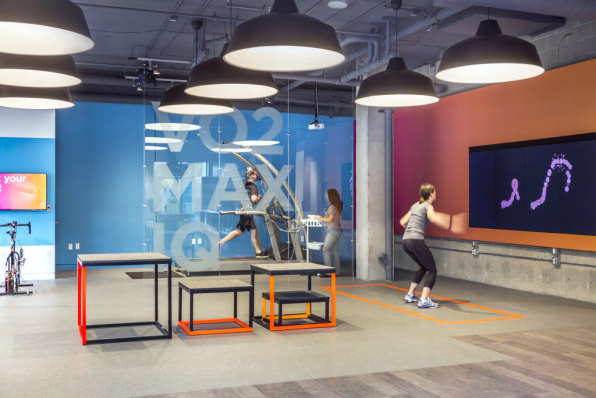 Company: ZOOM+
Designed with millennials' expectations in mind, ZOOM+ tries to streamline the health care system, with transparent pricing and appointments bookable by app so that doctors, treatment, and insurance work seamlessly together.