Forget about Apple Watches and Fitbits–the next frontier for wearables just might be your family pet. Now that low-cost fitness trackers are widely available for humans, entrepreneurs and animal lovers think Fido might be the next one in the family to get a wearable. And the latest entrant in the dog wearables stake is one of the biggest names in the canine world: the American Kennel Club (AKC).
In late September, the AKC is launching a new canine wearable called Link. The $199 smart collar (which also requires buyers to pay a monthly or annual subscription for continued service) measures everything from a pet dog's activity to their location while dogwalking to the temperature of the room they're in. Fast Company spoke with Link's team to get the scoop, and to answer the question . . . How does a fitness tracker for dogs work, anyway?
Link is just one of several companies selling wearables and smart collars for dogs. GoPro's portable cameras turned them into an early pioneer of the space, and there are startups like Fitbark and Whistle selling similar products as well. However, the American Kennel Club's wide reach and considerable marketing muscle give them a significant advantage in reaching customers.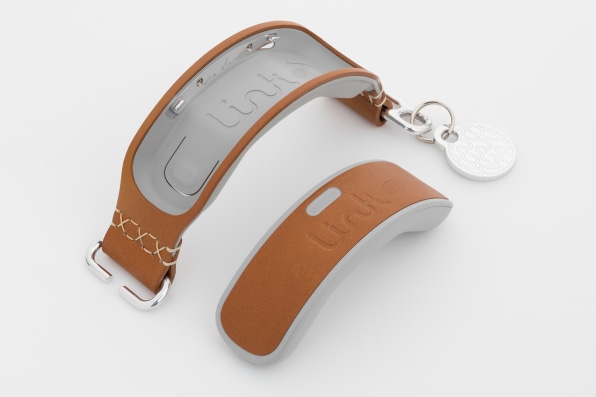 While the Link wearable isn't technically a product of the American Kennel Club, the connections between product and parent organization are rather close. Link's manufacturer, Link AKC, includes members of the American Kennel Club on its board, and the company receives funding from the AKC. COO Mike Basone is the AKC's former vice president of technology, and, well, there's the fact that AKC is in the company's name.
According to Basone, the Link wearable is aimed at a particular audience: "A consumer that thinks of their dog as a child and a close family member." That's a large audience, and one the company feels justifies both the high purchase cost and mandatory subscription fee.
When customers order a Link, they receive a Latigo leather Bluetooth-enabled collar for their dog and a separate charging unit. Beyond that, functionality is much like a Fitbit or Jawbone Up for humans: Features include location tracking and alerts; activity monitoring tied to a dog's breed, age, and size; information about the temperature where the dog is; and what the company calls "a remote turn-on buzzer for training." Geofencing is also included: If a dog strays too far from the charging unit, the customer is automatically notified.
Although the tracker comes attached to the high-end leather collar, users also have the option of detaching it and attaching it to another collar for the dog.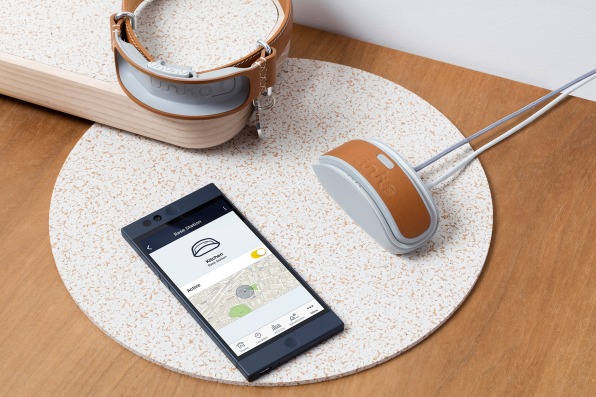 Both Basone and Joe McKee, Link's digital architect, are veterans of Weight Watchers, where McKee was previously the head of engineering, and Basone served as both Weight Watchers Online's president and CTO of Weight Watchers International for more than a decade.
Weight Watchers, of course, is an iconic brand that has hit a rough patch in recent years due to both executive turnover and trouble adapting to changing market.
Basone is frank about the challenges he faced at the weight-loss giant. "At Weight Watchers, we had a great product, but it was a great platform that had become a little stagnant. We weren't keeping up with modern technology and modern standards, and it became problematic. Now, we're using best in breed technology, not being dogmatic, and reevaluating things if we didn't make the right choices."
McKee adds: "It's amazing what we can do now from a software perspective. Amazon Web Services makes it easy to scale servers, and takes care of a lot of problems we had way back when the internet was at its infancy. We know what to look for for project volume–these new tools let us accommodate scale."
One lesson the company's leadership took away from Weight Watchers, Basone says, is the importance of applying a subscription model. Even after paying $199 for the wearable, customers will still need to pay a subscription fee for the product. Pricing ranges from $6.95 per month with a two-year commitment to $7.95 with a one-year commitment; month-by-month memberships cost $9.95.
I was skeptical about the subscription fee and I had few pointed questions for the team. My Fitbit doesn't require a monthly subscription to work. And while I love my pet pug, the more than $280 it would cost for my first year of a dog tracker could buy many, many dog toys. So why would I want to shell out for a Link?
The team behind the wearable says they expect customers will be happy paying a subscription fee for the tracker given the strong feelings people have for their dogs. "This is based, in some way, on a psychographic consumer where the dog is viewed like a child and a close family member," Basone explains. "And this is a way for that customer to feel closer to their dog . . . It's also, in a way, a cell phone for your dog. You can send a text and chat to everyone else in your life to make sure they're okay. " The implication, of course, is that the wearable lets you do something similar for your dog.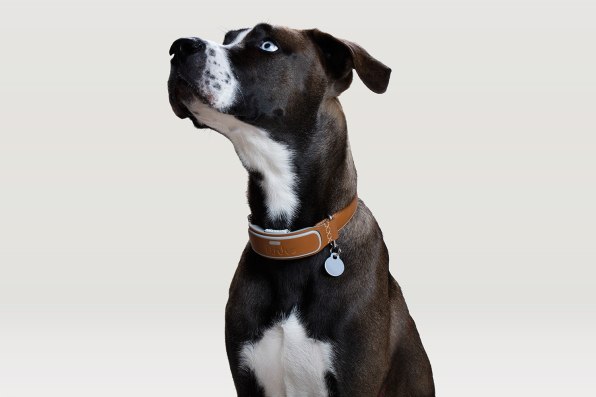 When it comes to marketing, Link has one big advantage: The backing of the American Kennel Club. As of press time, Link's Facebook page had more than 72,000 likes–largely the result of outreach campaigns to AKC's fans and followers.
Herbie Calves, Link's CMO, tells Fast Company that the company started a teaser campaign in August and has been primarily relying on social media–especially Instagram and Twitter–to reach out to potential customers. But in the end, Link is centering everything on the hope that customers will go crazy for finely tuned data about their pets.
"There's meaningful insights into people from human wearables, and we're going to do that for the dog world," Calves adds. "We want to show that 40 minutes of activity for a dog at that age and that weight is the right level of activity, so there's no guilty conscience about that 25-minute morning walk and 20-minute evening walk! It's being closer to being able to understand your dog, and having the peace of mind that comes with that knowledge."
Link is beginning preorders this week and plans to ship out the first units by December 28. Customer's credit cards, the company adds, will not be charged until the product ships.
Correction: The expected shipping time of the wearable has been updated.