Who isn't frustrated at coming home with a pocket full of loose change? Well, just like almost everything else in the universe, there's an app for that.
CoinOut, a startup founded by Jeff Witten, aims to bring the benefits of electronic money to the multitudes of people who pay cash by allowing you to save the change you receive at participating merchants to your phone. From there you can send the balance to your bank account, transfer it to an Amazon.com gift card, or donate it to charity.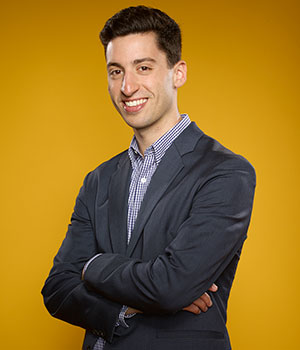 To spread the service, Witten, 28, has inked a deal with First Data to distribute CoinOut as an app for the roughly 115,000 of the payments technology provider's Clover devices deployed in the U.S. at spots like your local coffee shop, sandwich bistro, or shoe repair store. Merchants who download CoinOut to their Clover have at least five ways to accept payment: cash, credit, debit, mobile, or cash with CoinOut.
You can sign up for CoinOut without a bank account, debit or credit card, or smartphone. All you need is a cellphone number, which you enter to enroll and, thereafter, at checkout whenever you choose to send your change to the digital coin jar.
In Witten's view, a service that caters to consumers who pay cash should honor that commitment. "I like using cash and I wanted to make it better, and despite what many people say, it's not going away," he told Fast Company. "For small businesses, we're reducing the cost of processing cash and providing tools to enhance their bottom line and make their lives easier."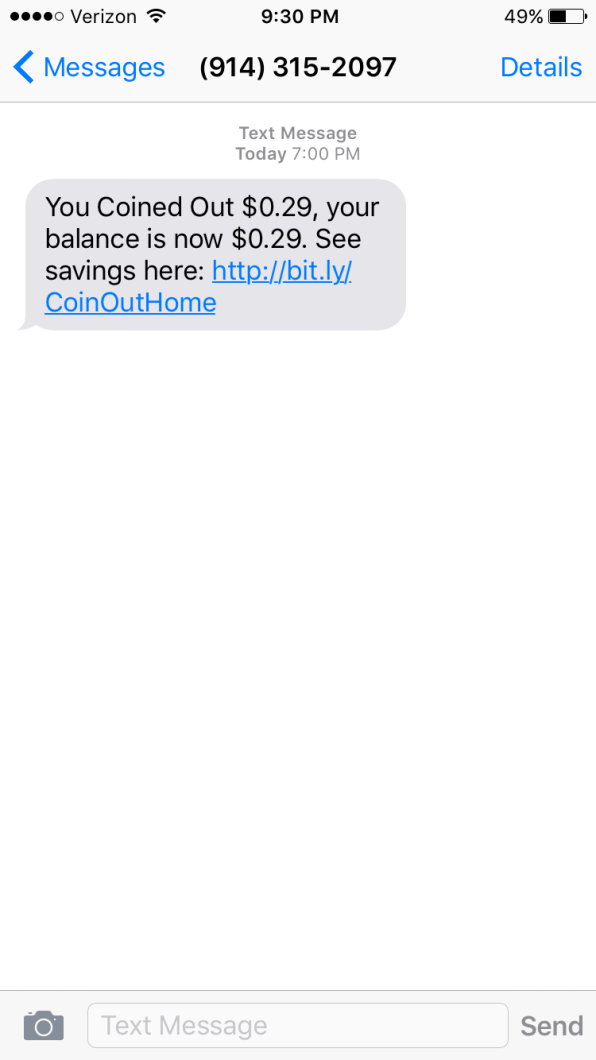 At Shu's Flower, a shop in NYC's NoLita neighborhood that is using CoinOut, I recently handed over two $5 bills to pay for tweedia that cost $8.71. At the register, I coined out, which meant that I entered my phone number into the Clover screen, which the clerk had turned to me. The system prompted me to select whether I wanted to stash $1.29 in CoinOut or 29 cents in CoinOut and $1 in cash. I chose the combo, which put the coins in CoinOut (a text message from the company alerted me to my balance) and spared me a pocketful of change.
A basic version of the service costs consumers nothing and sweeps balances of at least $5 to your bank account or at least $10 to a charity of your choice, depending on which option you choose. (Balances below the threshold roll to the following month.) You can transfer any amount to an Amazon gift card whenever you'd like.
Witten is betting on the tenacity of legal tender. Notwithstanding a 44% increase in ways to pay in the past two years, more than two-thirds of consumers in North America say they pay with cash most frequently, while 58% expect to continue doing so four years from now, according to a survey last year by Accenture.
"We're a long way from a cashless society," says Robert Flynn, who runs Accenture's payments business in North America. "You have whole segments of the population that don't do mobile payments on their phone and they probably never will."
Retailers pay CoinOut $9.99 a month for the service. To promote buy-in from businesses, CoinOut features a virtual tip jar and offers cash back that ties to the number of transactions. Versions to come will enable merchants to create loyalty programs for cash-paying customers that have the potential to generate fees for Coinout.
As Witten sees it, besides convenience CoinOut also offers the roughly 34 million households that either lack a bank account or rely on alternative financial providers a tool that can help track spending. "With cash, it's really hard for you to be financially savvy and maintain the health of your finances," he says. "Not only does CoinOut make it easier to pay but also provides you with a little more data on how to manage your money."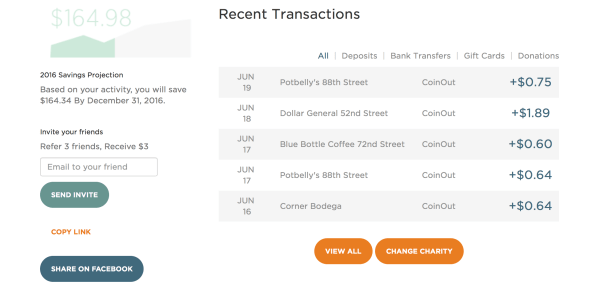 Witten hatched the idea for CoinOut following a stint at Apple, where the self-described payments nerd worked in marketing while studying business and law at Columbia. Bill Campbell, the beloved tech executive who died in April and who served as mentor and confidante to Steve Jobs, was CoinOut's first investor.
Though CoinOut heralds the end of pennies, which some have called on the government to abolish, the service may represent a reprieve for the one-cent coin. Whatever you think of a future in which money moves solely as ones and zeroes, "getting rid of cash disregards people who still depend on it," says Witten.