In New York City, nearly 1.4 million citizens are over the age of 60, a number that is projected to increase to almost 2 million by the year 2040. This growing portion of the population isn't easily accommodated by typical New York housing. It's a problem that will only grow worse over the next century, and one the city is starting to address now–with a new guide to retrofitting any building for aging New Yorkers, allowing them to "age in place."
The concept of aging in one's own home contrasts sharply with the typical practice of moving older citizens to assisted living facilities or nursing homes when they get too old to keep up their house on their own. "We've created a bit of a warehouse model," says Susan Wright, a principle architect at New York-based firm Gruzen Samton and a member of the New York American Institute of Architects, who helped create the guide. "That's going to have to change with the baby boomers, who aren't going to put up with that."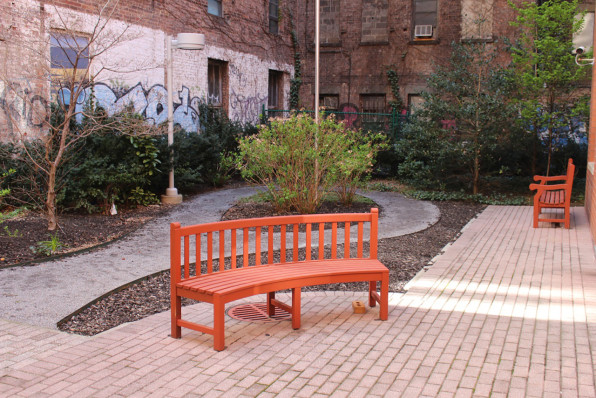 In just about every way, the longer an elder can live at home, the better. Remaining at home and independent can increase health and well-being for older people. Fewer people moving into assisted living facilities also means fewer people will have to go on Medicaid to be able to afford the move. Seniors benefit when they can remain an active part of the community they've been in for many years. Besides the obvious value of having your loved ones around, older people also patronize businesses and can keep watch over things during the day when others are at work.
What's more, aging in place is an equitable solution for middle-, working-, and lower-class families. "Many of the models being set up right now are for the one percenters," says Wright. "They're for people who can afford to move into a beautiful elderly community with resources and expensive one-bedroom apartments. Aging in place means a solution for people of all income levels and that makes it a better city as well."
The benefits are clear, but creating safe and comfortable housing that supports aging in place is a huge challenge for cities, one that can require action from landlords as well as tenants. In New York, a group of architects is working with city officials to give building owners the resources to start solving some of the more manageable housing issues on their own.
The Department For The Aging
Aging in place is a popular topic for many nonprofits, architects, and people working in health care; the AARP has its own guide on the subject geared toward local governments. But these initiatives need support at the legislative level to get wider reach and to become enforceable. While many states have Departments of Aging, Wright says that New York is ahead of many of its peers when it comes to mobilizing behind aging and housing projects.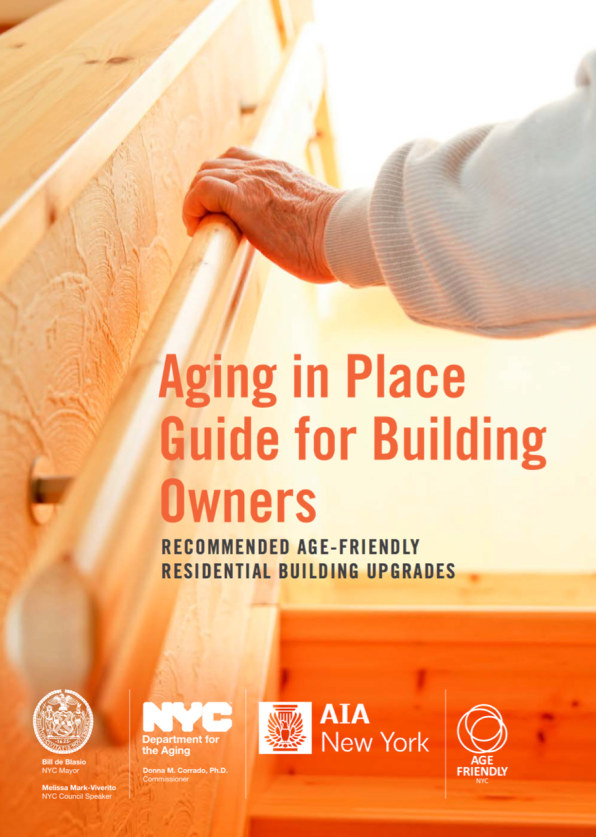 The city's Department for the Aging, or DFTA, is a government agency within the mayor's office that typically helps seniors navigate issues like benefits, transit, and medical care. In 2015, New York City passed a law that required the department get to work on a guide that could show building owners how to help tenants age in place.
The DFTA, in turn, hired the New York City chapter of the American Institute of Architects to create the guidelines. Wright, who has many years of experience designing solutions for affordable housing and the aging population, was asked last year to be one of 22 experts on the AIANY committee that drafted the guide, called "Aging in Place Guide for Building Owners."
The booklet, which is publicly accessible online, offers simple and affordable modifications to existing buildings to create a more accessible environment for the aging population. Its message: Something as simple as installing handrails or better lighting could go a long way toward preventing falls and other safety hazards, leading to people staying in their homes rather than having to move to assisted living facilities or nursing homes. It aims to be both a guide for landlords, a tool for elders and advocates, and an example for other cities around the country dealing with the same problems.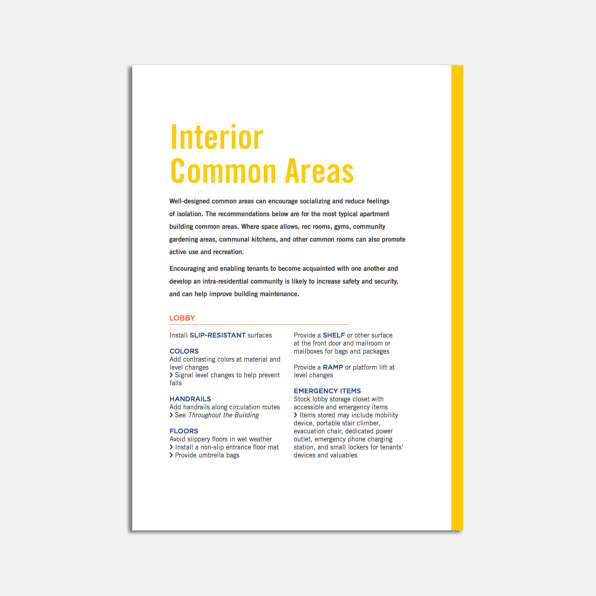 The committee used existing regulations, research in public health, and the public knowledge of nonprofits like JASA, a New York organization that provides social services for seniors, to aid in putting together the guidelines. Projects include things like clearly marked signs to help residents with visual or memory impairments find their way through a building; emergency planning tips; and ADA standards for stairway measurements, no-step thresholds, and cabinet height.
"The guides do not assume that people are going to do renovations that result in 100% accessibility to ADA standards," says Karen Kubey, a New York-based architect and educator who edited the guide. But they do point people toward sections of New York City Inclusive Design Guidelines for easy reference.
Mostly, they are meant to be a tool that residents and building owners can use to educate themselves about what makes a safe and accessible building for the aging. If an older resident wants a light added to her building's front stoop, for instance, she can bring the issue to her landlord with the guidelines–and official stamp from the city–to back her up.
Guides Are Good, But Incentives Would Be Better
Christine Hunter, a principal at New York-based Magnusson Architecture and Planning and the co-chair of the AIA committee, says they are working on getting the booklet in the hands of neighborhood housing nonprofits, architects, developers, and landlords. These solutions are for retrofitting existing buildings, not necessarily for developing new ones, which means that ultimately the responsibility lies with the landlord for actually putting them in place.
Right now, the solutions are strictly voluntary; there aren't incentives–legal, monetary, or otherwise–for a landlord to be proactive in accommodating the senior population. Further complicating things is the fact that many landlords, especially in New York City, would prefer for long-term tenants to leave so they can push up rents. However, the committee sees the guide as an advocacy tool, and the hope among architects is that they become incentivized through the city, whether in the form of tax breaks or federal or state funding.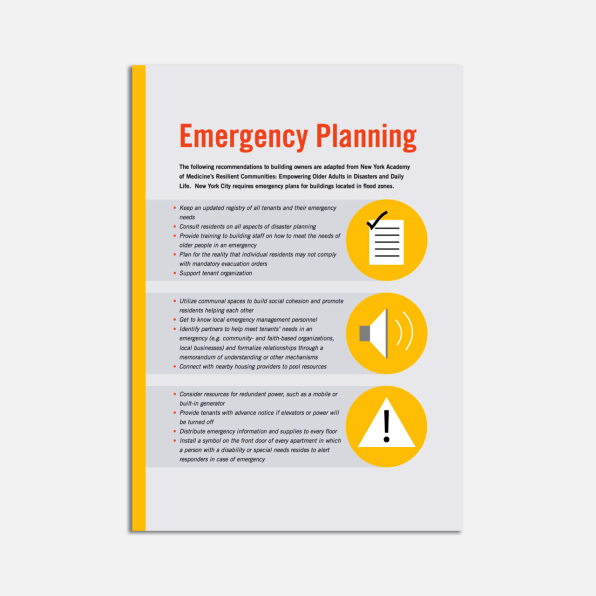 Wright says that most people on the committee became invested in designing solutions for aging because they had dealt directly with the emotional and financial stresses of having to move a grandparent or parent out of their house once living there was no longer safe. That's something most people will have to deal with in their lifetime. There's also the common-sense endorsement of inclusive design: what's good for a marginalized community is generally good for everyone. Who wouldn't want better outdoor lighting and more accessible elevators?
"We're living 30 years longer than our great-grandparents are," which has essentially doubled the timespan of our adulthood, says Kubey. "I do think that we have a totally different way of living now. It's architects' responsibility to do our part to enable people to live the way they want to."