Forget the state fair. The most-worldly chicken on the planet is living in fancier digs.
At the Wasserman Projects, a gallery in Detroit, Michigan, a new exhibit is opening that features a chicken that is partly an artistic statement, partly a mad science experiment.
The Cosmopolitan Chicken Project is the work of Belgian artist Koen Vanmechelen, who for 20 years has been on a one-man mission to breed a chicken flock that defies the constraints of industrial agriculture.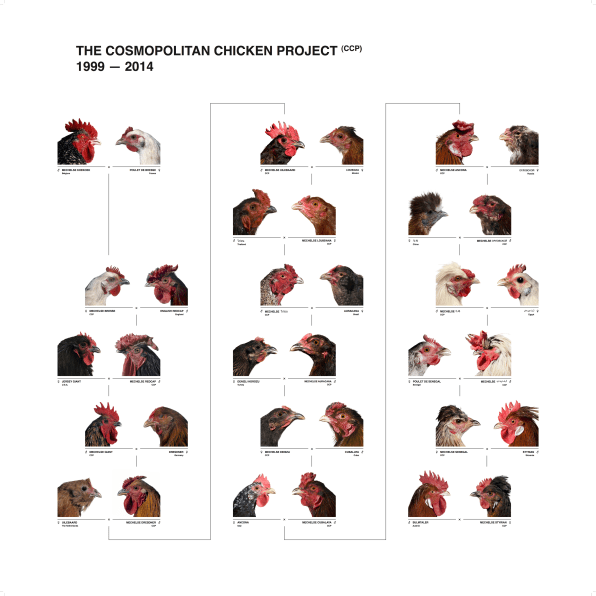 In 1999, he took a chicken breed from Belgium, the Mechelse Koekdek, and a chicken breed from France, the Poulet de Bresse, and mated them together on the border between the two countries. Next, he took one of the offspring–a black chicken, among many white and grey animals–and mated it with an English breed in the middle of London. Every year since, he has added a new breed from a new country to the genetic line.
Twenty years later, he arrives in Detroit to add an American Wyandotte–named for a Great Lakes Native American tribe–to the mix.
"This is the biggest genetic pool in the world," Vanmechelen is jubilant in saying.
Vanmechelen first became interested in chickens at age five, as his family raised them in their garden. He started to breed chickens in his room, fascinated to watch the struggle of a chick emerging from an egg. As a young artist, he explored wooden sculptures of chickens that dealt with themes related to animal domestication and captivity. Creating a breeding program as artistic statement ended up a logical step.
Chickens were domesticated from the red junglefowl more than 7,000 years ago. By 2011, they numbered over 20 billion, with the most rapid population growth in recent decades (everyone really loves eating chicken and eggs). To Vanmechelen, the history of chickens is like a mirror for human culture and migration–with modern chicken breeds often reflecting a characteristic of its country. French chickens have a red head, white body, and blue legs, he notes. A Turkish chicken is a "long crower," he says, like a minaret.
"Chickens are so closely related to humans, and later I discovered that there are scientists who are drawing the world map of migrations through the chickens," Vanmechelen says.
Scientists have been interested in Vanmechelen's work. There are varied breeds of chickens all over the world, but in many countries or regions, commercial breeds have become genetically isolated and often quite fragile, says Olivier Hanotte, a principal scientist at the International Livestock Research Institute who has worked with Vanmechelen. Though he says most commercial breeders won't admit it, to him, low genetic diversity is a problem today as more chicken production shifts to the developing world, where highly-controlled, industrialized poultry farms aren't common.
"Their commercial birds will simply not survive here," Hanotte wrote in an email while doing work in Ethiopia.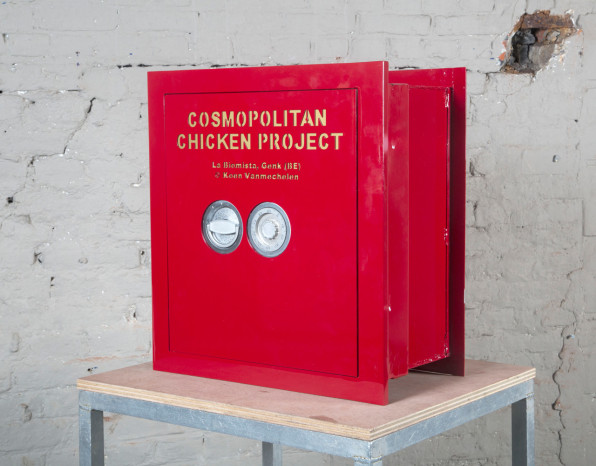 Vanmechelen believes his chickens are more resilient, living healthier, longer, and more fertile lives. In Detroit next year, he will launch a new off-shoot of his project, which will involve a new commercial element to his artistic work.
With the Detroit-based nonprofit Oakland Avenue Urban Farm, the 20th generation cosmopolitan chicken will mix with a local commercial breed in order to produce eggs for humans to eat for the first time, add to the local economy, and "refresh" the local genetic diversity by giving them a "global injection" of DNA. He calls this the new aspect the Planetary Community Chicken project–and he plans to replicate it each year in new places like Ethiopia or Russia.
Allison Wong, director of the Wasserman Projects, says it is appropriate this launches in Detroit, given the city's automotive past and troubled economy today. "We have a major industry that relied on one 'breed'," she says, "and look what happened."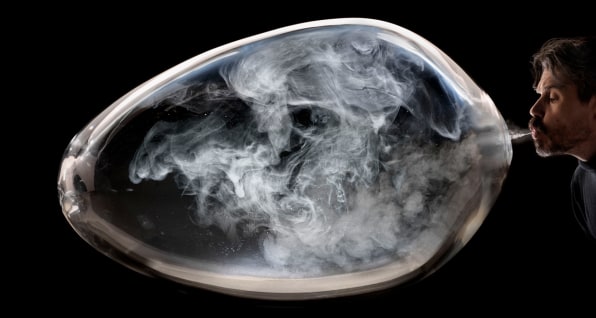 Vanmechelen's work is on much too small a scale to change the chicken industry as a whole, says Pieter van As, a molecular geneticist with Hendrix Genetix, a leading breeding company that has provided Vanmechelen with DNA sequencing services and commercial chickens. But, he says, the work could help increase production for local farmers, who can usually only access small gene pools, and inform larger-scale efforts to create more resilient chickens.
Vanmechelen, for his part, is insistent that he isn't a scientist or an activist. He does his work for the art and for the beauty of the thought-provoking metaphor. "The world is shifting and changing. Global will be the new local, and local will be the new global. We always need the fertility injection from both a global way of thinking and a local way of thinking," he says.
The 20th generation Community Chicken Project will be on display at the Wasserman Projects this fall.
This article was corrected reflect that Hendrix Genetics' Pieter van As view that project is about illustrating the importance of biodiversity, not changing the breeding industry.
Have something to say about this article? You can email us and let us know. If it's interesting and thoughtful, we may publish your response.
[All Images: © Koen Vanmechelen]