The rumor sent a message to DJI, the world's largest maker of consumer drones, that it shouldn't get too comfortable—not if GoPro, one of the best marketing companies in the world, had decided it was no longer content just to have its devices accessorizing other companies' flying machines. Not if the camera giant wanted to beat DJI, until then a friendly a partner, at its own game.
Today, San Diego-based GoPro is finally launching that drone, known as the Karma, with the promise that it delivers "Hollywood-Caliber stabilization in a backpack." But in the 22 months since the rumors began to fly, the industry's dynamics have changed dramatically. For one thing, DJI has grown to become as dominant in consumer drones as GoPro is in the action camera business. For another, after its stock soared to more than $86 a share in 2014, GoPro shares plummeted on worries about poor camera sales and other issues. The stock has never really recovered, closing at $14.96 on Friday.
And where observers had once floated the idea that GoPro could challenge DJI's dominance, the Chinese company's position in consumer drones is now seen as all but insurmountable on the strength of massive sales of its Phantom line, which it updates on a regular basis.
Still, one should never discount a company like GoPro if it commits to something, and with the Karma, it is showing that it still has eyes on upending the drone industry. The new device, which will sell for $799 when it's available October 23, is designed to shoot "amazingly smooth, stabilized video," be folded into a small backpack, and be flown easily with a game-style controller with a built-in touch display—no smartphone necessary.
The Karma features a removable stabilizer that can be held by hand and which is compatible with GoPro's Hero4 and Hero5 cameras. The company is selling packages that include the drone, the carrying backpack, and either a Hero5 Black—for $1,099—or a Hero5 Session, for $999.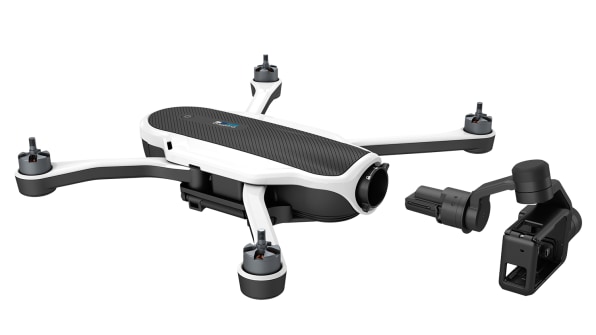 The stakes in this game of drones are large. Analysts say the consumer drone market is already worth hundreds of millions of dollars a year, a number that could grow to more than $4 billion in annual sales by 2025. DJI and GoPro obviously both want large pieces of that pie, as do other drone makers such as China's Yuneec, 3D Robotics, Parrot, and others.
In DJI's early years, many people mounted GoPro cameras on their Phantoms, and the two companies were known to have friendly relations. When DJI decided, with the Phantom 2, to begin selling models with built-in cameras, that may have soured that relationship and forced GoPro's hand, leading the company on the winding road that culminated in today's launch event, at Squaw Valley near California's glorious Lake Tahoe.
For some time, DJI has marketed the Phantom as a "flying camera," and it's clear GoPro sees the Karma the same way—except easier to use. A release about the launch referred to the drone's "painless out-of-the-box experience unlike any other drone in the market."
Until now, GoPro has revealed little about the Karma—including its place in the market, and whether it would be seen as taking on DJI's Phantom line directly or trying to carve out its own niche in the market. The answer seems to be more titled toward the latter, with GoPro aiming its drone at the same kind of adventurous types who are already heavy users of its Hero line of cameras.
Because Karma is light and foldable, it won't weigh users down when they're on ski slopes or hiking. That suggests GoPro doesn't yet want to compete with DJI's Phantoms, which range in price from $339 to $1,199 and offer an impressive out-of-the-box feature set, but come with a rigid frame that doesn't quite as easily lend itself to being carried around in action-oriented environments.
It remains to be seen whether consumers will flock to the Karma, but GoPro is clearly betting big-time on exactly that. Combined with the company's new cameras, its cloud-based subscription service, and other new tools, it is hoping that its full ecosystem will comprise what founder and CEO Nick Woodman called an "end-to-end storytelling solution that finally makes it easy to capture, edit, and share your life's best stories."