The first conversation Charlotte Jones Anderson ever had about how to run the Dallas Cowboys was about hot pants. Anderson was 23 years old, fresh out of college and working in politics in Washington, D.C., when her father, Jerry Jones, who had just purchased the team, called her up.
"He asked me what hot pants where, and I thought–'Of all the things you've got to worry about, why are you worried about hot pants?' And he said, 'There's a line of cheerleaders at my office that are thinking that I'm going to change their iconic uniform from hot pants to biker shorts, and I don't even know where the cheerleading studio is! Could you come down and help me figure out this problem?'" She laughs. "Well, I went down to Dallas, and sure enough, there were stories flying all over the place. But that was the first thing I learned: To respect the iconography of the tradition, and the legacy of what the Dallas Cowboys stood for."
Jones asked his daughter to stay in Texas, and she told him that she didn't know anything about running a football team. "He was quick to say, 'Well, neither do I,'" she recalls. Without a counter-argument, Jones resigned from the staff of Arkansas Representative Tommy Robinson and began the job of managing the Cowboys. "When I finally moved to Dallas, my first day in my office, he comes by and tells me, 'First, find a way to stop losing money. And second, whatever you do–don't tarnish the star.' That was 27 years ago."
Anderson says that "don't tarnish the star" has been the guiding principle for managing the brand of the Dallas Cowboys for nearly three decades now. It's been an effective one, too. Jones bought the Cowboys for $140 million in 1989. This year, according to Forbes, the 'Boys are the most valuable sports franchise in the world, with a valuation of $4 billion–topping, for the first time since the list premiered in 2010, the European soccer franchises. So how does a woman who insists that "a brand is what you do to cattle" manage the brand of the Dallas Cowboys?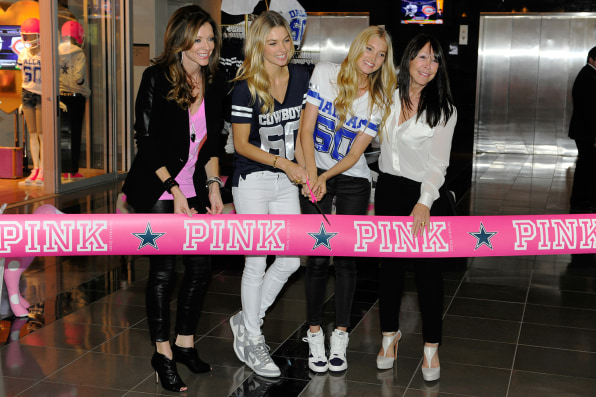 People love the Cowboys–and football in general–for a lot of reasons, but Anderson knows the thing that keeps them coming back. "We're a respite where people go to get away from their problems, and where people go to aspire to reach greatness, and to look at people who struggle and fight every day to be at the peak of their game," Anderson says. "It's very important that we recognize the legacy and accomplishments of Tom Landry, Bob Lilly, Roger Staubach, Troy Aikman, all of those who made legendary contributions to what the Cowboys are about–but we also recognize that we can't just rely on tradition, because then you become nostalgic. Our game is about competition, and people really want to know how you're going to win the ball game on Sunday. That's what it's all about–how are you going to lift me out? So we have to completely respect the fact that we are here to entertain people, to take them away from from what gives them stress during the day, and give them something that they can celebrate."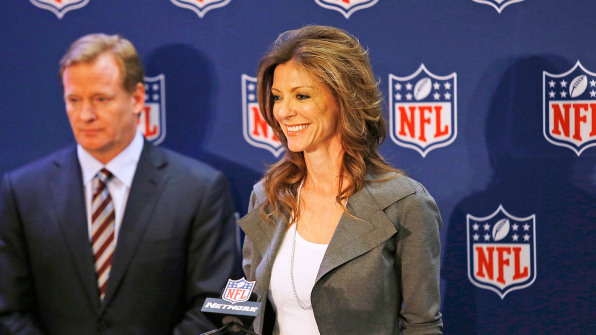 Before unrestricted free agency entered the NFL in the early '90s, teams tended to keep their stars for the bulk of their careers. Now, of course, it's much harder to find a "Cowboy for life" player like a Troy Aikman or Roger Staubach. So Anderson says that there's a dynamic between investing in players that fans can love as Cowboys without letting any player mean more than the star on his helmet.
"When we draft a player, what you're looking at first is are they going to be a performer on the field–that drives every decision. We don't draft wondering if that guy's going to be on the cover of a magazine," she stresses. "But when they land here, they look at the opportunity that surrounds them, and we look at how can we instill the values of our brand into them, and get them to recognize the responsibility that comes with wearing the star, and emphasize the importance of being connected with the community. We want them to know what that value does not only for our community, but what it will do for them individually. The opportunity for them do something great is there if they handle it the right way, so we don't go into it with our plan for our brand being, 'We need a player for this'–we've never let a single player define our brand in the past, and you can't do that in the future. It's a collective thing. Once you put a star on your helmet, you are a part of the Dallas Cowboys, and that's what the brand is all about."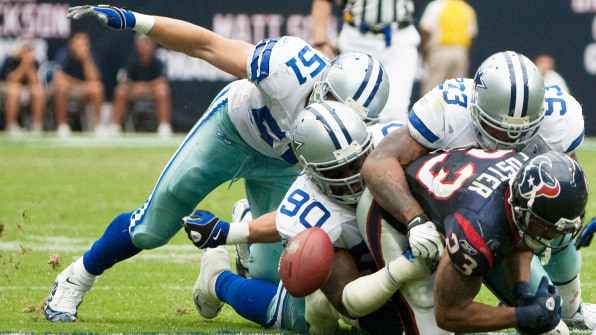 The NFL has strict rules regarding how aggressively teams are allowed to market themselves in different regions. The Cowboys, for example, are restricted to marketing themselves in a five-state region–otherwise, things might be pretty tough for newer franchises and struggling teams in smaller markets. (The Cowboys do get a prominent number of primetime and nationally-televised games, though.) But if they couldn't go too far out from Texas when expanding their fanbase, they instead decided to look south.
"The Cowboys have had an eye toward expanded growth even before the '90s [when the Jones family bought the team]. We were the first NFL team to broadcast our games in Mexico, back in the 1970s. That started way before there was ever an eye toward expansion of the NFL or international viewing audiences, or anything to that regard. We've always had Hispanic broadcasters. We've always been programming through those channels, and we continue to do so." It's not just Mexico, either–the Cowboys aggressively target fans in Europe and other parts of the world, too. If you're in Germany, and you're going to follow American football, Anderson wants you to be a Cowboys fan.
"We do that by telling our story. We play out here. We play 16 games a year–so how do you keep your brand and your engagement in the conversation evergreen for the remainder of the year? For us, that's about ongoing content creation and distribution," she says. "That's where we spend a lot of our time. And the stories and the interest when we grab a player like Zeke Elliott, that helps. He's selling more jerseys than anybody else, and they're selling not just all over this country, but all over the world."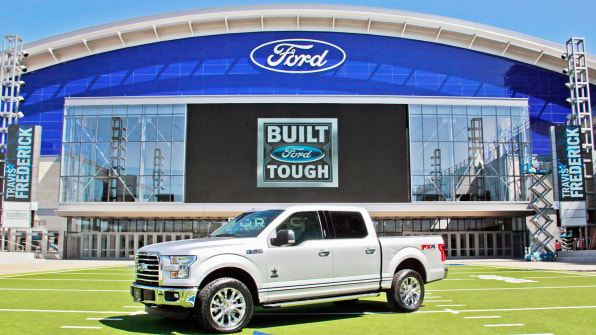 The Cowboys have plenty of partners for cross-promotions large and small, and they work hard to ensure that they deliver on those partnerships. That's an opportunity that being a brand with international reach lets them tap into–but Anderson is careful about how the team approaches it. "We actually just did a really interesting partnership with Ford Motor Company," she says. "They launched an F-150 that is a Cowboys F-150 with a silver track that has Cowboys branding in it both on the inside and on the wheel spoke–it's a Cowboys-branded car, but it's not big and overdone, we like everything very clean and very sophisticated. It's got a blue-and-white stripe on the side. But that car had huge international interest, particularly in Europe. We just did a partnership with Hublot, which is an international luxury watch company that other teams can't touch. It's one of those things of, how can they take an international brand, and not only have locals buy it, but then attract people around the world?"
The Cowboys deliver back on those partnerships too, Anderson says, and it works locally in Dallas, too. The Cowboys opened a facility in North Texas this year called The Star that includes a practice facility for both the team and local high school athletics, and which includes a partnership with Omni Hotel, with 200,000 square feet of restaurant and retail space. And when negotiating those deals, Anderson thinks a lot about the team's partnership with Pepsi. "The mindset here is that Pepsi is one of my partners, so my job this morning is to sell more Pepsi. That means that every restaurant coming in is going to be a Pepsi vendor, if they're going to be a tenant in our space."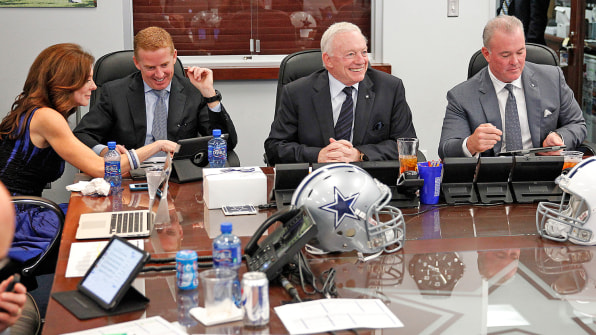 Part of helping the Cowboys become a global brand involves finding a way to get people to check out the team and its stadium even if they don't care about football. To that end, Anderson made a curious decision that's paid off well–investing in modern art, which the team displays in its stadium for visitors. "We wanted to draw fans that might not be fans of sport, and what we did was invest in a modern art collection that is now heard of, and that has been curated by artists from, all over the world. We have more visitors to the stadium come see the art from Germany or Australia or different places from around the world. They want to see the artists that they love, so they come here and have nothing to do with the game," she says. "So how can you tag on to the things that reach people in different ways? They might not be interested in the sport, but now they come and they experience it, and now they're intrigued about your game."