Verily, Alphabet's life sciences group, is investing big in developing technologies for the millions of people worldwide with diabetes.
Verily announced today that it is teaming up with pharmaceutical giant Sanofi to fund and spin out a new venture, Cambridge, Mass.-based Onduo, which is focused on helping clinicians and their patients manage the disease. The companies have tapped a new CEO to lead the startup, trained emergency-medicine physician Joshua Riff, from United Healthcare-owned Optum.
Onduo's team is focusing initially on type 2 diabetes, which is the most common form of the disease.
It's still early days, but Riff tells me that he intends to integrate a suite of novel and existing hardware, software, and services to address a variety of challenges for those with diabetes and ultimately improve patient outcomes. "There are lots of solutions that only solve one problem," he says. "We're taking a step back to find out the problems that a person with diabetes wants to have solved."
For companies like Verily, formerly known as Google's Life Sciences, the timing is right to focus on diabetes. The disease affects some 29 million people in the United States alone, according to the Centers for Disease Control and Prevention. In 2012, the total cost of managing diabetes in the U.S. was put at $245 billion.
And that's not to mention the potential complications associated with the disease. "What I have seen is the many downstream consequences of this disease," says Jessica Mega, a cardiologist and Verily's chief medical officer. "Clinicians are concerned about eye disease, kidney disease, heart disease, depression."
A variety of technologies have hit the market in recent years for patients with diabetes, including apps and wearables, to help them track their insulin levels, get healthier, and manage their medications. But even with this battery of new tools, the disease is still overwhelming for many patients. "We see a huge daily friction," says Riff. One of the problems is that these technologies don't connect to each other, in many cases–that's a problem that Apple is also trying to solve with its HealthKit platform–and that it's still highly expensive and time-consuming to manage the disease.
Without providing specifics, Riff says that the goal of the company is to help patients with diabetes in every aspect of their care, from taking their meds to organizing all the information that flows in via the apps and devices they use. Another area of focus, which he describes as a big gap that has not been adequately addressed by the health system, is to incorporate tools geared toward behavior change. "We're also looking at factors, like nutrition, activity, and quality of life, that led up to to the problems," he says.
Indeed, ample research studies over the years have found that the lack of primary and preventative care has led to hospitalizations and other avoidable outcomes for patients in the U.S.. Some health-technology startups are starting to bridge that gap, such as Omada Health with its online/offline program focused on preventing the onset of diabetes among those who are at high risk for the disease. These initiatives are only just starting to gain recognition, in the form of reimbursement, from both public and private insurers.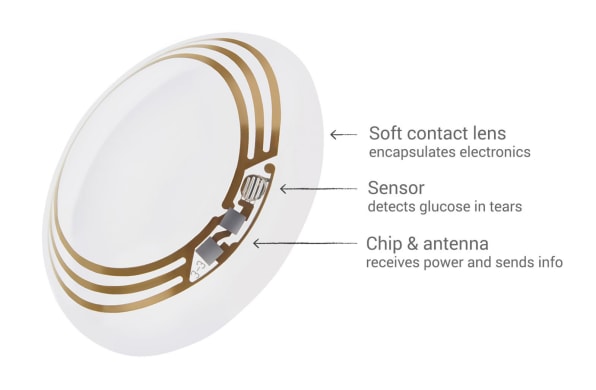 According to Riff, Onduo will work with the "best in class" technologies on the market, rather than focus on building a crop of entirely new ones. But the company might incorporate Verily's experimental contact lens, which aims to monitor glucose continuously and painlessly, when the time comes. It remains to be seen when and if that product (it's a holy grail that others have tried and failed to accomplish over the years) will hit the market.
In the coming months, Onduo will partner with Sutter Health, a not-for-profit health system in Northern California, to test the platform with clinicians and a cohort of patients. At present, the company is still in the process of collecting user feedback to ensure that it's addressing real needs.
"We don't want to create technologies in a black box," Mega says. "Through this partnership, we have the right diversity of people who can help shape that direction."