For the past three years, the designer Paul Cocksedge has made regular visits to London's recycling centers. Cocksedge, who is best-known for his stunning lighting design, is not dropping off. Rather, he's there to collect: He and his studio team systematically search through the mounds of electronic waste, plucking out discarded speakers and loading them into their white van.
What is one of London's foremost young product designers doing "climbing around the rubbish heaps," as he describes it? Cocksedge is preparing for the latest stage of an ongoing project: the Vamp, a little cube-shaped device that brings old stereo speakers back from near-obsolescence by allowing users to connect nearly any speaker to any Bluetooth-enabled device. When Cocksedge launched the original Vamp in 2013, he sold more than 10,000 units worldwide and won multiple awards.
Today he's following up with two new additions: a redesigned Vamp that can hook up to two speakers for louder sound, called the Vamp Stereo, and the Vamp Speaker, a speaker made from completely recycled material. They're the latest volley in his mission to cut down on electronic waste–especially when it comes to music and audio devices.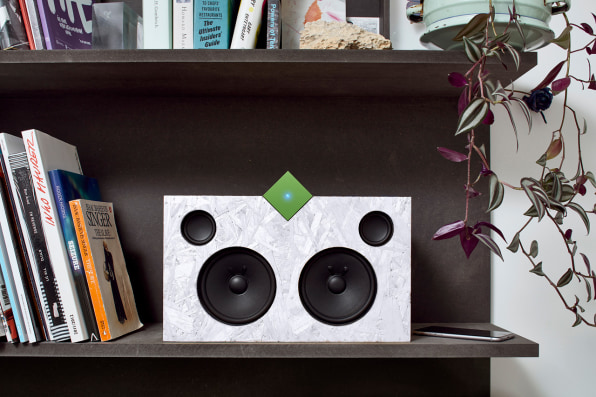 That's why he needs speakers. The ones recently rescued from the trash pile–cleaned and repaired in his studio, and stored in a mammoth warehouse–are waiting to be sent out as bonus rewards to select backers of the second Vamp Kickstarter campaign. "Ten thousand speakers a month end up at the recycling centers," he tells me over the phone. "It's a strange feeling–people getting rid of these wonderfully made, wonderfully sounding pieces of design history."
The first Vamp was an elegant solution to all of those neglected speakers, a small plastic cube that contained an internal, rechargable battery, an amp, and a Bluetooth receiver. One of the corners of the cube is spliced off, so it can be affixed to a speaker courtesy of an internal magnet. The new version–the Vamp Stereo–is nearly identical, with the ability to hook up to multiple speakers to double the loudness. Thanks to advancements in Bluetooth technology, as well as the fact that Cocksedge now has manufacturers set in place and can use the same mold for the hardware (the priciest part of production), the more powerful Vamp Stereo still comes in at an affordable £39 (about $50).
The Vamp Speaker, on the other hand, is a totally new product–a speaker made from entirely recycled parts. Cocksedge admits that a new speaker might, at first, seem antithetical to their core cause of making older speakers usable once more. But it was a response to the feedback from customers of their first campaign, who didn't all have old speakers to revamp. The resulting speaker is made completely from recycled material and e-waste, and all of the parts can be recycled again after use. Cocksedge says they wouldn't have made a speaker otherwise, but it turned out to be surprisingly easy for the factories that he was already working with in China.
At the factories, he says, "electronic materials end up in a big pile and then they are filtered out–into magnets, paper pulp wooden, a lot of plastic as well. You end up with raw material that then can be used to make up a new thing, and it's the perfect way to manufacture because it keeps energy in the system." The reason this isn't more widely done, he says, is cost: The factory they work with has had to tweak their production process, which made the labor–and the resulting product–a little more expensive.
To Cocksedge, a little extra cost is well worth the speaker being environmentally sustainable. (Right now, the Vamp Stereo and Speaker come packaged together at £79, or about $105, or you can get the stereo, speaker, and two rescued speakers for £99, or $131.) In some ways, he is following in the tradition of industrial designers like Dieter Rams and Richard Sapper, who tried to be conscientious about the volume of consumer products they put out into the world and the effects they have on the environment. For e-waste, the effects can be even worse than regular waste: when electronics are burned, they release chemicals that are not biodegradable and pose health risks, like pulmonary and cardiovascular disease, to people who breath in the particles. Bringing awareness of that waste to consumers is one of the reasons that Cocksedge has been working on Vamp for so long.
He points to the newly released iPhone 7 and the mass need Apple has created to own it, as an example–it's a lure to which even Cocksedge admits succumbing. Still, his goal is to get consumers to start thinking about where products come from, and for designers to take responsibility for where they go after they've thrown them away. Plus, he says, there's something rewarding about creating a product that brings back the vintage, especially once you consider that shelling out $500 for a Bluetooth speaker doesn't necessarily make it better than the old hi-fis he's pulls out of the dump every week.
"It's really getting away from this slickness of electronics . . . for me, there's such a high level of finish that the material is lost," Cocksedge says. "With [the Vamp] you can see the screws, you can feel the wood. A texture and rawness is really what we're after."
[All Photos: © Mark Cocksedge]