Nearly five years ago, Charlie Catlett, the Director of Urban Center for Computation and Data at Argonne National Laboratory, heard that the city of Chicago would be replacing its street lights. He began to envision a sensor that would capture a vast amount of location-based data for research purposes–and began asking fellow scientists at the University of Chicago and Argonne National Laboratory what kind of urban data might be useful for their research. "I thought, what a tremendous opportunity that would be for the science community to better understand things like climate and air quality," Catlett says.
The project began to move forward under the name "Array of Things." The city of Chicago got involved, since Catlett's vision for the project dovetails with its ongoing initiative to provide data to the public in an accessible way. Students at the School of the Art Institute of Chicago submitted designs for what such sensors might look like.When the National Science Foundation agreed to fund the development and manufacturing of the nodes last September, the Array of Things kicked into full gear.
This week, the city of Chicago began installing the first of a network of sensors that will measure the city's vitals. The Array of Things aims to provide data for local government, community groups, and entrepreneurs to use in order to make the city a better place. Over the next several years, the network of 500 sensors will be installed on city electric poles and traffic lights. The sensors measure climate through metrics like temperature, barometric pressure, light, and the percentages of carbon monoxide, nitrogen dioxide, and sulfur dioxide in the air. They also quantify ozone levels, vibration, ambient sound intensity, and pedestrian and vehicle traffic.
What's more, they will enable the public to access this location-tagged information, providing a real-time snapshot of urban life.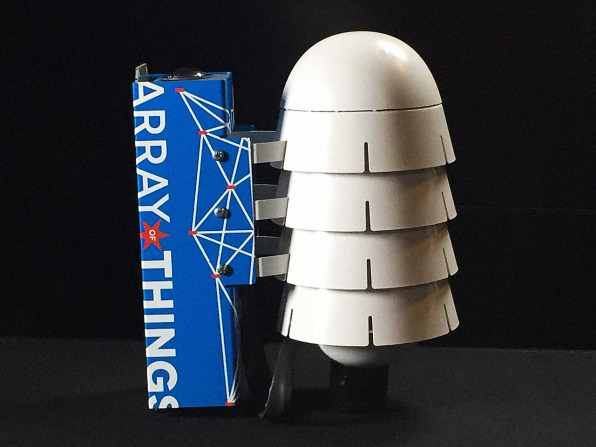 Designing A Friendlier (And Winter-Proof) Sensor
Creating a device that would expose the sensors to the environment for accurate readings while protecting them from Chicago's brutal weather–from wind to ice to frigid temperatures–proved to be a difficult task. The stringent design requirements didn't end with winter weather: the device also had to keep its two computers cool in the hot summers, be easily installable or replaceable within 15 minutes, and be completely safe for the city electricians who would be handling them or any wayward citizen trying to take one down. They needed to be mass manufacturable, as there will be 500 in total. And they needed to look friendly so that the public didn't feel threatened by them.
"We don't want something that's ominous and military looking, nor do we want something that's hidden," Catlett says. "We want something that's attractive looking, and where you look at it and say, I'm not sure if that's a weather station or a piece of art." Initially, the design featured a shield over the wires to make the node look more streamlined, but when the Array of Things team took that idea to the city's electricians, it was quickly vetoed because it would get in the way of installation. Yet the final design is compact and approachable, a white box emblazoned with the project's logo that's attached to telephone pole or traffic light, with a beehive-shaped sensor suspended next to it.
Still, the researchers won't know how it holds up to the elements until the pilot stage begins this week. Each node streams the data it collects to the Argonne National Laboratory outside of Chicago, where it will be uploaded by mid-October to the city's data visualization portal and Open Grid, where anyone will be able to access it. Catlett says that they are also planning to build a theme-based dashboard, which will organize the raw data into topic-based visualizations, making it easier to see noise pollution levels, air quality, and traffic patterns in various neighborhoods.
Because the nodes are equipped with cameras in order to measure traffic and pedestrian patterns, the Array of Things has a transparent privacy policy, with privacy protections built into the design of the devices, Catlett says. Only one of the two computers handles images, which are only kept for a short time in order to be analyzed before being deleted. The only data that's collected from the images is the count and flow of pedestrians and vehicles like bikes, cars, buses, and trucks, along with the percentage of the intersection covered with water if there is flooding.
However, researchers have to show the computer thousands of images in order to train the algorithms to count the desired data, so the privacy policy does allow for the computers to extract some images and store them on a secure server at the University of Chicago. These images are taken from the Array of Things sensors' perch high up on a pole, Catlett explained, so typically no faces or licenses are visible.
The privacy policy has drawn some criticism. It does not include procedures for law enforcement requests, which the team said would be handled by the University of Chicago's legal counsel. During the editing process, when the Array of Things team solicited questions and feedback from the public, concerns were raised about the images the sensors would process. The policy was revised to clarify that most images taken would be deleted, with only a small percentage being saved so the algorithm could be trained using machine learning.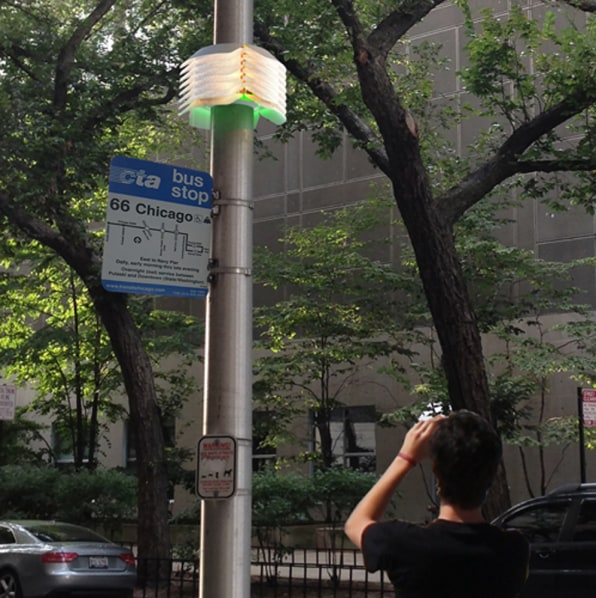 Transparency and Privacy In the Smart City
Chicago isn't the only city to embrace new ways of collecting big data in order to make life better for its denizens.
The two-mile corridor used by Kansas City's new streetcar is equipped with sensors, smart streetlights, and free Wi-Fi. Raleigh, North Carolina, recently implemented more robust urban mapping and data analytics that are available to the public–the city's open data site provides detailed data on city infrastructure, property lines, and transportation. They also have a series of web applications that make the geographic data easily searchable. In July, the U.S. government's Department of Transportation awarded $40 million to Columbus, Ohio, to integrate self-driving cars, connected vehicles, and sensors into its transportation network as part of the Smart City Challenge. According to Chicago Magazine, Chattanooga, Atlanta, and Seattle–along with Bristol and Newcastle in the United Kingdom–will begin to install their own Array of Things using the same sensors.
According to Brenna Berman, Chief Information Officer for the City of Chicago, the Array of Things data on traffic congestion, surface conditions, and air quality will help inform policy decisions. And by putting information in the public's hands, the Array of Things will offer community groups the chance to back up their policy suggestions with real data, making their arguments more compelling. Berman pointed to one group that is concerned about the level of noise in their neighborhood, and explained that the data will reveal if their complaints are justified. She said that the Center for Neighborhood Technology, located on the westside of Chicago, wants to build an app that would give people hyperlocal, precise air-quality information.
"This takes being a data driven government one step further," says Berman. "It gives us more data to better inform the policy, to drive better and more efficient services through that data."
But who gets one? The location of the first 42 sensors was decided based on a three-point criteria: first, that the data would address a scientific or research question in the scientific community; second, that there was a community partner interested in working with the data; and third, that there are city issues or challenges in the same area that the data would help address. The initial 12 sensors, the first of which will be installed this week, will be located in the Pilsen neighborhood because both a group of researchers and a community organization wanted to research urban asthma rates in the area, and the city wants to investigate its investment in green space in the neighborhood. They're hoping to install between 60 and 80 before the ground freezes this winter.
"I go from having 30,000 city employees using data to drive better city government," Berman says, "to having 3 million partners dedicated to making Chicago a better place to live."
[All Photos: Urban Center for Computation and Data]