In Australia, at the end of the earth, Clinton Pryor sees the end of his people: Aborigines. Which is why he's marching into the Australian capital, Canberra, to try to get a meeting with Prime Minister Malcolm Turnbull.
Here's the tricky part: To get there, Pryor will walk more than 2,000 miles from his home on Heirisson Island—or Matagarup, as it's called in the Aboriginal language Noongar. (That's like walking from Tucson, Arizona, to Washington, D.C.)
He's planning to get there by the second week of January 2017.
"I'm doing this walk for our people, for myself and also for my mum," Pryor writes on his project page on StartSomeGood, a crowdfunding site for changemakers and activists. "I do not want to see communities closed down and see my people lose their home because the government has decided not fund service for them. It is not right and this why I am doing the walk to save my people from losing their home and being forced to live homeless.
"Once I arrive in Canberra, I will arrange to speak with the Prime Minister. I will be asking him to return funding to communities, and give local decision-making power back to the elders."
Australia's indigenous people, including Pryor and the Noongar, are not currently recognized by the country's constitution. This is despite Aborigines having roots on the continent that date back 50,000 years; white European settlers first arrived in the late 18th century.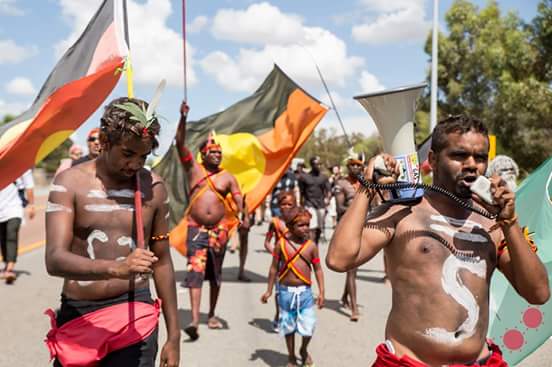 As a result, Aborigines (not unlike Native Americans in the United States) face open discrimination, forced Westernization, and otherwise suffer from poor health living in remote, underserved communities. These challenges add up: The life expectancy of indigenous people, for example, is about 10 years less than that of other Australians, according to the country's Institute of Health and Welfare.
Sky News Australia's Stan Grant, who is of Wiradjuri descent, wrote an op-ed on the issue in the Guardian in August, arguing that no Australian is truly free without a treaty and constitutional recognition for first peoples:
"We are still the only Commonwealth country not to have signed a treaty with Indigenous people. We still have not recognised Indigenous people in our constitution—a constitution that still carries the potential for disqualification on the basis of race; a constitution that can still allow for laws that can work against Aboriginal communities. These laws in the past have told us where we could live, who we could marry or whether we could keep our children.
"Aboriginal people though have made it clear that recognition and treaty must be things of substance. At the moment they exist as ideas yet to be fully realised. There is much discussion still ahead before any potential referendum."
So, Clinton Pryor will walk across Australia in search of justice.
And, hopefully, he'll inspire urgency on the part of the country's politicians: While reports suggest that the majority of delegates, as well as almost two-thirds of Australians, support constitutional recognition for Aborigines, the upcoming referendum for such action was recently been pushed back a full year to 2018.
Pryor may not have a say in the official terms of the Australian government's post-recognition settlement, but he'd surely settle for a little help on his journey.
"The government wants to close down our Indigenous communities and I need your help to make a stand to keep communities open," writes Pryor. "As an Indigenous person created by the dreamtime, I believe it is my responsibility and the responsibility of all people to look after the planet and to keep the dreamtime alive."
Any donations will go to purchase of shoes, tents, sleeping bags, and first aid equipment, as well as tech like satellite phones and film equipment for his team. Any cash left over will be donated to homeless support services in the Western Australian territories Pryor knows best.
Have something to say about this article? You can email us and let us know. If it's interesting and thoughtful, we may publish your response.