In mid-July, LAPD detectives responded to a report of a hate crime downtown. While they investigated, it was easy to get a confession in just a few minutes, if you knew who to ask: "I did it in broad daylight."
Jaque Fragua, the culprit, had no regrets. He even posted a photo to Instagram, provoking a wave of engagement and follows. (His account has since been deleted by the company for violating the terms of service.)
It was a perfect crime: quick, shocking, and victimless. Fragua, on a dare from a friend, painted over a temporary construction wall at the popular corner of S. Eighth Street and Main with eight-foot-tall red letters: "This Is Indian Land."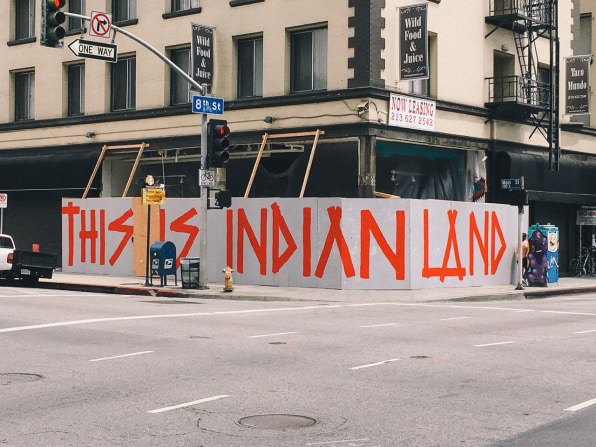 You could see it from several blocks away.
"It was just a clear-sighted statement, but people thought it was a threat. It was pretty abrasive and aggressive and raw. It had this edgy feel to it, so people thought it was violent. I didn't think anything of it, besides 'I did a civic duty. I did something good today.'"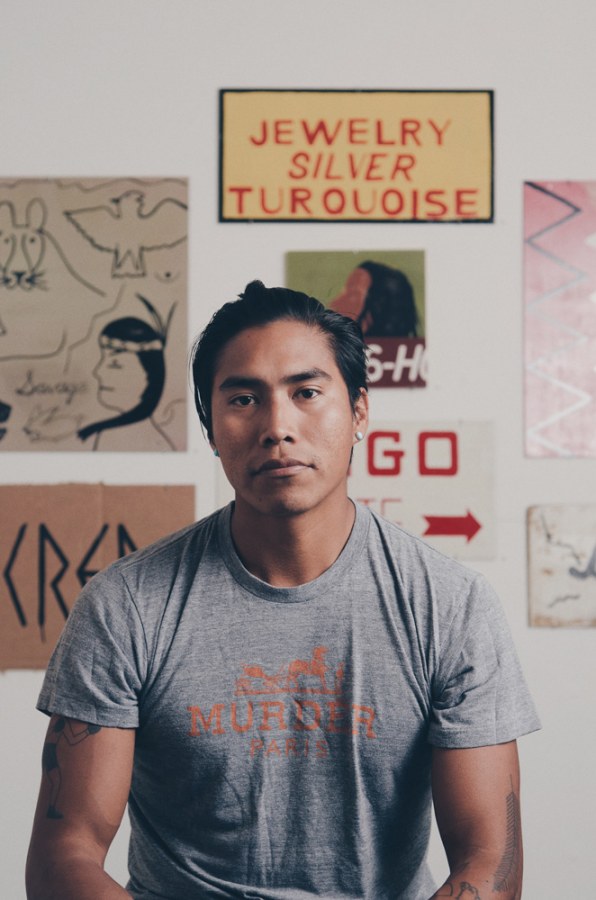 The wall was painted over a week later, but the message has continued to spread. Trained at the Institute of American Indian Arts, Fragua has produced more than 1,000 pieces to date, from textiles to neon signage, and sees his art as constructive–raising awareness and inspiring hope from destruction.
But it might be his street art–he describes himself as a "professional vandal"–for which he is best known. Along L.A.'s Skid Row, formerly known as Indian Alley, Fragua painted a mural of warriors on horseback with the message: "Decolonize and chill." He brushed the word "Sacred" over a lonely highway billboard, informing all travelers that the road on which they travel cuts through Native American land. On a canvas, Fragua outlined the contiguous United States and stamped the word "Reservation" across the center.
You can even find his colorful fingerprints at top of the Ace Hotel, just few blocks west of Eighth and Main. Late one night, Fragua and his friend and fellow artist Cheyenne Randall (both have received support from fans like Shepard Fairey and James Franco) scaled the hotel's fire escape 20 stories to the roof, which now sports Paul Newman with a neck tattoo and Fragua's favorite protagonist: Big Chief.
"He's a chief from a sign that's near my reservation, at Big Chief Gas Station. If you've ever watched Breaking Bad, you've see that gas station. I lifted him and I've been putting him everywhere—he's the Big Chief, right? When you put a mirror against another mirror, you start seeing the core of the truths."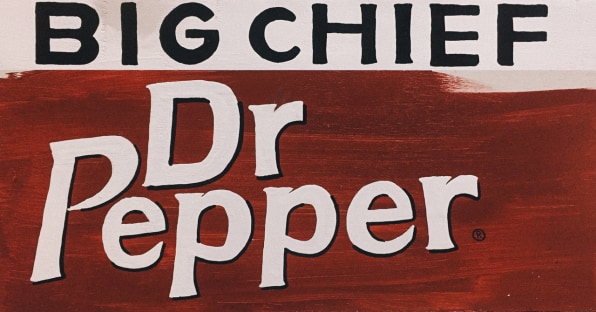 Fragua, 30, grew up in a farming family in the very last Towa-speaking community in the U.S., Jemez Pueblo. The 2,000 people living in Jemez—nestled in the foothills of the Rocky Mountains near the Rio Grande—make up just one of the more than 550 federally recognized tribes in 35 states.
The truth? Most people in the United States today have never spoken to a Native American, or ever seen one, and couldn't point you in the direction of the nearest reservation. Popular knowledge about America's first people, and the issues that matter most to them, doesn't go much further than what's read in coverage about D.C.'s pro football team.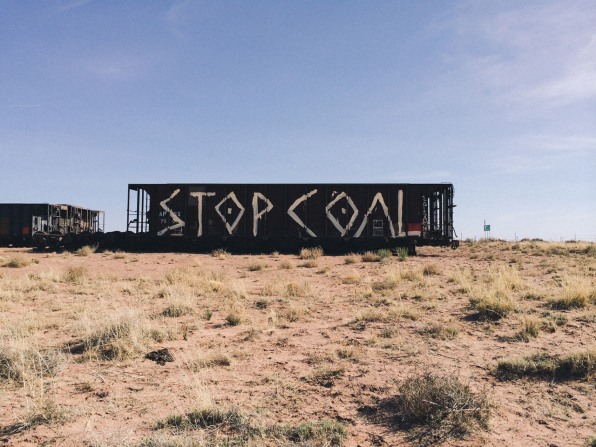 What's missed in that debate is that Native American families have a vast array of issues before them: Families are struggling, trapped in a cycle of poverty, with few resources at the individual level, limited property rights, and no easy way to take advantage of the land they're sitting on, which has plenty to offer. Almost one-third of U.S. coal reserves, one-fifth of known oil and gas reserves, and potential uranium reserves are underneath reservations. Native Americans are sitting on trillions of dollars they can't touch, because the land is held in trust by the federal government.
"Electricity, running water, all these things we take for granted as human beings connect back to the land," Fragua says. "Beyond the myth of the romantic Native American, or the mysticism with spirituality and culture, Native people have been the stewards of this land for millennia. Indigenous land is all the land. Who better to talk to about how we can harness nature, be in tune with it, and use it for the greater good, right?"
In mid-July, Fragua filed articles of incorporation for his Native youth-focused nonprofit, Flower Hill Institute. The project is designed to create opportunities through agriculture and arts and crafts for the next generation of Towa-speaking Americans to engage with society in a dynamic and positive way.
"Indigenous culture is a naturally creative culture. To be adaptable and resilient, you have to find solutions to problems. Creativity breeds ingenuity and beautiful things happen from that."
We need more "vandals" like Fragua, and we're lucky the world seems to be keep producing them. From energizing Indian Country to Black Lives Matter, artists and organizers are bringing important socio-environmental issues and inequities into the active consciousness—and accepted as fact.
"The real history is not told. Once you start telling people the real history–of this country especially–people will get it. They'll start asking more questions. And it's happening really fast. I'm excited about sharing those stories and helping people become more educated, more knowledgeable about America's backyard."
Have something to say about this article? You can email us and let us know. If it's interesting and thoughtful, we may publish your response.
[Photos: via Jaque Fragua]