Imagine being blindfolded and silenced, yet still expected to express yourself. Now imagine that you have to do this with a coworker that you barely know. That's exactly the situation Lee Esmond, vice president of integrated marketing at Mosaic, an experiential marketing agency, found herself in during leadership training on a ropes course at Soderquist Center.
"It was a serious trust initiative where you had to figure out different ways to communicate nonverbally," Esmond says. "At one point I slipped and hurt my wrist," she recalls. "Throughout the rest of the exercise my partner figured out how to augment that weakness," Esmond says.
The lessons she learned on the ropes course made such a huge impression on Esmond that she continues to apply them to her current work. "As a leader, that moment showed me how I can look at my team member's strengths and weaknesses and then build partnerships accordingly," she explains.
Esmond says that because 97% of the team she manages are millennials, many of whom prefer experiential learning to being told how to do anything, she had to find a way to guide them differently. "I think back to my leadership training and realize I can give them enough rope to get rope burn, but not hang themselves," she quips. "When I give them projects, I trust that they will learn through the process of independence with support if needed," she says. By using that assisted learning approach Esmond says she's learned not to answer the questions for them, "but rather to work with them on discovering the answers and building on their strengths."
In a report for the Journal of Unconventional Parks, Tourism, and Recreation Research, researchers Theresa Odello, Eddie Hill, and Edwin Gómez write: "Data support[s] the notion that participation in a four-hour challenge course significantly increases the participants' levels of leadership and work efficacy" and that "results were significant" and "long lasting."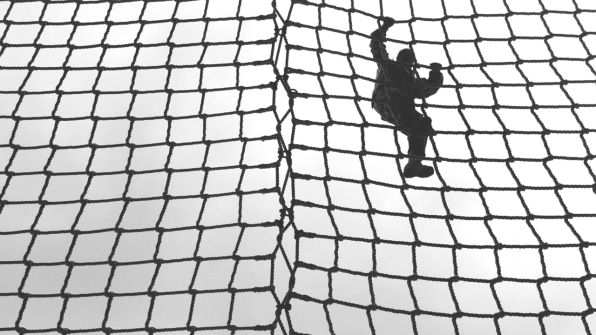 The first ropes course in the U.S. was introduced by Colorado Outward Bound; however, the concept of the modern ropes course goes back to the early 1900s when Georges Hébert, a French naval officer, developed a method of physical education that would develop the body and moral character in an outdoor environment. 
While it provides opportunity to test physical skill, when well facilitated, the ropes-course experience also provides other opportunities for growth. Those documented by over two decades of research include introspection, confidence building, self awareness, and team building. Other research indicates that ropes courses may make unconscious thought processes visible through meeting physical, group, and individual challenges.
Ty Anderson, who has been facilitating and designing ropes courses since 1993, explains that courses involve a set of initiatives featuring challenges that build throughout the day, each one presenting a new scenario for groups to work together in a way they haven't had to before.
Ropes courses usually consist of high and/or low elements. While some elements take place just a few feet from the ground, high elements (often based in trees) are sometimes 60 feet above the ground. While a low ropes course can be completed in four hours, Anderson explains that the most ideal scenario for optimal team-building is one to two days. "The more time you dedicate," he says, "the more time you have to peel away the layers" that can help participants make sense of their experience and apply the learning to both work and life.
Chad Clarke, a manager for Adventure Center of Asheville, facilitates approximately 30 groups (2,000 individuals) through his program each year. He explains that there are two basic ways of working: team building and team bonding. Team bonding is what a shared experience provides; a chance to get to know each other outside of the office.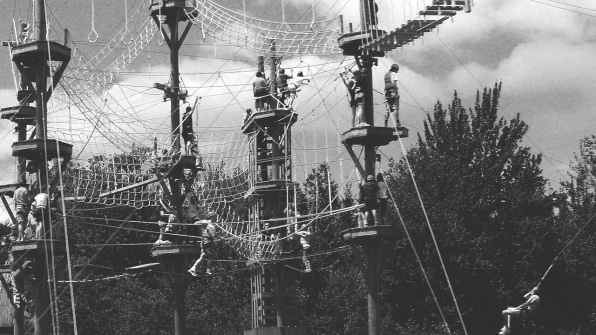 Team building occurs when the process of addressing challenges, communication, trust, and problem solving is facilitated by a guide, Clarke says. "You're exercising components of team behavior," Clark points out. Participants then get to analyze the process and how the team met the challenge. They also discover how it applies to the office while in a completely different setting, he says.
Anderson warns that even though the ropes course and the team building industry has been growing since in the 1990s, it's necessary to do due diligence to ensure that facilitators have the training and experience needed to ensure a transformative experience for the team. "It's easy to learn the hard skills [the technicalities of managing the safety component of a ropes course], but you also need facilitators who can manage the emotional safety that is also incredibly important–so that you can apply the learning to your life," he says.
Anderson recommends asking plenty of questions when choosing a ropes course for your organization. Among them: What level of credentials does the ropes course have? What are their track records? What kind of group process do they implement? What kind of training do they put their staff through? What kind of groups do they normally entertain?
But you need to be prepared for surprises, according to Esmond. "Interestingly, the people you thought were the most aggressive in your group, or the most physically strong, were not always the same on the course," she says. Esmond believes that is because ropes courses are a thinking person's game. "You need to be calm, focused," she observes, "Sometimes the most boisterous people weren't the best leaders on the course."
Esmond has had so much success with this type of experiential leadership training that she's already put two of her directors through it and has two more slated for this year. "By making this investment in creating an experience and trust-based leadership culture, it is parlayed down to our more junior employees and ultimately delivers a more cohesive team able to produce stronger results," she says.
Anderson adds that it's powerful to watch team members pass through and get to the other side, especially when the challenge impacts both a person and a group dynamic. "The most meaningful experiences are when you see a group overcome something," says Anderson, "whether a massive challenge that seemed insurmountable, or something in their past."