If you have a teenager, have been near a teen lately, or are just young at heart, chances are you've heard of musical.ly. The almost 2-year-old app that encourages users to lip-sync to 15-second clips of songs has exploded in popularity, especially among millennials. Every day, users upload more than 10 million videos to the platform, which has held firm in the App Store's top 40 since last summer, right beside the likes of Snapchat and YouTube.
But it started out as something very different: an educational app called Cicada.
CEO Louis Yang and his partner, Alex Zhu, originally launched Cicada as a way for people to learn new things on their mobile phone. With it, they encouraged users to upload three- to five-minute videos explaining how to, say, cook a new dish or speak a foreign language. The idea was that if you spent five minutes of your commute each day educating yourself on a topic, after a while, you would become an expert. They built a platform for creating and sharing the videos, but there was just one problem: finding the experts.
"We found out that the challenge isn't really about the tool. The challenge is that there are not too many people who are able to explain knowledge in such a short period of time," Yang says. "The five minutes was very challenging for most people."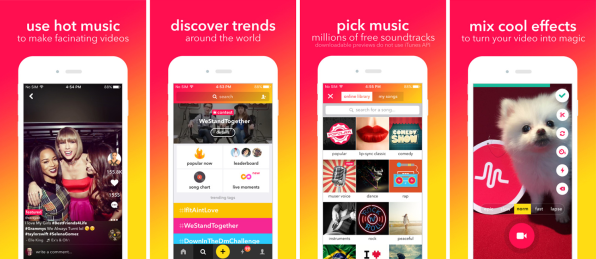 Faced with a potential failure and running out of cash, Yang and Zhu started brainstorming how they could use the platform they had already built. They thought about what they'd learned from the Cicada failure: One, if you're going to build a product that relies on user-generated content, it needs to be lightweight and capable of uploading content in minutes rather than hours; and two, if you want that product to go viral, it needs to be related to pop culture in some way—music, for instance.
"We didn't have any money to spend on marketing it or promoting it, so we had to think, What is the best way to create a product, which allows a massive amount of users to create content in an easy way in a short amount of time?" Yang says. "Then we brainstormed and came up with this musical.ly idea."
Using what was left of the $250,000 investment they had secured for Cicada as well as a big part of the technology built for that app, Yang and Zhu launched musical.ly in 2014, first in the United States. They got lucky: It went viral, landing in the App Store's top 40 in less than a year. It hasn't budged since.
Musical.ly is now used by over 100 million people around the world, including Europe, Asia, and South America. More than 30% of users post something every single day; some users post more than 10 videos publicly each day, while others choose to share videos privately with their friends.
While more than 60% of musical.ly's user base falls between the ages of 13 and 20, people of all ages are now getting hooked. "More and more elderly people are using the app to communicate with family," says Yang. "We see brothers, parents, even grandparents coming in."
One of musical.ly's most popular acts is a woman who refers to herself as Gangsta Grandma. She's 87 years young and has over 1.5 million followers who watch her lip-sync and perform comedy routines. Now, lots of people use music on the platform as a soundtrack to their dance and comedy videos.
Musical.ly has even secured deals with major labels to feature the work of several big-name artists. Alicia Keys and Wiz Khalifa have accounts on the service, and others, such as Jason DeRulo, have committed to releasing new music videos on musical.ly before posting them elsewhere. According to Yang, the labels are coming to them, not the other way around. "We've gotten a very positive response from the music industry," he says. "Not only labels, but publishers. They are seeing that musical.ly is a platform that gives them extra benefits for releasing new music and promoting new artists."
Yang says that as the app has grown, more and more artists are seeing it as a platform they want to be a part of, one that can help them reach a wider swath of fans. Earlier this summer, musical.ly partnered with Good Morning America on a contest that likely brought the brand to the attention of a whole new audience.
So, what's next for musical.ly? Monetizing it.
According to Yang, the company has enough cash in the bank to experiment with different ways of making money, while still keeping the user experience positive. Current ideas include running ads in feeds or sponsored content.
"User experience is more important, and is prioritized over making money," Yang says. He adds that the company won't do anything that will harm user experience in the name of making a dollar. Currently, there are no plans to sell music within the app, an approach that similar services have tried.
"It's really about community," he says. "People are sharing their lives."