During Advertising Week New York next month, D&AD is launching its first standalone "Impact Awards." The global association for creative, design, and advertising communities has previously given White Pencils honoring "creativity for good" as part of its overall annual awards but now, for the first time, it is devoting an entire event to recognizing creative work that has a positive impact on the world.
D&AD decided to provide a bigger stage for these awards because, in its words, "The role that businesses and brands play within society, the economy, the environment and culture has never been more important." The organization, led by chairman and CEO Tim Lindsay, believes that brands have a responsibility to harness the power of creativity as a force for good and make a real difference in the world.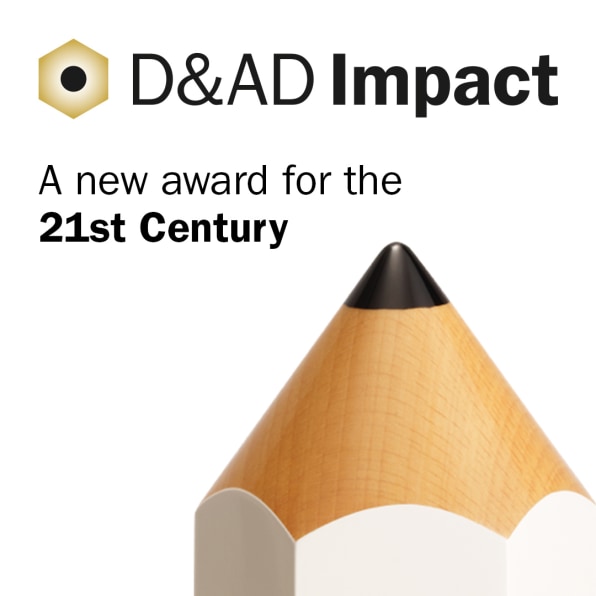 The awards will cut across numerous 12 categories, including health and wellness, education, environmental sustainability, and responsible production and consumption. A jury panel, which includes several ad industry luminaries, such as Droga5 founder, Dave Droga, and vice chairman R/GA, Nick Law, also brings in panel members from tech companies, NGOs, educational facilities, and social enterprises.
D&AD Impact jury member Kate Robertson, co-founder of youth leadership organization, One Young World, talked to Co.Create about the principle of businesses embracing purpose alongside profit. Drawing on her experience as former co-president of global ad network Havas Worldwide, Robertson observes, "I think there is a huge misunderstanding around this space. Some people see the idea of "purpose" as, "What's our charity?" or "What's our 'goody-goody' line?" and it is not that. It is the enterprise itself that has a purpose."
She continues, "If you think of Apple's original "purpose," ideals articulated by Steve Jobs in, 'To make a contribution to the world by making tools for the mind that advance humankind,' you can see how that is a broad ethos going way beyond simply supplying desktop computers. When you have something like that, it is simpler for people, in particular employees, to grab onto and know why they turn up for work every day."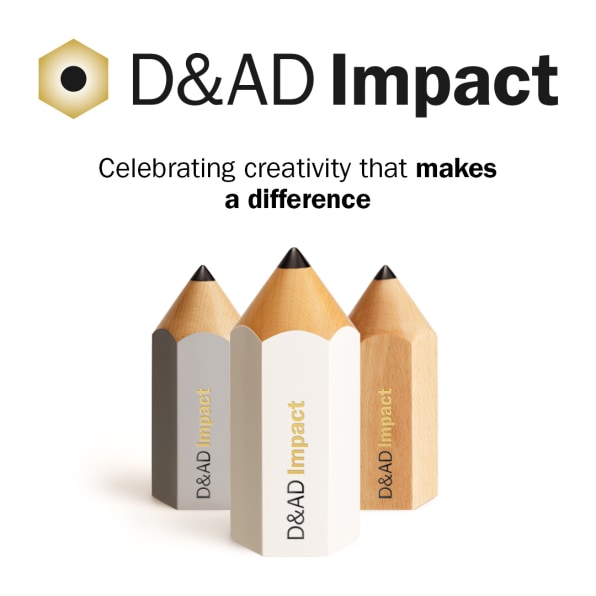 Some of the oldest and largest businesses were founded on the idea of having a social purpose; Lever Brothers (now Unilever), for instance, was originally created in 1885 with a mission to fight disease by supplying soap and providing basic hygiene to the masses of newly urbanized areas during the industrial revolution. But as the 20th century unfolded, the explosion in consumerism, along with unbridled capitalism and its attendant damage, has, alongside other factors, led us to where we are now: a planet in environmental jeopardy with a host of social problems. D&AD hopes to stimulate the creative industry and also inspire the next creative generation to be part of the solution.
Robertson believes initiatives that align closely with a business's overall aims will almost always be more effective than those that are less clearly connected. However, simply making company values clear is not enough to make things happen, she says. "The leadership of the business has to create the processes, which live out those values. It is very difficult in a big organization," she says, adding, "So, for example, if a company says it fosters young talent or entrepreneurialism, without a board-led process ensuring that proper systems are embedded into operations, those initiatives will not come through the business and they will not flourish."
There are many examples of creative work that has raised awareness, increased understanding and driven highly successful fundraising (think the Ice Bucket Challenge) but creative work that actually changes behavior on a large scale is much harder to come by. Robertson says highly visible social media campaigns are not necessarily the answer but adds that public relations combined with today's social influencers can be extremely effective. "Influencers can say something that changes behavior in the way that a big headline on the front page of a newspaper used to be able to," she says.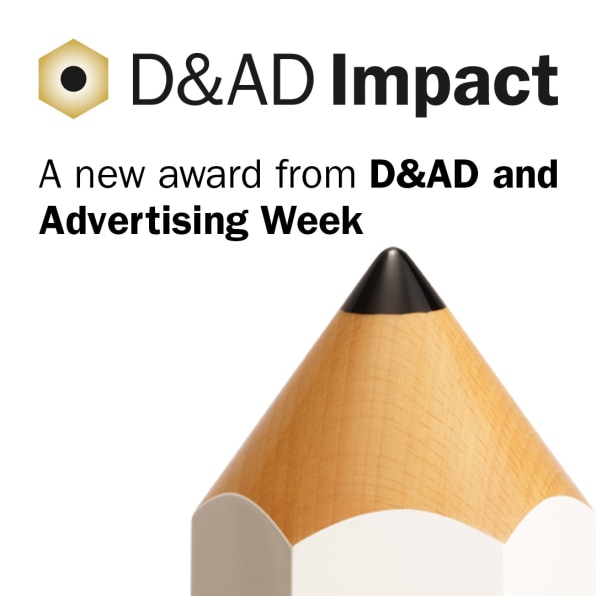 Another D&AD Impact jury member, Girl Scouts of the USA, chief girl expert, Andrea Bastiani Archibald, tells Co.Create, "We find even in the development world that when we try to roll out, say a health program to teenagers, we find increased awareness around health, and better attitudes to what they should be doing but, in fact, behaviors don't change because it is so hard to change habits that are ingrained."
The most successful behavior change initiatives (e.g. anti-smoking) are often accompanied by legislation. For example, recent U.K. legislation levied a charge on plastic bags at supermarket checkouts, and, since its introduction, plastic bag use has plummeted. Bastiani Archibald points out, "My support of a brand or corporation is ultimately voluntary and isn't mandated by legislation so it is harder then to create large-scale change." Like Robertson, she believes authenticity is a must for initiatives to really resonate and garner support, "Consumers at large and particularly millennials are generally quite savvy," she says. "This generation is not only inclined to demonstrate their passions and make great impact through their own lives and careers, but they also seek out brands that match their values. Then they feel they are doing good within issues they care about when they support those brands through their purchases."
Bastiani Archibald sees creativity as stemming from collaboration and deploying a different kind of leadership model. "Ours is a model of engaged girls and shared leadership. We ask girls to come up with creative and innovative solutions to community problems and we believe we see that with a diversity of backgrounds and experiences, male and female, around the table you can come up with stronger and more sustainable impacts or solutions."
She adds, "This is the way of the future, we're developing entrepreneurs who are creating business to support causes they care about in their communities, building their own sustainable solutions. If we can do this with girls from kindergarten to 12th grade, the world is ready for this kind of leadership."
It is those who are leading the way across this challenging landscape that the D&AD Impact Awards aim to celebrate. It is certainly not restricted to ad campaigns in the old-fashioned sense, the jury will consider entries from startups to Fortune 500 companies, and from services and social enterprises that impact local communities or entire countries. The only real proviso is that work must have tangible impact and contribute to a better, fairer world.
Entries close on August 15 and the Award Ceremony will take place in New York on September 27 as part of Advertising Week. Full disclosure: Co.Create Editor Eric Alt will be serving as a jury member for the event.