Like it or not, the Internet is the new record store. As brick-and-mortar landmarks like New York's Other Music and Rebel Rebel shutter their doors, we're left to roam cavernous, digital aisles with seemingly unlimited selections. Sure, we're guided by algorithms, hip curators, and our own friends, but it still feels overwhelming, especially with new releases pouring out every week. Who can keep up?
Spotify has a new answer. Release Radar is an automated, personalized playlist that handpicks tracks from new releases every Friday and compiles them based on your listening history and some other machine smarts. Think of it like Discover Weekly–Spotify's wildly popular personalized playlist, with more listeners than Apple Music or Tidal–but focused solely on music that is brand new.
"Spotify is trying to solve music-related problems one at a time," says Edward Newett, an engineering manager at Spotify who focuses on music recommendation tech. "We learned a lot from Discover Weekly over the last year. We took a lot of what made it so successful to heart for this next product."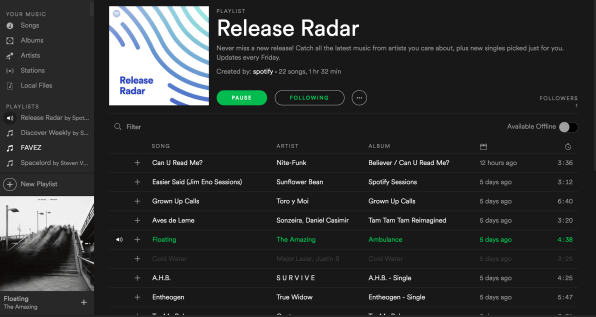 Like Discover Weekly, Release Radar uses logic about your listening history and taps the machine intelligence of the Echo Nest–the music data powerhouse Spotify acquired in 2014–to algorithmically curate a list of songs for you. At the heart of the algorithm is an understanding of the artists you follow and listen to frequently on Spotify, blended with large-scale data science about genres, tastes, and the complex connections between millions of artists and songs.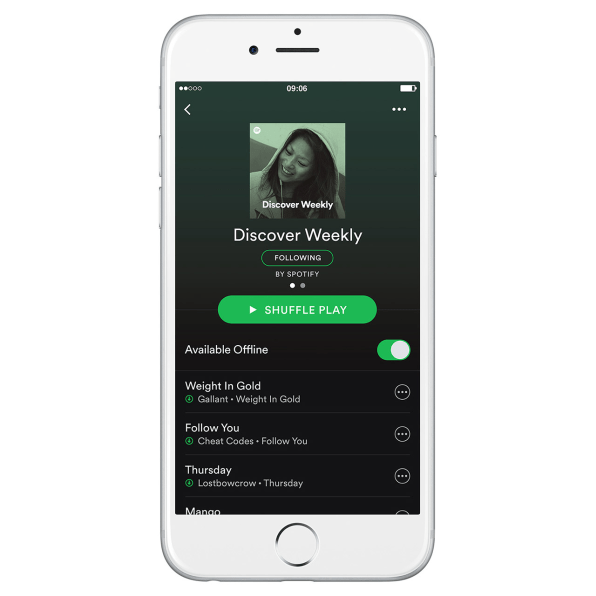 But there's one crucial difference: Discover Weekly relies on the collective behavior of people who actively make playlists and learns to associate songs with one another based on those track-by-track human decisions. Since Release Radar is focused on music that hasn't existed before now, that information about playlist-building is of limited use. To make up for this blind spot, the science behind Release Radar makes greater use of acoustic analysis. This is a huge part of what The Echo Nest has done since its founding by MIT acoustics and data wizards back in 2005.
But in recent years, machines have gotten much better at hearing and understanding audio than they were back then. In this case, one of the things the machines are doing is analyzing the audio of new tracks to help determine if they jibe with the taste of a given user. This is especially helpful when the system is trying to select individual songs from an entire album that few people have heard before. It also, Newett tells me, helps the system discern between artists who may happen to have the same name, but very different sounds.
So is Release Radar any good? In a word, yup. If you've tried and enjoyed Discover Weekly, you'll likely get similar mileage out of Release Radar, insofar as you're interested in finding brand-new music. The mark will inevitably be missed by a few tracks (and just like life itself, your overall satisfaction will probably vary week to week). But for the most part, the system does a very effective job of finding new songs by artists you already listen to or are likely to enjoy.
More so than Discover Weekly, Release Radar offers a simple practicality: Few of us have time to browse the list of new releases each week and pick out the names we recognize (let alone the artists with which we're not yet familiar, who may tragically go undiscovered without a tool like this). When I first tapped on Release Radar, about half of the artists were familiar to me and some of those were bands I really like. I had no idea that True Widow, a stoner rock band from Dallas, just released a new single three years after their most recent full-length album came out. Or that Toro y Moi just put out a new track of funk-laden psychedelia. I knew that I liked some songs on the album Sunflower Bean released earlier this year, but I didn't realize that they just released a three-track Spotify Sessions EP. Now I do–and as much as I hate to admit it, I have an algorithm to thank.
It's not as though I couldn't have found each of these releases on my own, with only a tiny bit of effort. But this required virtually no effort: I hit Play, minimized Spotify, and started catching up on work, pausing only briefly to skip tracks I didn't love or make note of the ones I did.
Release Radar is a logical strategic step for Spotify, which has been under especially intense competitive pressure since last summer's launch of Apple's me-too music subscription streaming service. While Apple Music doesn't offer much in terms of content or features that Spotify lacks, it's investing very heavily in top-notch music curation and discovery. So far, this strategy has taken the form of exceptionally well-curated playlists and an FM-style radio station loaded with industry personalities and hip curators. Apple's curation strategy, combined with the trickle-down effect of its brand and massive reach, could wind up morphing into a true threat to Spotify.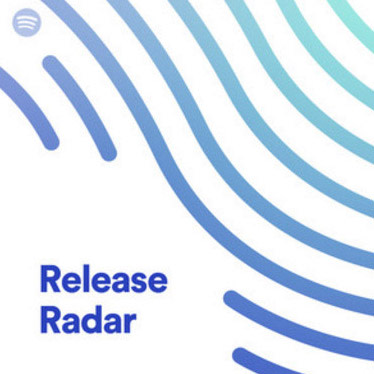 Fortunately for Spotify, the company was wise enough to make its own investment in curation and data when it bought The Echo Nest two years ago for $100 million. That acquisition has supercharged Spotify with new data science and machine learning capabilities and allowed it to easily build features like Discover Weekly, Fresh Finds, and Release Radar.
To complement the algorithms, Spotify has also been investing in human curation, hiring former music programmers from VH1 and various radio stations. If Apple is coming after Spotify wielding music discovery as a competitive weapon, the Stockholm-based incumbent certainly isn't being caught off guard. So far, Spotify's user base, which recently topped 100 million listeners, hasn't shown signs of stalling.
By building on the underlying approach of Discover Weekly, Spotify is furthering a strategy it knows to be effective. In its first 10 months, Discover Weekly amassed 40 million listeners, who streamed over 5 billion tracks–all without much formal marketing. Its surprise success appears to be paying off for many emerging musicians, as over 8,000 artists have seen at least half of their listening stem from people who found them via Discover Weekly.
Spotify is hoping for a similar trickle-down effect from Release Radar, which would help the company bolster its case in the eyes of artists, many of whom remain skeptical about the economics and overall benefit of the music subscription model. Those bigger-picture concerns won't be alleviated overnight, but any iterative step toward placating artists is worth taking.
For listeners, the payoff is more obvious: Release Radar is very good at helping people find new music they'll actually enjoy. It won't replace the record store clerk or our close friends, but it's one more step toward decluttering the aisles in this massive, virtual record store we find ourselves in every week.