In its newest ad, Nike gets a little overwhelmed by the response to its new slogan "Unlimited," and the lengths to which people are taking its own enthusiastic encouragement. But it really should come as no surprise to a brand that's long been making commercials whose sole purpose is to light a fire under our collective butt, and get us all on our feet. Is it any wonder after more than two decades we now actually believe them?
"Unlimited You" is the second ad in the overall campaign, following last week's pep talk to baby superstars, but it's the anthem spot for the brand's Olympic efforts. And this year those efforts go far beyond a commercial tagline to include an Unlimited product color scheme, IRL events, and integration with its digital tools like Nike Plus, Nike Running Club, and Nike Training Club.
Nike's chief marketing officer, Greg Hoffman, who stepped into the role in April after years a leading marketer and designer at the brand–says the goal of this new campaign is to remind athletes that their biggest obstacle is often their own perception of what's possible.
"Our goal really here is to take athletes of all types, ages, skill levels, on a journey to reach their full potential," says Hoffman, who was named to Fast Company's Most Creative People in Business in 2015. "At its essence, the Unlimited campaign is about inspiring and motivating athletes to break through their limits. The idea that, as an athlete, it's not about finding your limit, it's about realizing that you have none. And I think with truly great athletes, the insight was that they get to the point of having an unlimited mindset. So for us, it's to truly engage with athletes around the world during this summer of sport, and get them into that mindset too so they can reach their own full potential."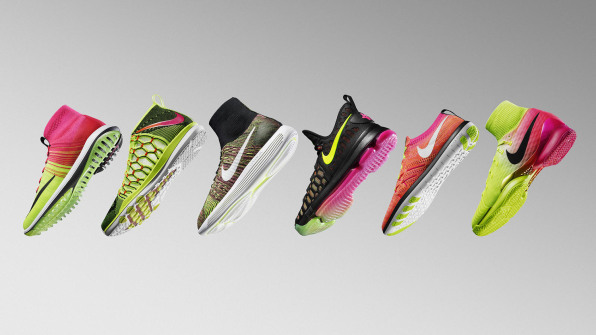 Whether it's harking back to when we were all babies, pulling off a clever body swap, or using an wise, comforting, and often funny voiceover, Nike has perfected the art of finding a way for us to relate to the gods of sport.
"For us, our goal is to always close the gap or distance between the elite and the everyday athlete," says Hoffman. "Truly, within our stories that we tell, we want to make sure that consumers can see themselves in these stories, because if they do they will be motivated and inspired to go on and reach their own goals. At the core, that is our mission, to serve all athletes. It's about creating this personal connection, not only between the Nike brand and consumers, but between the athletes we have relationships with, and our consumers."
And it's not just through storytelling. Hoffman says that connection is also made through giving people access to the training routines and equipment we see Olympians using.
"I look at these Games as a way to create the deepest personal connection," says Hoffman. "Certainly, through Nike Plus it allows us to know you as an athlete so we can tailor our inspiration, products, and services to the needs that you have as an athlete. So I think that the more personal journey we're able to take consumers on is what sets these Games and this campaign apart."
The strategy behind Unlimited started like all Nike campaigns, which Hoffman says began by finding two things. "Having a process is really important, its purpose is to get to that sharp athlete insight that leads to a great idea or concept," he says. "And a campaign, in terms of where it starts, is no different than a product or innovation. It has to start with an insight and a problem you're trying to solve. Here, the questions are around, what are the barriers that prevent athletes from achieving the best version of themselves?"
That's what led them to the idea of limitation, and the pursuit of unlimited potential. "This idea of having a mindset that truly sees no limits is ultimately what we arrived at," says Hoffman. "But it did start with asking those questions about what it takes to truly defy even the voices inside your head, as an athlete and in terms of what is possible. It's something everyone can relate to. You want a sharp insight, but you want to make sure it resonates with all athletes."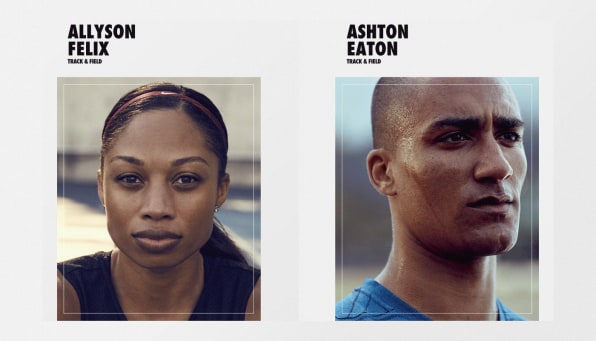 Nike has notoriously eschewed "official sponsor" status for huge global events like the Olympics and World Cup, opting for focusing on individual athletes over slapping the five rings on the end of its ads. But Hoffman says the Olympics are an incredibly important marketing moment for the brand.
"For us, clearly, the Olympics represents an opportunity to showcase Nike innovation on the global stage, and to see athletes performing in these products is the best way to communicate their benefits and advantages," says Hoffman. "It's also this amazing global moment where passion for sport is never stronger and a great way to express a point of view, as well as showcase Nike innovation. At the end of the day, our focus is on consumers of all types around the world trying to achieve their best, and the Olympics is a unique moment to inspire them in that."